Match Report
Scorecard
Highlights
WYVERNS WILT TO WOMBAT TENACITY
by Frank Hart
Well, it has been too long since the game for me to remember everything in detail. Between procrastination and work commitments the long awaited report is finally here. It was a memorable day for me in particular as this is where the story started of the "Bag Gone Walkabout" saga. But we all know that story now.
It was a fine day out in Sano, much better conditions than my first experience of Sano last August, of 36 degree heat and ball soup 95% humidity. It even got a little chilly in the afternoon where a strong cold north east wind picked up and any windbreak was used to escape the cold. But we went into our match against the Wyverns with a fair amount of confidence and bravado as expected, but one must take on the game with caution as unexpected incidents can occur and change the whole face of the game.
The Wyverns had won the toss and thinking as the the hand book recommends to bat first, did so, with Jimmy Quick securing the first wicket after finding the edge of Ueda's bat through to keeper Luke Eyes. This was 1 of 4 wickets, 3 sets of stumps over the duration of the game were also sent horizontal that left the Wyverns rattled. Hanif was next in line with with an impressive 3 wicket crack and only 18 runs scored against him, 2 of those balls in separate but quick succession visited the circus in a juggling act before being manhandled in mid air before gravity took hold by Frankie Hollywood. All other bowlers only taking the stumps out once each, with Beath rolling the arm over in rare fashion, and unfortunately not another with a LBW gone begging. Spin me right round Rony right round when a wicket falls Rony right round downs a bail or 2. And Nick added the finishing touches with either his fiery breath or the ball, can't work out which, again taking the bails off, leaving Wyverns all out for 135 runs.
So in Wombats reply to the plight of cricket spirit we had gone into bat thinking our chances are looking pretty good to make the runs needed and we started with confidence with Beath finding the boundary on the first ball. Now this aura of confidence circling noticeably from the "Pavillion" seemed to have got Beath a little giddy, when a poor pull shot put the ball straight into the hands of the Wyverns sending him home for only 9.
While only early days, and strong batsmen to come we had little thought to concern. It was JJ to the crease and Shahir still on the field to get some distance, but this was not the case. Shahir was not there long, going out for a unfortunate 9 also. Hanif was then in to replace, but also quick to leave with a cheap 4 runs. If the team was starting to look on dismayed and despondent, it was the fall of JJs wicket when we were sitting on 52 that had everyone on the ropes and looking for answers. This answer came in the way of Luke Eyes 46 off 58 balls, and Nick Goold and impressive 30 off 27. These 2 men stepped up to the plate and showed the tenacity of the Wombat team taking our team to victory in 28 overs.
We burrowed in
When all was grim
The Wyverns lost their way
Kept the pressure on
And broke into a song
When the game had swung this day
The victory was ours
Shinjuku till wee hours
A bag evaporates in the night sky
A week had passed
And Beathy with class
Reunites with it again at Golden Gai
The photos are proof
That my bag is a spoof
Time to move on Id say
Till the next game is done
We will always have fun
The beers are always in play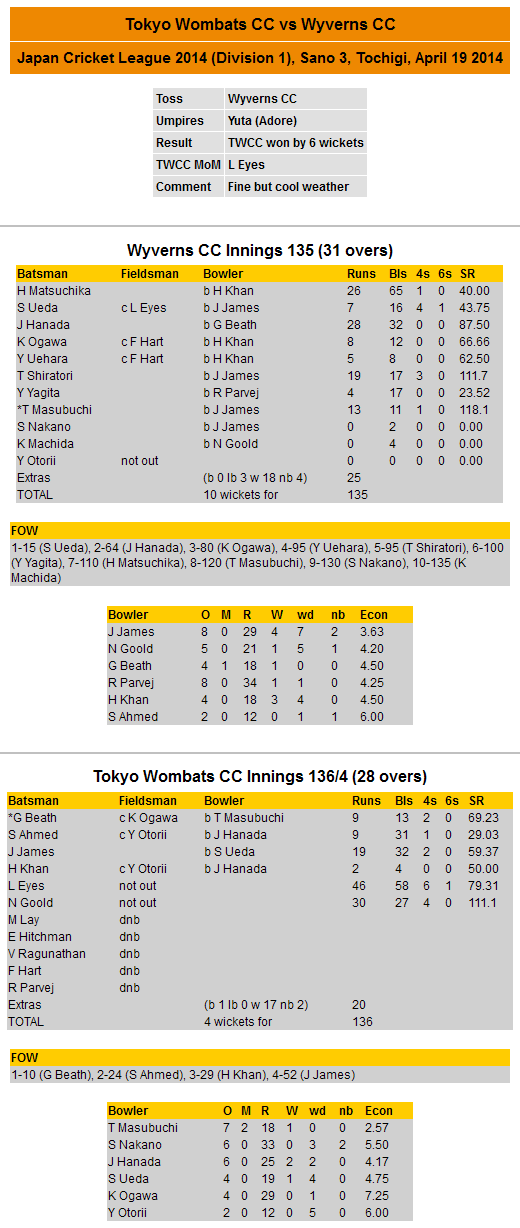 Quotes
Mick Lay: "Smack it like it's your missus", in response to a Luke Eyes brutal pull shot.
Gavin Beath: "Nick, those shots are making me nervous – but we`ll take the runs".
Catches
Frank snapping up two sharp chances at short mid-wicket and putting on a bit of a juggling show both times.
Great Moments in Sport
Jimmi bowling three batsmen in one over.
Middle order partnership between Eyes and Goold to win the match.
Gav's celebration after taking the best batsmen!
Jimmi's returns from the boundary.
Golden Thong
Vikram over sleeping for three games in a row because he works very hard.
Dummy Spits
Gav not given the plumb LBW and cursing appropriately.
Nick Goold trying to rip his shirt in anger after bowling a few wides during the first over of his second spell.
Nick bashes himself on the side of his head with his batting glove while making his way down the other end after playing a lofted shot to mid-wicket. Meanwhile, the throw comes in and if it had hit, he was well short of his crease.
Wyndham Estate Man of the Match
vs Wyverns (Apr 19, 2014)
Luke Eyes wins the Man of the Match award for his excellent effort behind the stumps as stand-in wicket-keeper and his 46 runs with the bat which played a pivotal role in a record 5th wicket partnership to steady the Wombats' ship and secure the team's second-straight JCL victory in 2014.