Match Report
Scorecard
Photos
WYVERNS TURN TO MAKE WOMBATS LEARN
by Ian Gason
After a 3 season absence, I was looking forward to getting re-acquainted with the Way of the Wombat. Unfortunately, with the new (for me) facilities at Sano, the customary van ride to Fuji wasn't on the agenda.
Unlike last season, where the once mighty Wombats were reduced to press-ganging homeless people into the playing IX, a re-invigorated Wombat squad ensured that a full XI would be on the pitch, and I would for ever be stuck with my last innings for the Club being a golden duck. I took Captain Kev's decision on the chin, and fronted up a Shinjuku at 8am keen to meet the likes of Malcolm, Alex, Matt, Alex, Damien, Alex, Angus, and of course that chain smoking Englishman with a 3 day growth, Andrew Baines. Train rides used to be a rare thing for the boys, but still managed to produce a disproportainate share of Golden Thong nominees. With Jarrad "Stop That Train" Shearer manning a yatai in Fuji, would it be left to serial train incidentalist Bad Kyal Hill to stain the day?
Just like the van days of old, getting eleven wombats over a distinctive bridge to a specific destination for a designated rendevous still ain't gonna happen. Unlike the kind and understanding van driver of old, trains don't wait. So with Baines busy cultivating the stubble, and Strides not quite hitting his strides yet, the rest of us piled in and headed off.
Some things never change — footy talk and smut dominating the conversations. A pile of kit bags which the ignorant could mistake as the badge of a quality team blocked the doorways — not that any of the locals wanted to really share our carriage anyway. Captain Kev engaged in a bit of intel — Damien Fuller had "played a bit" and once done a tour to England, so was assumed to be a genuine allrounder. KB wasn't the only one to hear the word "tour", and soon yours truly had whipped out the proverbial travel brochures and was flogging the merits of a Chiang Mai Sixes tour. Some things do never change.
The combini was raided, the toilets fouled, ETAs for Bainsey and Strides checked, Wombats went walkabout. Just like the days of old — I even started wondering why Rhino is always last out of the combini. A convoy of taxis soon snapped me back to 2012.
I was impressed with the size of the Sano 3 ground as well as the traditional absence of lawn-mowing and toilet facilities. (3 votes Paul Shaxx for the tissue paper.) Like the great captain of the golden era, C Jones, Kevin Beef does his best tossing at home, and Chino figured he'd come all this way, they may as well get some batting practise. Wombat bowlers trundled through, comical catching practise followed, the Prez and the keeper as always being the last ready, a quick pep talk from the skip and up till this point, things were just how I remembered them.
Strides and Bainesy still MIA, Captain Kev asked if I would mind filling a gap in the field. Mind? I thought you'd never ask! Give those batsmen some earplugs!! Game on.
Things didnt go quite like they used to. Wyverns got off to a flyer. Captain Kev in typical modesty got proceedings underway. Damien Fuller shared the new cherry on debut, and his figures for that opening spell don't do it justice. A fine find for the Club. The openers went wicketless and the Big Gay Body Alex Koolhof was called in.
Somewhere in there Matt Stride came onto the ground, followed almost unnoticed by a young Andrew Baines, who was immediately called into action at The Other End. Like an arrogant Bradman who when he first saw Tendulkar, I couldnt help thinking that watching Bainesy was like watching myself. Chain smoking, 3 day growth, English, lightning fast in the field, accurate from the first ball, but not getting any wickets…..uncanny. Strides made an immediate impact on the end of year presentations with a classic comment, "Is this rope out here the boundary?"
The Body was soon amongst it getting the breakthrough. A second would have followed off my body-double Bainsey when Junmei skied one to Malcolm, if only Mal hadn't spilled it. Herschelle-esque. Wyverns were picking up the pace now and giving the bowlers a bit of stick. Shax was called in and caused the batsmen some trouble, but this didn't translate to wickets. Captain Kev gave Shaxxie the traditional one over too many which went for 20-something. Shax was the victim of some very tight wide calls, and was dead unlucky not to have the troublesome number 3 LBW having hit him on the full in front.
Malcolm was asked to have a crack, and produced a 3 card trick: wide, wide, sucker ball to cow corner where Strides makes no mistake. No-one knew what to expect, not even Mal. It was a total crap-shoot. Roll the dice, take your chances. Vegas may be the new nickname. Sometimes a half tracker, throw in a fullie, wide, wide, wicket again, caught Strider. Figures of 2 long overs, 2/19 included a mere 15 wides.
Soon the cutest batsmen we'll ever play came out, and to show he wouldn't be intimidated by a 4 foot, 35kg lass, Stride bounced her (bad choice of words?) time and time again, his balls flying over her head. Soon however she had had enough off the ruffian's treatment and attempted to swing one of Stride's balls away. Sadly for those who were enjoying the view of her tight little arse, she couldn't resist mid-wicket Andrew Baines' handsome good looks and meekly offered herself up to him. Dead kittens, he accepted.
Strides was soon hitting his strides and some wag at mid-wicket remarked, "You bowl a lot better when you aren't thinking about shagging the batsman!"
Wickets started to fall. Damien Fuller got his maiden wicket, bowled I believe. Kyal "I've got a sore back and will just hang here in slips all day" Hill rose from the dead for 3 overs 1/9. AK Al got anothery. Then the metronome Andrew Baines was given a chance to be more than just a footnote in the day's events with the last man at the crease. 2 balls later he got a leading edge to Angus "I've got what Kyal's got, short cover for me please" Brooks who took a low diving one hander to close the innings.
196 odd was the ask. 35 of that in wides and good few many more in byes. Byes were not due to a bad performance. Far from it, stand-in keeper Ali V was keeping it real, earning lots of respect saving many down legs. His technique needs some local refinement. For those sneaky low balls, — much like the lasses one finds Bainsey beating off with a shitty stick in the 'Pong — he needs to learn to keep his legs closed.
Batting was a bit like Bainsey stubble — a bit thin and lacking in depth. Captain Kev opened up with Ali V. The Skip started with a flicked 6 and kept going at a brisque pace. Ali V was out there for quite a while but didn't overly trouble the scorers. Well, actually he did. or someone did. Alex "I like to have a chat while I'm scoring" Koolhoff (one F, I know) had lost 10 runs by the 5th over, and took 3 overs to notice a bowling change. Natsukashii….
Ali V was soon in the shed for 8, followed by Bradmanesque (in that it didn't show his true ability) debut from Fuller. The less said about our batting on this day the better. Much like the European Central Banking, we strode out full of purpose, made some grand statements about needing to take action, while all around us no-one took us seriously. Except for our very own Angela Merkel, Gavin Beath, who batted with confidence and purpose. His 60-odd, like the Germans. a stark contrast to the Club Med debacle around him. Bainesy got a nosebleed inducing promotion to #5. I could have sworn I saw him raise his bat after a nondescript single to get off the mark. He was happy to be a spectator as Chancellor Beath stemmed the tide of decay and racked up a fluid 50. Just when we could be thinking about consolidating and getting past the first 100, Beath showed he can't resist a pretty face and fed and easy catch to the Wyverns cutie at point. Perhaps she was star-struck at having Beathy spray one at her, but she juggled Beathy's ball off her chest and back into her hand, where she held the prize up triumphantly. Wombats came and went like ECB summits, producing much the same results: the occassional temporary relief followed by a crashing reality check. Vegas was rolled. Bainsy got a curly one, letting a wide go down leg, only for it to swing back and strike him, LBW, 9. No-one had much to offer, except a quote from Kyal "nice day for a walk" Hill: "don`t let this cnut get his hat-trick." When the veteran Paul Shax fell, Matt Pentecost was left 3 runs short of his mission to become the first Wombat #11 to score more than 2 runs.
Ordinary as the scoreboard tale is, it is very heartening for this old timer to see so many new and keen individuals down at the Club. Winning may not be everything, but as long as you have eleven lads show up and have a laugh, things can't be too bad. Except our batting. When you have lads like Reggie turn up in their shiny new Jag and offer to drive over the hills and away to get beers, you know you're in the right club.
Captain Kev had one last highlight for us all. After awarding Wyverns #3 their Man of the Match for bitch-slapping us around, he made a decision which we probably all would have. In fact, perhaps it would have been better if one of us had chosen the Wombats Man of the Match, rather than KB saying, "And for our MOM, I'm giving it to me!"
Big Gay Al's numerical ability isn't just for scoring. When he called the taxis, he confirmed that, yep, one cricket team, that's, 1,2,3,4,5,6,7,8,9,10,11 guys. Eleven smelly guys headed to the station, where with 6 minutes to get the train, a first-class display of cat-herding got us all thru the combini and into the train. Almost. Someone was sent in search of Kyal who was voiding his bowels. Informed of the now 2 minute warning, Kyal was in the quotes again: "It's not gunna happen." Highlights were done between there and Kuki, sans Kyal, whose stubborn turds and fumbled timetables gave us 30 minutes to enjoy the ambience and shite selection of grub at Kuki NewsDays. When the kittens were shephered on the next train, Kyal had all his highlight drinks, then tried to give out his own highlight. Amazingly, every time he tried, we swore it had been done, meaning more drinks for Kyal. At Akabane, the crew split into the Shinjuku-yuki camp and the Ueno-yuki camp (or in one silver fox's case, the Roppongi-yuki camp.)
It was an absolute pleasure to be amongst the Wombats again, and to meet the guys who are part of the rebuilding. I did get some positive feedback and interest in the 2013 Chiang Mai Sixes Tour (and if I didn't get to personally earbash you, start thinking about getting a week off at the start of April anyway.) A win would have been better (and without these J-regulations about registration maybe I could have saved the day even!??!) but as I always say, a shit day's cricket beats a good day at work.
Take care lads. Be well, but not neccesarily good. Notch up a few wins and see some of you in Thailand.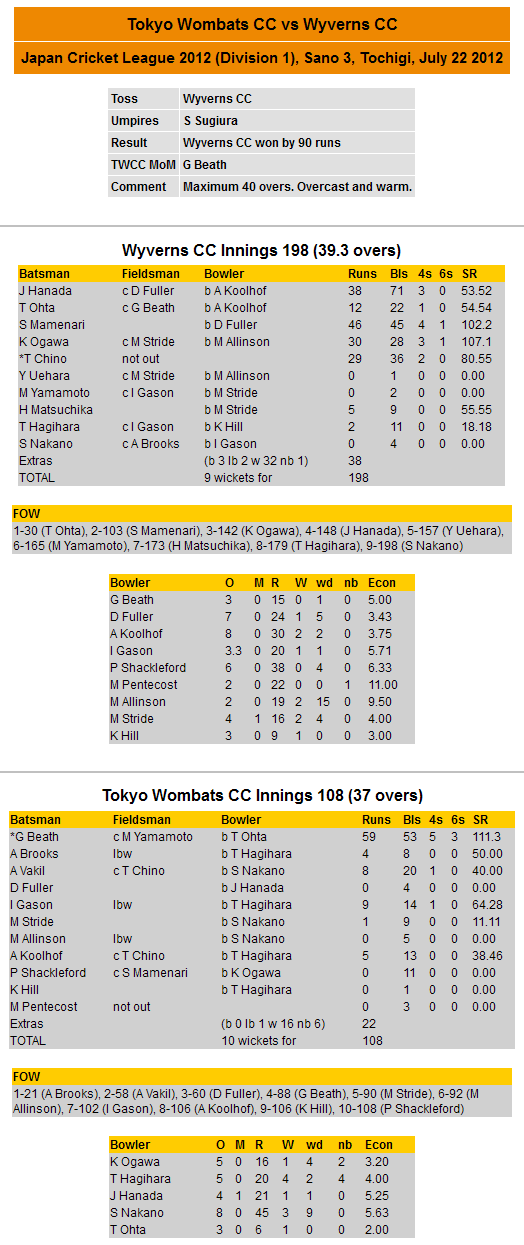 Hardys Man of the Match
vs Wyverns (Jul 22, 2012)
Captain Gavin Beath scored at more than a run-a-ball as the Wombats tried to reel in the opposition total. Beathy's 59 off 53 balls at the top of the innings was good enough for him to award himself the Hardys Man of the Match award.