Match Report
Scorecard
Photos
WOMBATTERED BY SANO
by Alex Patmore
Saturday August 31st, Shinjuku platform 8am was the scene of something rarer than an Aussie test win, all Wombats showing up on time and in decent fettle. A disappointing and disconcerting way to start the day so let's make sure this doesn't happen again boys.
Morning poos were enjoyed by many, a winning combo of Kuki caffeine, pre-match nerves and combini food for some textbook splashdowns. Arriving at Tatebayashi the scrotometer outside the station was already reading a spicy 33C by 10am, and everyone was under no illusions about the magnitude of the days task.
Spirits were immediately raised by some talc applied to moisture rich areas, but also by skipper Beath winning the toss, and choosing to stick the 10 Sano players who'd bothered to turn up into the field for a long hot day of leather chasing.
With a man/boy/girl down, some intense heat/humidity, and the prospect of a big opening partnership from Beath and Tyson on the horizon, it's fair to say Sano did not set about their task with much relish.
Their fears were confirmed early on as wayward bowling, lax work in the field and some nice shots from Beath meant that the Wommies were rattling along at a run a ball off the opening bowlers. Even after the introduction of Sano's spinners, Wombats had reached a healthy total of 44 of 10 overs without loss, and Sano facing the very real possibility of another couple hours of punishment in the heat.
Unfortunately soon after Gav, who had played with real fluency up until that point, advanced down the wicket and toed a full bunger to mid-off for a near run a ball 28. Sano, now with their dander up, sensed an opportunity to put the brakes on our innings with new man Evan in and with a risk-averse Patmore up the other end. Eventually, Ev's Freddie Mercury tendencies got the better of him as he tried to break free and had a wipe at one outside off that ended up in cow corner's hands. After a promising start Wombats were 75-2 at halfway, not a bad place to be in by any stretch (although when you play in Sano it could be said both teams are always in a bad place), but with work to be done in the next 20 overs.
After seeing off the two spinners, number 4 Luke Eyes got into his stride along with Tyson, who decided that perhaps the 24th over of the innings would be as good a time as any to hit a boundary. Wommies made real progress in this stage of the game, milking, as it were, Miyaji husband and Miyaji wife. Last 10 overs and 7 an over would take us to 200. Again, a wicket was lost at an inopportune time, Luke succumbing to the heat more than anything for a well-crafted 35.
Still, with plenty of batters in the locker for this game 200 was still a realistic target, however the slow, slow bowling of Miyaji wife gave Mick and Patmore the perfect opportunity to demonstrate their commitment to the spirit of cricket and getting out in tame fashion to her. This after Mick did smash her in the shin, in fairness. Some good late hitting did help rescue the situation a bit, Shahir with help from the lower order helping us to 188. Not what we were after, but by no means undefendable. A good bowling and fielding performance and Wombats would have one paw in the semis.
As Sano's openers walked to the crease, Wombats waited to see whether the effects of the heat would take its toll. And sure enough it did. What no one was expecting was that it had taken its toll on us. Hard to say which came first, but as Aussie Japan coach Scott flayed the bowling to all parts, in the field the Wombats were as dead as Dodos. After 10 overs, Wombats were staring down the barrel with a Scott-led Sano on 81. A 'highlight' of the fielding at that point was when two Wombats debated with each other in a very civilized manner who was to bend down and retrieve a ball that was slowly moving towards the boundary. Needless to say the ball reaching the rope brought that discussion to a close.
Finally, mercifully, Rony made a breakthrough at the other end, inducing Sri Lankan opener Buddhika to sky one down to long on, where Luke Eyes deepthroated a very good catch. A chink (borderline racism) in the Sano armor, however Scott continued on his merry way, monstering some huge Pocari Sweat maximums out of the park. There was joy at the other end, Prez taking the wicket of Miyaji junior, Lucky Lakesar taking a wonderful diving catch having juggled two dollies milliseconds before. Scott reached his century in super quick time, and an extremely heavy hiding was on the cards. Prez restored some pride with 2 in 2, first Scott stumped, then next ball a young lad offering up the easiest of catches to Beath. The hat-trick ball was kept out well, but Koolhof had restored some pride to the innings, along with Frank in the field, throwing himself around at backward point to save Wombats quite a few runs / time spent drinking.
With the scores tied, Sano once again showed why they are universally loved and admired by refusing to take easy singles for a couple of overs so that they could try and hit one for six. Grand final square leg umpire's very own Nayeem eventually skewed one to Mick off Rony, two balls after smashing the cover off one to keeper. Koolhof next over removed Hanif, stumped for his 4th wicket, and was the unthinkable, now suddenly thinkable?
No, it remained unthinkable as Koolhof sent down an anticlimactic wide in search of his Michelle Pfeiffer to finish off the game. A closer finish than may have been expected at one stage but in truth a few more runs and some early wickets are probably what cost the Wommies this time, and a need for other results to go out way if we want to make the semis. Congratulations to Prez, walking off with man of the match for his 4-for. Fun times had at a restaurant in Tatebayashi, and beers enjoyed on the train home. Next up a friendly reunion with Dino's new team down in Fuji.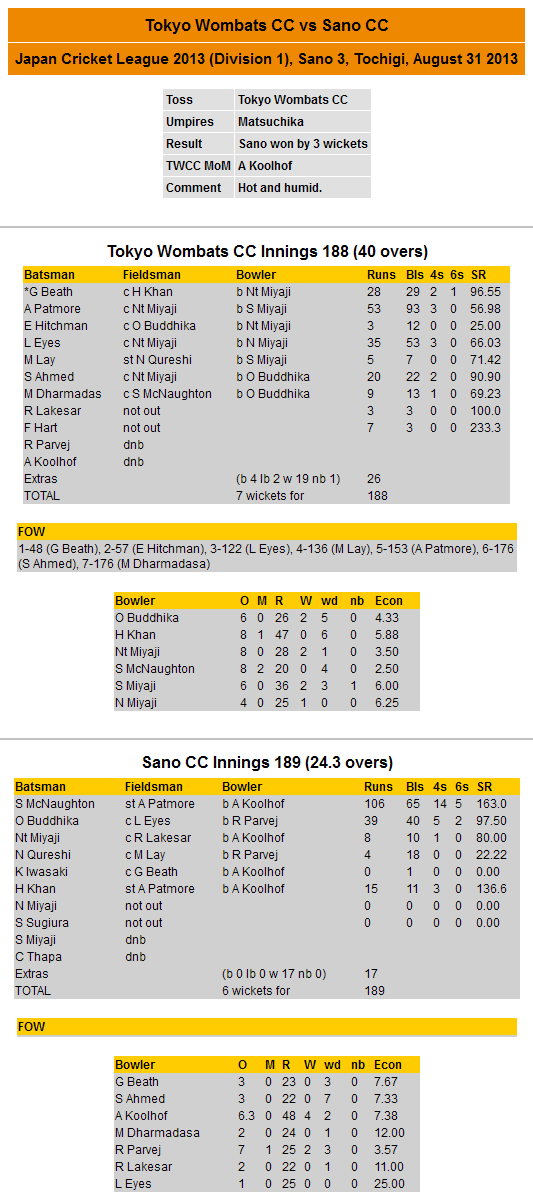 Hardys Man of the Match
vs Sano (Aug 31, 2013)
TWCC president Al Koolhof nabbed 4 late wickets to give the Wombats some hope of a victory. It wasn't to be however, but good enough to earn himself a bottle of Hardys Wines.