Match Report
Scorecard
Highlights
WOMBATS WIPE FLOOR WITH WYVERNS
by Nigel McKay
After surviving the deadly typhoon during the week we hastily made our way out to Sano Tochigi via a variety of modes of transportation. Everyone turned up with no hassles and got set for the battle ahead (shout out to Luke, for driving up with all the club gear).
It was only early morning, but it was already heating up and you could tell it was going to be a scorcher. The toss was a bit irrelevant, as the Wyverns wanted to field and we wanted to bat, but they won the toss and elected to field. We didn't really understand why they chose to field, but we were stoked to get a chance to put runs on the board first.
Openers Alex Patmore and Gavin opened the innings and got off to a cautious start with both taking their time to get their eyes in. For the first ten overs they noodled it around and the boundaries were hard to come by with an extremely slow outfield. The Wyvern opening bowlers bowled well, but once their first change bowlers came on the runs started to flow with Alex caressing many runs through backward point and Gavin lofting a few shots over fielders.
After 10 overs we had the first drinks break and Alex and Gavin had done a great job in the sweltering heat. Soon after drinks, Gavin hit a couple glorious shots over Long off and mid-wicket and both openers looked like they had an age to see and hit the ball. The Wombats raced into the 60s then Gavin went for one hit too many and picked out the fielder at cow corner. He made a well-earned 37 runs off 44 balls. Evan's stay was a short one, out first ball fishing outside off. After things were looking ominous for the Wyverns they hit back with two wickets in two balls from Sato.
For the next 10 overs the runs came easy, as wides and runs flowed, with plenty of gaps in the field. Luke came in at number four and made a 17 handy runs, but was run out off a keepers' miss-field and slight mix up in running. When Vick came into bat the heat was scorching but he put together a few nifty effortless shots and along with Alex (still looking rock-solid at the crease) the Wombats went past 150 and confidence was brimming. When Vick went out and Rashika came it was time to lift the run-rate and both he and Alex went about by a lot of dabs down third man for singles and a few lofted shots on the leg side. Alex was occupying the crease well, but had a very noticeable injury. With the intense heat and jokes coming from the side-line, he had to dig deep to improve his own score to profit from his efforts. With some impressive pull shots and reverse sweep/lofts, more boundaries were hit and the score raced to over 200.
Things were looking pretty sweet for captain Gav, so he changed the batting order to give Nigel McKay his first turn at bat for the club. In the last over Jimmy (scoring machine) was out and in he went. With 3 balls left, the first ball was a wild miss but the last two balls were smashed over the bowlers head for six which put the icing the cake of what was a top innings for the wombats of 222/6.
Alex Patmore was the star of the innings though, with 79 not out playing two roles of anchoring the innings and playing the part of aggressor towards the end. After lunch, Yusry and Nigel opened up the bowling for the second time. Both bowlers struggled in the heat and with their actions and bowled many wides between them. But Yusry struck with his final ball of his second over bowling one of the openers who played all around it.
After the pacemen ran out of gas, Gavin brought on the spinners Rashika and Melinda. Rashika bowled well, bowling a lot of balls on a good length and slipped in the odd quicker one, which he did to good effect. He got three crucial wickets in the middle order, including their best batsman with a brilliant quicker ball and next a dodgy catch that Frankie caught rebounding off his testicles. Gavin also rolled his arm over and worked hard but was unlucky not to pick up a wicket. Yusry and Nigel came back on and picked up a wicket each, with Nigel getting his first wicket for the club. The Wyverns were never really in it once there top two batsman were out, and dead-batted many shots or flashed wildly at ones. Most of their runs came from wides (35). The Wyverns were finally out for 97 off 26 overs giving the Wombats the win by 125 runs with a bonus point too! Shot guys!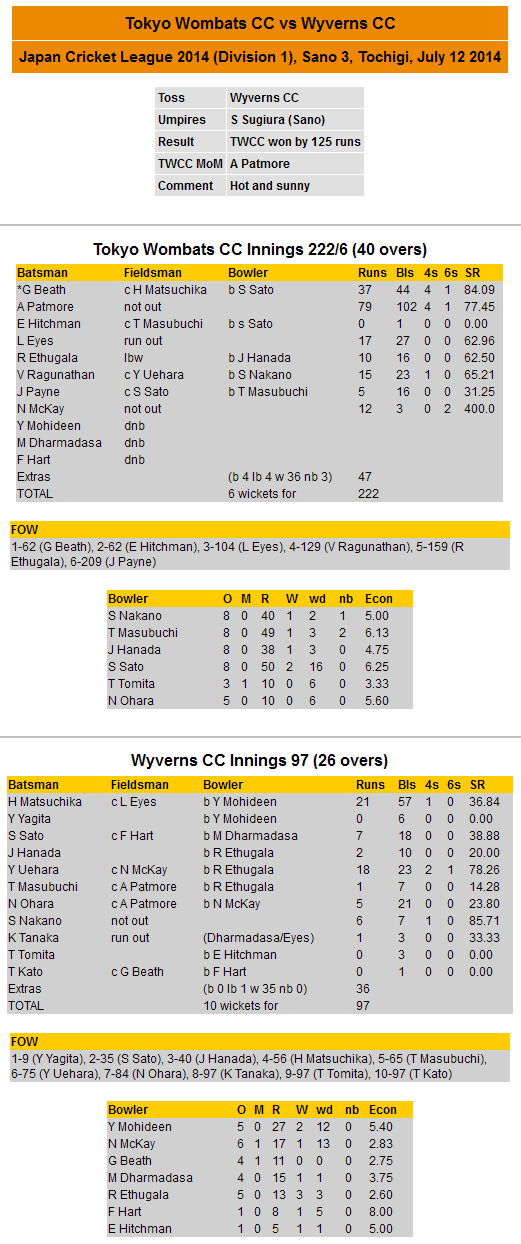 Quotes
"No one wants to be captain of this team, not even me!" – Beath
"He is looking a bit like boony the way he runs" – Frank or Jamie? about a limping, slow moving Patmore
"Does anyone want my homo sausage?" – Mili
"Gav hasn't heard that many "nos" since high school" – Alex P about Gav, as Alex was turning down so many singles with his injury.
"Hang on, is that shit? Ah, no worries, its only blood!"- Gav about the stain on his train seat.
"I really need to piss…oh it's okay..I'll just sweat it out" – Vikram
Catches
Jamie: Nice running catch with no broken arms this time.
Frank: The juggler, off the arm, straight into his nuts – ouch.
Dropped Catches
Evan: A sitter at deep mid-on and a double off his own bowling!
Great Moments in Sport
Nigel getting his first wommies wicket.
Alex P back in form, and carrying his bat through the innings.
Nigel's first batting effort – dot, 6, 6, to finish the innings.
Golden Thong
Jamie: Standing waiting on the train at Kuki, waiting for the doors to open – finally realises you have to press the button, so….. he pushes red! d'oh!
Dummy Spits
Nigel: After Gav said he was going to take him off after the first 2 overs, "Yusry's bowled more wides then me!"
Wyndham Estate Man of the Match
vs Wyverns (Jul 12, 2014)
Alex Patmore returned to some form against the Wyverns with a patient 79 not out and helped steer the Wombats to a decent total of 222 for the loss of only six wickets. Tyson also took a couple of catches behind the stumps as wicket-keeper to complete a well-rounded performance.