Match Report
Scorecard
Highlights
Photos
Wombats win turf war
A report was supposed to come from Yusry, but he has failed yet again to pop his match report cherry!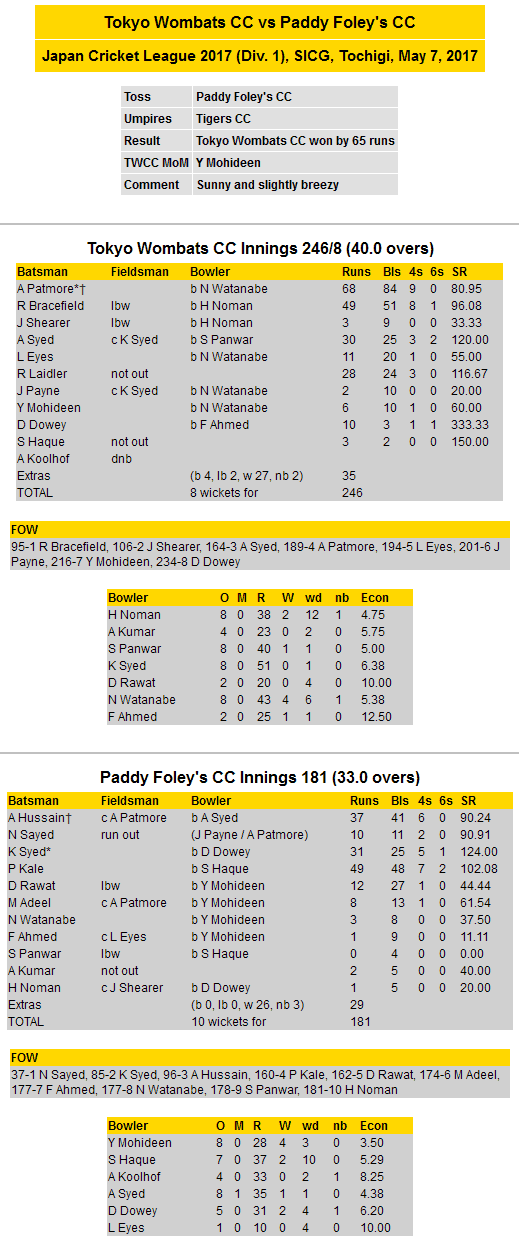 Catches
Great snare from the Dinosaur to finish the game at midwicket.
Two great snares by Patmore behind the stumps, particularly the 2nd one down the leg side.
Dropped Catches
Deano at square leg unable to snare one he would normally take any day of the week.
Quotes
"What if the Qantas Koalas are all gay cabin attendants?" – queries the captain of TWCC
Richie B: "Snarler". Kiwi for "sausage" apparently.
Great Moments in Sport
Patmore reminding the Wommies that he knows a bit about cricket after foretelling an orthodox runout would claim one of the Paddy Foley's opening pair.
Yusri getting fired up and charging in hard during his 2nd spell to clean up the tail. Even saw the chainsaw come out of the shed.
Great death bowling by Sulaiman, Yusri, and Dean which followed up a top spell of spin by Aamir to take the game away from Foley's.
Incredible off-cutter by Sulaiman in his 2nd spell to cut through Prashant and rattle his off stick before he reached 50.
Opening partnership back at it with a solid 95 (Patmore and Richie).
Overall fielding being as good as I have seen it in a while.
Luke Eyes fielding at Point. Didn't count a single misfield, even on tough ones.
Laids' efforts with the bat, showing the middle order how it's done.
Dummy Spits
Vintage Dino not leaving alone a dubious LBW against him by taking potshots at the umpires at every chance to show his displeasure at their decision while in the field.
Yuzzy blaming the bat only for Deano to walk out with it and hit a 6 and a 4 off the first two balls.
Deano telling Patmore he didn't want to bat, before heading out and whacking a massive 6 and 4.
Laids telling Patmore to pick up all the Dummies he left on the ground.
Wyndham Estate Man of the Match
vs Paddy Foley's (May 7, 2017)
Big Yuzzy really fired up in his second spell of bowling and even pulled out the iconic chainsaw celebration as his pace and guile helped delivered the Wombats' first win in 2017. Yusry really dug deep when the team needed him the most. Such a stellar act was worthy of this week's Wyndham Estate Man of the Match award!