Match Report
Scorecard
Highlights
Photos 1
Photos 2
Wombats Win and so do Wides!
by Evan Hitchman
At the SICG – the Sano International Cricket Ground no less, the Tokyo Wombats took on the local team in our third game of the JCL competition. The Wommies were feeling confident after 2 victories to start the season and with the opposition missing a few key players this was a good chance to make it 3 from 3.
Skipper Alex "Batmore – Still looking for a better nickname" Patmore won the toss, and once he'd cleaned himself up decided to put the pads on and open up with Evan "still looking for any nickname!" Hitchman. With Sano a few bowlers short, and on a glorious day there were definitely runs to be scored and the openers got us off to a good start reaching their 50 partnership for the third game in a row. After seeing off the openers, and the first change bowlers Ev was out to that all to common dismissal of "OTTHASOAGTGCB" – otherwise known as "out, trying to hit a six off a girl, then getting clean bowled". Ev was out for 35 and was soon followed by Shahir "Yankeestani" Ahmed who was also out to the tidy bowling of Yanagida, also failing to get bat on ball and getting gunned LBW.
Yanagida's tight bowling slowed the run rate in the middle overs, but Aamir "Sohail" Syed steadied the ship with a good partnership seeing us head towards 150 and setting up the chance for a big last 10 overs. Aamir went after a quickly compiled 37 to a super catch from the 15 year old high school Sano fielder on the boundary with an absolute ripper – with skipper Patmore going for an impressive 75 – cashing in after backing himself once again to score between 50-99. The scourge of spread betting raises its ugly head even in Japan?! The youngster in the Wombats side – Richard "my shoulder's fine, it's the hip replacement I'm worried about" Laidler saw the side past 200 with a fine late innings knock of 26 at run-a-ball with his first knock for the Wombats in many a year and showing the younger Wombats (for some who he is at least double their age!) exactly how it is done. Zeeshan "Zorro" Naglekar and Jamie "Bernie" Payne finished with a few runs swinging late on, and we ended up 5/216 off our allotted 40 overs. Not a bad effort, and 3 innings in a row with scores of over 200 is nothing to sneeze at, but we couldn't help but feeling there were runs left out there.
Nevertheless we were confident at the lunch break that we had enough runs to do the job, despite no recognised opening bowlers being on-call we could look forward to a few early wickets, race through the Sano lower order and still make Happy Hour at the Hub.
Aamir and Vikram "Biscuits" Ragunathan opened up the bowling with Bikkies not really knowing how to respond when being asked what end he wanted – "I'm just happy to be asked to bowl" was his response! The openers did a decent job of keeping it tight and Aamir was bowling some beauties that had the batsmen struggling and he got the first breakthrough with a nice caught and bowled to get the Wommies started. Tony "just bowl your leg spinners please!" Parvej got the next few after a partnership had started to build and at 3-45 things were looking good for Happy Hour. Unfortunately our bowlers and fielders had other ideas and for a good hour or so we let ourselves down terribly in the field with some dropped catches, misfields, general lack of effort focus coming for all. Bowlers starting nearly every over with a wide, and then following up with a few more each over made the job easy for the batsmen and took pressure off. We ended up conceding an amazing 52 runs, just from wides. That figure ended up being 22 runs more than the highest scoring Sano player! Certainly our discipline with the ball and energy and effort in the field is something that will need to improve as we move towards the finals later in the season.
Finally though we managed to make a few breakthroughs and got our groove back with Zeesh coming on and picking up some key wickets with a great spell, getting 4 for and bowling a good spell. He was backed up after a few mishaps by Jamie who took 3 catches for the day and is I believe – Japan's #1 fielder! – well if you look on the JCA stats dream team page anyway! Good stuff Jamie. Despite picking up a few wickets, after 3 or 4 wides every over and the odd 4, Sano were still well within range of picking up a victory and with 15 overs to go needed about 7-8 an over to get across the line.
The opposition though decided instead of trying for victory they would block the next 7 or 8 overs out which would achieve two things. 1) – They would have no chance of winning the game, 2) – They would stop the Wombats a chance of getting the 1 bonus point for bowling the oppo out under 32 overs. So bizarrely they did just that – in only the 3rd game of the year, despite having the wommies rattled and the cream trousers starting to turn various shades of brown – with half an hour of blocking practice (and bowling on the pitch practice for the Wombats) the game was done and dusted after 32 overs as a contest.
After the bonus point period had finished the batsmen started to play some shots and hit some boundaries, scoring funnily enough at about 7 or 8 an over which may have been enough to win! In any case, Shazza and Alex "The Russian" Koolhof thankfully finished proceeding by wrapping up the tail and Sano were all out for 170. It was good to see Himanshu "Himanchuhai" Bugalia also get a chance to roll the arm over for the first time in years in his first competition match for the Wombats. Well done Himanshu and welcome to the team mate! He is a promising addition to the wommies who sets a high standard come Tekitoni / Highlights time by skulling from a bottle of whiskey!
Players of the match went to Yanagida from Sano for some great bowling and Patmore for a fine knock of 75. A great way to start the season, with some big scores and the batting line up looking good. We just need to find some bowlers who can find the big green thing in the middle of the ground and we'll be sweet!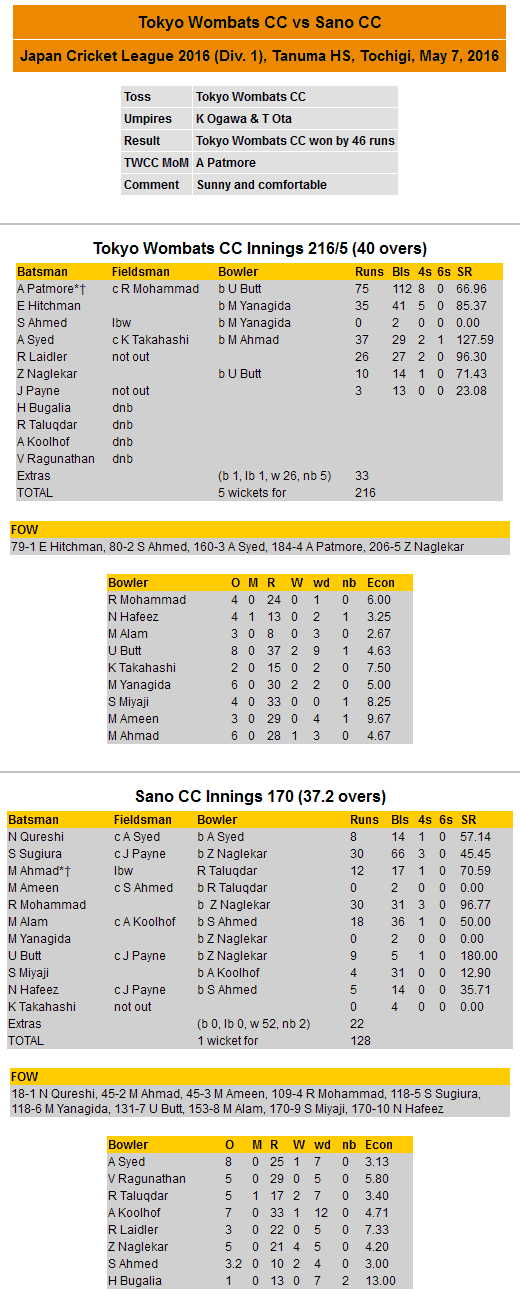 Catches
Shazza's weird dive at silly mid-on after the ball came off the bat handle
Jamie's two catches in the covers
Kooly's catch to finish off Sano's tail
Aamir taking a tough low-down catch off his own bowling
Dropped Catches
Rony's potential Herschelle Gibbs nomination at mid-off – big sitter!
Kooly's drop off Naeem – hit hard, but quite catchable
Jamie dropping a tricky one and an easy one in the covers
Great Moments in Sport
Yet another great partnership by the Wommies opening batsmen
Aamir & Patmore's partnership
A fantastic knock by Laids – batting through to the end
Having nine blokes in the slips after Sano shut up shop!
Ev and Laidler's pep talk at the drinks break after we got a bit sloppy in the field.
Zeesh's 4-wicket haul, including the clean-bowled after the bloke hit him for a six in his previous over (sweet revenge)
Rich playing his first game in years and making it look easy out there, even at 78 years old!
Jamie trying to teach some Austrian musicians from Oktoberfest about cricket at 2am in the pub and getting them dressed up in helmet, pads and a bat – gold!
Quotes
Patmore to Himanshu: "Sorry for jumping on your bananas"
Vikram: "Koolhof, you don't have to shine the ball" – says a typical spinner slow bowler trying to get through his overs in record time
Alex to Alex, "You have a perfect face apart from that chipped tooth"
"Nice keeping Koolhof." – Vik to Patmore.
Dummy Spits
Team dummy spit when Sano were being c***s just to stop us from getting the bonus point
Jamie after dropping a catch, made a huge crater in the ground throwing the ball down in relief and anger!
Wyndham Estate Man of the Match
vs Sano (May 7, 2016)
The TWCC captain wins another of many Wyndham Estate Man of the Match awards. This time, his solid knock of 75 at the top of the order set a decent platform for the Wombats batting first. Dare we say a maiden ton for the club is not very far away! Alex wins a bottle of Wyndham Estate for his efforts.