Match Report
Scorecard
Highlights
Photos
WOMBATS STRANGLE MAX
by Alex Koolhof
The Tokyo Wombats romped to a 10 wicket victory over Max Cricket Club on Saturday July 19 at the Sano #1 ground, thereby entrenching their position at the top of the JCL Division I table. Rain threatened to spoil the party for the Wombats in the afternoon midway through the run-chase, but luck (and a nicely controlled batting effort) was on our side this time and the win was sealed for the loss of no wickets.
Chasing only 102 for victory, Wombat openers Beath and Patmore adopted a cautious stance against some tight bowling from Shukla and Hagihara during their respective opening spells. Some failures with the bat from both hitters earlier in the season may have weighed heavily on their minds and possibly spurred on their resolve to succeed this time around and prove to the Wombat bowling brigade that the game was far from being a "bowlers' day-out". Indeed, as Gav and Tyson started to ramp up the run-rate with the occasional boundary and hard-run twos owing to the sluggish outfield, they began to feel that their batting efforts were somewhat under-appreciated by the contingent lazing around on deck chairs on the boundary side waiting for their turn to contribute.
This certainly wasn't the case however, as attested to by many-a-wombat during post-match banter. Perhaps we were all so delightfully entertained and thoroughly engrossed in the sublime and patient batting display that the nine Wombats in the peanut gallery just simply forgot to put voice to mouth? At any rate….other than a few more boundaries, including one lovely tonk for six from Gavin (to a decent level of applause, I might add), the boys pushed the score along and negated every minor chance that the opposing team thought they had to take a wicket. No chances were given of course and even though most of the Max bowlers did their best and bowled generally well (except for Rawat, who got hit for consecutive 4s), Patmore and Beath just played better!
Earlier in the day, Max CC won the coin toss and decided to bat. Considering the threat of rain, TWCC would have decided to bowl first anyhow. Captain M Kobayashi and his namesake K Kobayashi opened up for Max, while the Wombats latest fiery Lankan addition, Yusry, took the new ball. A foreboding of little reward for effort for Yusry all day immediately played out with his first ball – a solid snick to first slip straight into the waiting hands of Patmore….and then to grass. McKay bowled from the other end and it wasn't long before he had K Kobayashi trapped in front with a big rap on the pads and a loud shout from the field. Not out, or so we thought. Umpire Des took an eternity to make up his mind and only raised the finger once the batsman had turned his back and wandered away somewhat. Kitamura came and went quickly, actually, very quickly with Nigel's next delivery, clean bowled. The Saitama Kiwi was now on a hat-trick and primed to make Wombat history as the field closed in for the kill. It didn't come though – new batsman Rawat was the buzz-kill by blocking it out.
Yusry battled on at the other end with the occasional rip-snorter among frequent wide deliveries but unfortunately ran out of luck, so was replaced by Koolhof, whose first few overs yielded few runs but no wickets. Rawat skied one way too high for Frankie to take (likely Herschelle nomination!), while another one chipped to mid-on fell agonizingly short of skipper Beath. Max pushed their score along to 30 before McKay struck again, clutching the big wicket of Amigo (why is he called that?) – this time Patmore held the catch at first slip – Max now in trouble at 3-30.
Goold replaced Nigel, and after a short while snared Taniyama with a successful LBW appeal – quickly adjudicated to be out this time by the umpire. "Streps" soon followed this up by splaying the stumps of Yano for his second wicket. Max slumped even further after the prez Koolhof got in on the act by dismissing the two non-Japanese Max batsman in Rawat (bowled) and Shukla (caught low down in slip by "my catching hands are now on fire" Patmore) in relatively quick succession (the latter strangely unhappy with the decision, but finally trudged off). Max in a mini spot of bother at 7-55.
Hirayama and Hagihara rallied for the next 7 or 8 overs by accumulating some runs and frustrating the bowlers. On the whole, the Wombats fielded solidly, most notably by breaker-of-arms Jamie Payne in the covers, lunging himself whenever required to keep the pressure on the batting team. Yusry was tried for a couple more overs to no avail, so the skip called up slow-trundler, but ever-the-wicket-taker, Frank Hart. In true talismanic fashion, it came swiftly as Hagihara got a top edge that lobbed up to Hamburger Hill at square leg.
The 'burger also got a chance to grab some wickets when one of his deliveries was hit straight to mid-off where Gooldy adjudged the flight of the ball nicely to take the catch. Kyal ultimately finished with the great figures of 1 wicket from 3 overs for only 2 runs! Nigel was brought back on to land the final blow – clean bowling Fukuyama – and finished with beaut figures of 4 for 22.
And the rest, as you well know dear readers, is history, with the Wombats atoning for a couple of poor performances against Max in our last couple of meetings by handing out a good 'ol thrashing. Nigel McKay was awarded man of the match for the Wombats and a tasty beverage courtesy of wicket-keeper for the day, Luke Eyes. Beers were drunk and highlights given on the grass just before the rain came and the Wombats slinked off into the night. Thanks to Des Thomas from Paddy Foleys for umpiring, Luke and Mick, as always, for transporting the team kit, and Nick's mate Ewan, for watching 10 blokes he barely knew play cricket in a country he had only just arrived in.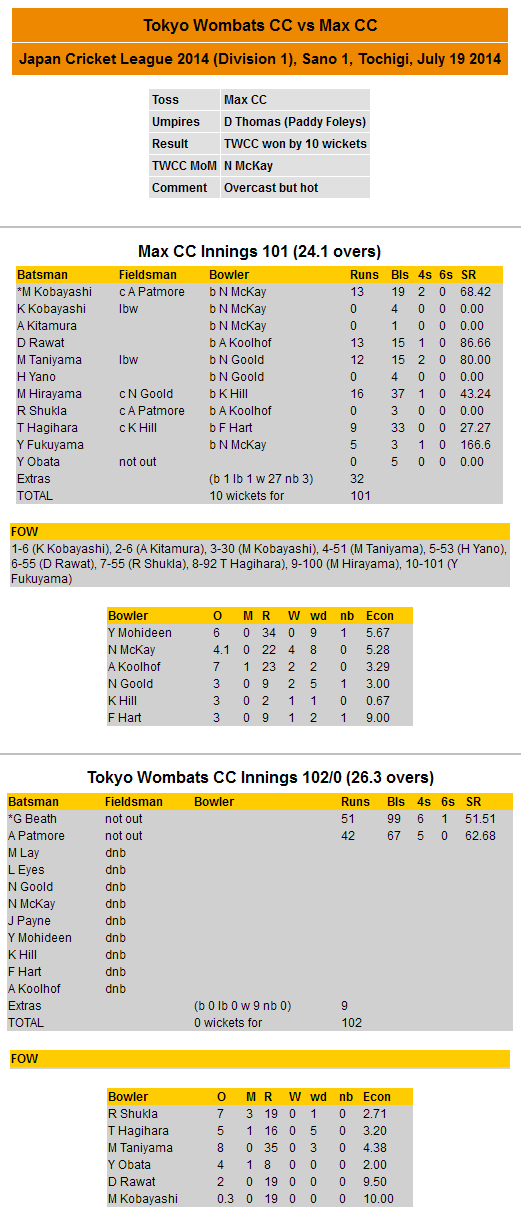 Quotes
Patmore: "Nigel's got a peach of a bum!"
Dropped Catches
Patmore: First ball of the day put down in the slips.
Frank: Meteor from the sky – should've been taken.
Koolhof: Diving one-handed attempt at backward square – still put down.
Great Moments in Sport
Gav and Patmore's opening stand without giving a chance.
Nigel: 4 wickets for 22 runs from 4.1 overs.
Kyal: 1 for 2 off 3 overs – showed us not everyone bowls wides.
Jamie's fielding efforts – jumping and diving everywhere.
Wyndham Estate Man of the Match
vs Max (Jul 19, 2014)
In his third game for the Wombats, new opening bowler Nigel finally broke the shackles to bag four wickets. McKay's 4/22 from 4.1 overs earns him the Man of the Match award!