Match Report
Scorecard
Highlights
Wombats' semi-final hopes left Maccered by Wyverns
by Alex Patmore
Wombats went in to Round 9 of the JCL knowing that a strong finish to the regular season could still see us landing a spot in the semi-finals, alas we came up against an Wyverns side inspired by a season of excellent performances.
1st Innings: Wyverns 218 all out (39 overs)
We won the toss and opted to stick the oppo in, confident in our plethora of bowlers which included no fewer than 4 spinners (5 if you count Koolhof).  However it was the opening bowlers who made an excellent start, Solaiman snicking off opener Kano for a duck in his first over.  This was in no small part thanks to the efforts of Koolhof from the other end, who created tons of pressure with his tight, accurate bowling. Kooly doing the fluffing for Solaiman, if you will.  Before the game we had discussed the relative lack of maidens this year, and for Koolhof to start with 2 on the bounce was extremely impressive.  Koolhof  bowling 3 in total for excellent figures of 8 overs 1 for 25, which on another day with more luck would have been even better.
Wyeverns were finding it as difficult to score as a night out in Sano, but were digging in with some uncharacteristically (until this year) gutsy batting.  Opener Miyauchi was finding the pace of Solaiman and Dean a bit nippy (borderline), but was doing his best to get in behind the ball and build his side a platform.  Solaiman removed another Wyvern for 35-2, at which point we delved into our bank of spinners.  Rasika and Amir had a go first, and after a fair bit of luck and missed chances Amir ended a 50-run partnership which initiated a Wyverns collapse from 86-2 to 105-6.  In the midst of this collapse, the dangerous Wyverns middle order was removed with fair ease, the aggressive Ota, Bebe and Buddhika scoring a total of 7 runs between them.  Rony and Rasi being the chief destructors in this period that had Wombats thinking of chasing a low score and making it back for Hub happy hour.
However, as has unfortunately been the case on several occasions this year, we allowed a team to extricate themselves from a losing position.  A combination of brave hitting,  missed chances and 'alternative decisions'  allowed the less heralded Takahashi and Sawada and the rest of the lower order to blast their way to 218 all out, the aforementioned both getting to their half centuries.  Number 8 Sawada in particular, after surviving a 'close' stumping appeal on 0, never looked back on his way to 68 from just 46 deliveries, which included 5 maximums. A gettable score, but disappointing after all the hard work done by the bowlers in the first 30 overs.
2nd Innings: Wombats 176 all out (34.1 overs)
Wombats kicked off their innings in gathering gloom and steadily increasing drizzle, which played into the hands of the openers nicely, particularly Richie B who got off to a flyer.  The Wyverns opening bowlers were struggling with the slippery ball, and Richie needed no invite to deposit Wyvern's very own Mr.140 and Yamada into the bank no fewer than 3 times.  The innings off to a flyer, the 50 up in no time and things looking rosy.  Even the loss of Richie and Patmore soon after couldn't put off the Wombats advance, and when the rain came down in spades at the first drinks break we were sitting pretty.  Comfortably ahead of the Duckworth Lewis par score, the ball a bar of soap, the Wyverns looking like they'd rather be anywhere else and Luke scoring freely with Rasi watchful up the other end things were looking good.
The loss of Rasi brought Amir to the crease, who looked to be getting on with things in a hurry, and it wasn't until the double-blow of losing Luke (a very impressive 44) and Amir (23 at a run-a-ball) did things start to head south for the Wombats reply.  If any of Amir's family and friends are wondering where he's been the past few weeks, he's probably still out in the middle of Sano 1, frozen in time as he's still trying to work out how cutting a ball into your pads results in being given leg before.
This period also coincided with the commencement of the Macca saga, a business contact of Luke's who wanted to drive out to watch the game.  After a few hours of getting hopelessly lost, an irate wife and kid, Macca was as tired and emotional as a Wombat opening bowler off the back of a night out and 3 overs deep into a spell on a 30degree day in Fuji.  Dean, on scoring duties, took it on himself to guide this poor soul to the ground, first walking out to the middle with Luke's phone, who was batting at the time.  This attempt having failed, Deano then went up the bank to look for Macca, in the process missing the flurry of middle-order wickets and finding himself further down the order.  Still, everyone was glad to finally meet Macca and he certainly provided a couple hours' of entertainment, fitting in rather too well into the culture of borderline comments and booze.   (Wombats elders, can the Golden Thong ever be awarded to a spectator?)
After that, the Wyverns were able to pick the lower order off regularly, and came away with a 42 run win that both sides would scarcely have believed at 105-6 in the first innings.  Shionori the pick of the bowlers, 5-29, again highlighting the depth to this Wyverns side this year.  Wombats gathering in the outfield aftwerwards to pick over what the hell just happened, again.
Drinks outside the Tatebayashi combini in pouring rain, in Luke's car on the way home meant that despite the weather and result the Wombats spirit wasn't fully extinguished. The highlight being Kooly getting dropped off at Yoyogi eki, Luke speeding off with Kooly's stubby still on the roof, and ex-Prez flailing frantically down the hill into oncoming traffic for his beer.  Commitment.
*This match also saw the first-ever attempted use of the TV umpire in Japan. Unfortunately despite the numerous signals to the scorers that it was time to go upstairs to review the footage, the message never got out to the middle that there were some slight technical issues to overcome first, namely the acquisition and installation of slow-motion cameras, ultra-edge, hotspot and snicko in a field in Tochigi.  A shame, as otherwise both sides might have confidently reviewed a few borderline decisions.
Congrats to the Wyverns, who are having an excellent year, and are probably the team most neutrals would root for in the finals.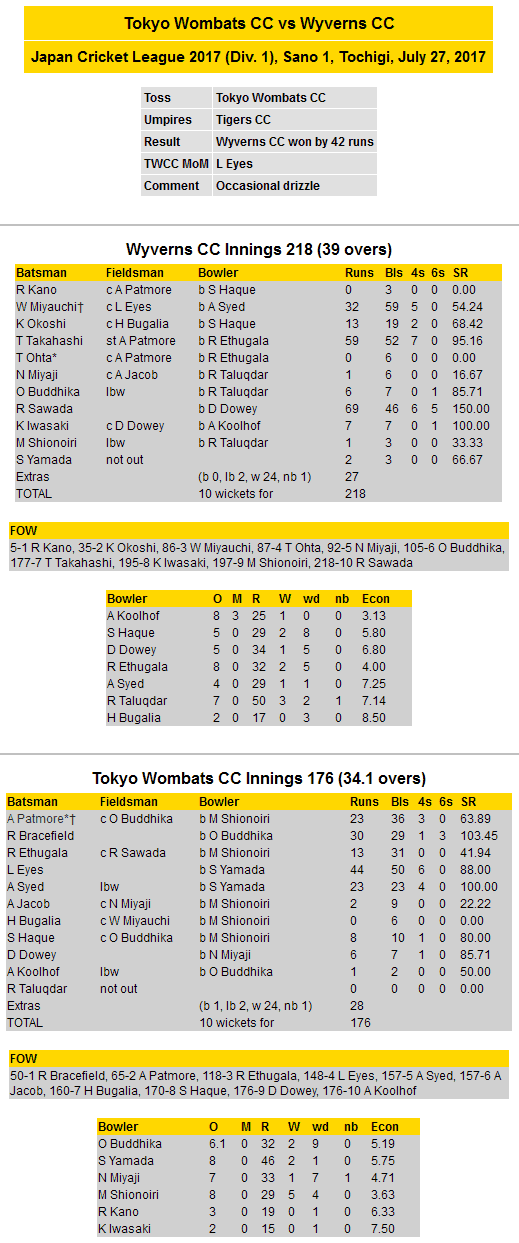 Catches

Luke's sharp one at midwicket off a full toss.
Deano's running catch on the boundary…made it look easier than it really was.
AJ at mid-on off Rony.
Patmore's sharp catch off the bottom edge behind the stumps.
Dropped Catches
Sitter by AJ at mid-on off Rony – two balls before taking the one mentioned above.
Great Moments in Sport
Luke's 44.
Richie's 3 sixes off opening bowler Buddhika, and sledging him after each.
Dummy Spits
Koolhof's innings-long passive aggressive battle with the clueless umpires from his position as scorer.
Koolhof and Deano having a pitch-length 'discussion' about different strategies to running between the wickets.
Dean voicing his disapproval of the fielding positions to the skipper and not being able to suggest a any alternative fields when prompted.
Dean again losing his shit at Koolhof after a near-miss mix-up between them at the crease.
Golden Thong Nominations
Deano – trying to stop the game so he could take Luke's phone out to him whilst batting, as one of Luke's business contacts 'Macca' was trying to find the ground to come watch. A while later Deano gets up from scoring mid-over and walks out the ground to go look for Macca, forgetting that he's in in 2 wickets, and ends up getting demoted down the order.
Koolhof leaving his beer on top of Luke's car in Yoyogi as we sped off, leaving a frantic Kooly chasing after his beer down a slope into oncoming traffic.
Wyndham Estate Man of the Match
vs Wyverns (Jul 29, 2017)
Lukey made a valiant stand with an innings top score of 44 as the Wombats attempted to chase down the opposition target and keep their season alive. Well batted Luke - this week's Wyndham Estate Man of the Match!