Match Report
Scorecard
Highlights
WOMBATS SAY NO MORE TO SANO
Unfortunately no match report due to Yusry's inability to get his act together!
The Tokyo Wombats finally broke the shackles over recent bogey team Sano Cricket Club and completed a 50 run win at the Sano 3 ground on a stinking hot day. Many Wombats starred with the bat and bowl against a weakened Sano team – but took the four points nonetheless….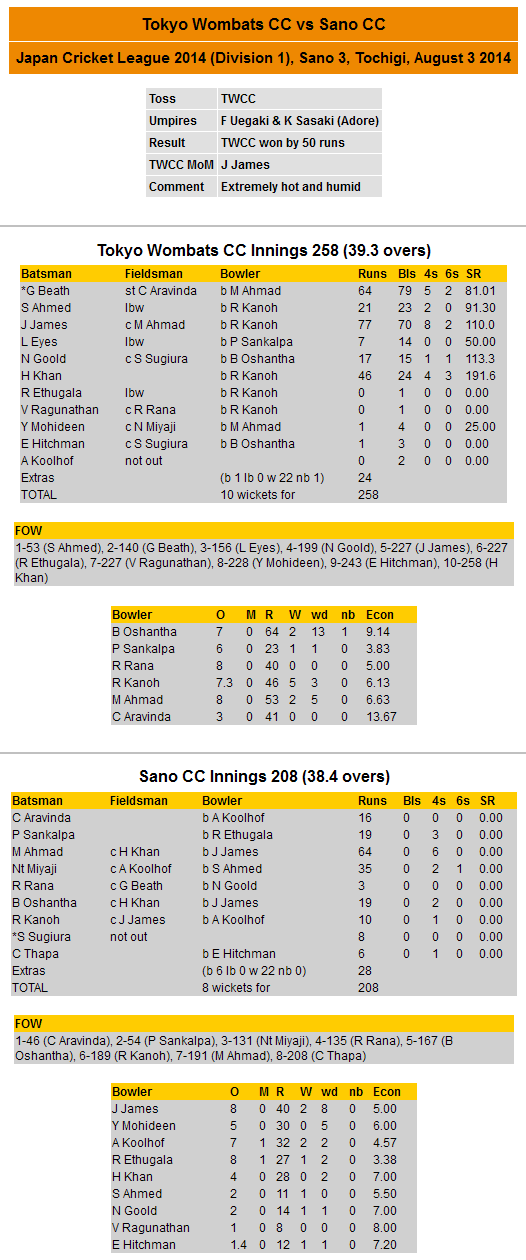 Quotes
He has a good arm for a retard, says Captain Beath.
You're good but not awesome, says Nick to Yusry.
So we're playing with 12 players, 12th man being wide, sarcasm from Hanif for Yuzzy's wides.
Rony who?? – says Evan after Rasika's great spell of spin bowling.
Did someone say panties? – says a Wombat mishearing "looks like Gav's panting".
"You're on zero Jimmi".
Catches
Hanif cooly taking a rainmaker in the deep.
Hanif again on the boundary taking a fantastic running catch.
Dropped Catches
Vik in slip.
Ev & Yuzzy dropping one together.
Great Moments in Sport
Hanif's humungous hit for a six and good cameo innings.
Gav & Shahir's opening partnership.
JJ's knock & come back in his second spell.
Skipper's solid innings of 64 to gives us a good start.
Rasika and Koolhof's impressive bowling spell, putting the pressure back on the opposition.
Shahir's stupendous effort in the field.
Dummy Spits
Luke Eyes – decent throw of the bat, pads and possibly a disgruntled kick of a plastic water bottle!
Wyndham Estate Man of the Match
vs Sano (Aug 3, 2014)
Jimmi James smashed 77 runs (8 fours and 2 sixes), took 2 key wickets and held on to an important catch to seize the initiative for the Tokyo Wombats in long-awaited victory against bogey team Sano. Jimmi gets a fine bottle of Wyndham Estate wine for his efforts!