Match Report
Scorecard
Highlights
Photos
WOMBATS PUT PADDY TO THE SWORD
by Gavin Beath
The Wombats woke up bright and early and arrived at the ground in dribs and drabs to take on the Paddy Foley boys on an overcast Saturday. The few members going to Fuji by local train were treated to a fight club spectacle by a group of Hiroshi's thocking each other in the guts for laughs at Shinagawa station. Also, Shaz seemed to be very popular with the several female passengers with a group of girls squealing with delight after he waved to them. Give me some of that bravado please! Also, this was the debut game for Naren.
Fortunately, the Fuji ground had scrubbed up very well after a week of rain and conditions were good for play. This time Dino could not be faulted for his keenness to play. Captain Beath lost the toss and we were put in the field. Which is what he wanted to do anyway.
Paddy Foley started off steady with the opening bowlers bowling a mixed bag of wides, half volleys, long hops, and good balls. Eventually Nige got his act together and knocked over the stumps for the first wicket and a couple of other chances went begging behind the stumps. At 40/1 Gav and Tom steadied the ship and bowled economically without too much treat. More drop catches were to come. After drinks, the spinners came at both ends much to the disgust of Nige at 60/2 and runs and wickets came thick and fast. Naren on debut took some tap but his leggies looked threatening. He picked up three wickets with two being top order wickets and Rasi picked up another. There were more drop catches to come. Luke and Tom shelling some regulation chances in the covers. At this stage Paddy had advanced the score but were losing regular wickets despite the dropsies in the field. Amal blazed a good 62 including one massive six off Yus that lost the ball. Yus walked off and got a drink while everyone else looked for it, which produced a dummy spit from the Captain. In Yus's defense, he has health problems. Eventually, Paddy dismissed for 180 off 37 overs. Amazing to keep them to such a low score considering how godforsaken our fielding was.
Shaz and Patmore to open for the Wombats reply. Shaz was promoted up the order to be given a chance. He was soon out for 1. At 14/1, Patmore and Dino put on an excellent display of batting and saw the boys home. Patmore 93 not out and Dino 42 not out. The total of 181 reached in the 27th over securing the bonus point with a second wicket partnership of 167.
The Wommies hit a beer garden on rooftop of the Green Hotel at Fuji. The skyscraper at Fuji had impressive views from the 6th floor. Good food and beer to be had as well as a wombats victory song for the ages. Then, a very long and alcohol enhanced train ride back to Shinagawa…
Thanks the Wyverns boys for umpiring and Dino for ground reports and organizing stuff.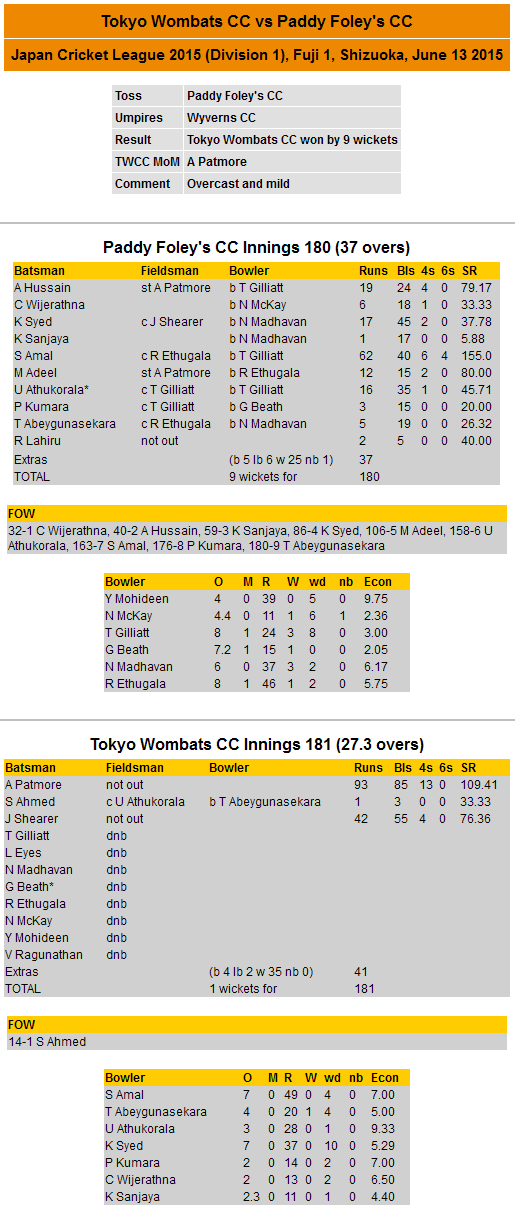 Quotes
"These last 10 overs are going to be a test of my character," says an exasperated skipper after 30 overs of very ordinary Wombat fielding.
"Dino! Catch it please! I never get any wickets for the Wombats," says Beathy as the ball goes high in the air and over the dinosaur's head.
"He's like a Dalek! He can't get off the straight!" comments Batmore on Steve Hawkins' fielding efforts off his own bowling.
Dropped Catches
Shahir spilling a sharp chance at cover off their best batsman.
Luke dropping a lollypop at midwicket
Tom dropping a dolly at cover
Naren dropping a sitter at cover
A couple went begging through the keeper/slips
Great Moments in Sport
160 odd run partnership undefeated for the second wicket by Alex P and Jarrad
Dummy Spits
Yusry kicking a botle of water in the bushes.
Gavin for yelling at Yusry after getting smashed for a six and not looking for the ball.
Nige for having a massive whinge about bowling the spinners too much
Wyndham Estate Man of the Match
vs Paddy Foley's (Jun 13, 2015)
An unperturbed display of batting from TWCC captain Alex Patmore (ably assisted by club founder Jarrad Shearer). The odd-couple made sure the Wombats overhauled the opposition''s total in the 28th over to secure the bonus point. AP went at more than a run-a-ball and stroked 13 fours in his innings of 93 n.o. Have a bottle of Wyndham Estate wine for your efforts, Alex!