Match Report
Scorecard
Highlights
WOMBATS PADDY-WHACKED IN SEMI
by Gavin Beath
The Wombats had assembled much earlier than usual on a bright Sunday morning to face the well-bolstered Paddy Foley's team in the semifinal of the JCL 40 over competition. As a consequence of the earlier morning, rank morning breath seemed to be fairly prevalent among the several train-catching Wombats who had assembled at Shinjuku and Ikebukuro. I do recommend brushing your teeth at least three times a day.
As the train trundled its way to Tanuma station, it was noted that there were no signs of hangoveredness from all the partying after the glorious AFL grand final victory by the Hawthorn Hawks; a team I have absolutely supported throughout the years and during their highs and lows – and will continue to do so until someone better comes along (Dino during the AFL grand final party was heard proclaiming that, "I've just discovered this new band, um, what are they called, the Foofighters!" and then proudly added that, "did you know the singer is that drummer bloke from Nirvana?").
Tanuma station is a bit further out than we usually go and has several more dangerous train norikaes that almost left a few meandering wombats short of the door, or even worse, short of the loo in case of one serial offender in that department. Nevertheless, all was in order once we arrived, and we were ready for a cracker of a game. It felt good to be back in the semifinals as we did not even qualify for it last year.
We had our best team on the park for the semifinal. In fact, our team was so much improved from last year with the addition of some new players and a few handy defects from other sides seeking to find more happiness with the Wombats, that in fact, captain Beath even had the confidence to quote early on in the season that, "we should all go and shoot ourselves if we don't win the grand final this year". Of course, I meant that figuratively…
The toss was lost and Chula, the Paddy Foley's captain, decided to bowl first. Out strode openers Patmore and Beath, who had fond memories of an opening stand of 190 odd at this same ground last time in the grand final against Sano, but today the opening stand was only 3 as Beath (1) was soon walking back to the tent after playing loosely and snicking out in the second over. Jimmi (35) and Patmore (54) started to slowly resurrect the innings with a 101 run partnership at about 4 an over under a lot of pressure and tight bowling.
Beath earned a reprisal from his "Jimmi you're on 99" comment when Jimmi hit a skier out to Amir at the mid-wicket boundary and commented as the ball was coming down, "Amir never drops them" – only to see Amir shell it completely. A few overs later, both wickets were lost in quick succession as they tried to up the ante at around the 27 over mark. After that, boom boom Hanif (61) went nuts with a quick fire 61 not out from 42 balls including five massive 6s and Eyes (14) and Goold (20) also chipped in with cameos to lift the score to a modest but defendable 212/7.
With the Paddy Foley's batting line up well bolstered for the semifinal, we knew it was going to be tough work in the field even though we had a few runs on the board. Unfortunately, we did not do ourselves justice and bowled too many loose deliveries, too many wides (33), and just had no luck in the field. Kyal's first over got pelleted for 13, Rony showed curry fingers dropping and misfielding just about everything while Lukey showed butter fingers shelling a sharp chance at square leg, and one run out went begging as the umpire forgot to watch the ball because he was too busy filling in his personal scorecard (Patmore ripped off his keeper gloves and bashed them into the turf with ferocity and Gooldy demanded a formal apology from the umpire!).
I could go on and on but just about every bowler got smashed apart from a very good spell by Rasika. Paddy Foley ended up chasing down the target in the 33rd over for the loss of three wickets. They could have probably chased down 350 plus to be honest. They did not even bother using some of their best batsmen preferring to give others a go. It was a miserable effort indeed. The words of one elder Wombat springs to mind, "I am just looking forward". However, I have visions of balls hitting the middle of Paddy Foley bats rather than…
The train ride back was the usual affair of highlights and the KFC at Kuki benefited from a few beer-drinking Wombats once more. I enjoyed the pure watery taste of Budweiser beer. Dr. Nigel was very responsible and decided not to drink because alcohol increases inflammation….
Aside from that godforsaken fielding effort, it has been an absolute pleasure captaining the side for 2014 and I hope to see you all back for 2015. If you are interested in becoming captain for the 2015 season, please put your name forward at the AGM. Well done to the new blood: Hanif, Rasika, Chaminda, Nigel, Jimmi, Frank, Vik, Maruf, and Yus for adding a bit of spice to the Wombats. There will be plenty of social events and maybe one or two friendlies to round out the season. Chiang Mai is also looming and it is one to tick off the bucket list. Contact Curly for details.
Big thanks to the umpires Hidehiko Matsuchika and Shuhei Takahashi (Streps probably doesn't really need that formal apology). Also, I appreciated the support of Mick Lay and daughter who came down to watch.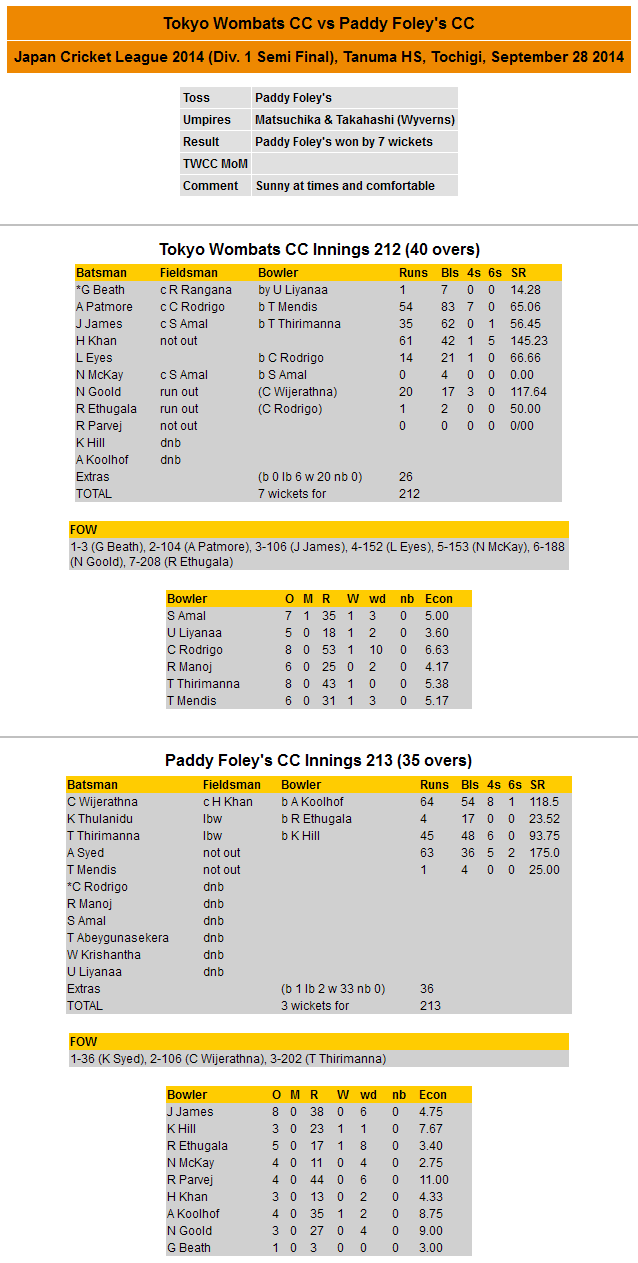 Quotes
"I've just discovered this new band, um, what are they called, the Foofighters!" – proclaims Jarrad Shearer the day before the semi final.
"I'm not drinking – alcohol increases inflammation" – says Nigel when asked why he held no beer in hand after pulling a hamstring in the game.
Dropped Catches
Lukey Eyes at square leg – gets his hands to it…but can't hang on!
Dummy Spits
Alex Patmore. Quite the tantrum on the field after inept umpire fails to give a run-out (coz he was too busy looking at his notes). Keeper gloves came off and bashed into the turf with ferocity!