WOMBATS OUTNUMBERED, OUTSOURCED, AND OUT, SAUCED
by Luke Ray
It's never something a captain welcomes. Ten players put their hand up, 8 agree to take the team train, 4 show up. It soon became clear that we'd suffered casualties…
Now the particular breed of Wombat found in Tokyo generally dwells somewhere at the higher end of the food chain, however the more senior among us will know that there are certain parts of this city that will swallow a Wombat whole…
"Patmore's lost a mate."
"Right, Ok."
The first game of the year was on very short notice due to the usual reasons relating to general fuckwittery–the details of which I won't bore you with–which meant the Wombats had to dip into JISM (Japan Impressive Supply of Mates) for assistance. Patmore had two schoolmates over from England, Richard (MIA) and Tim. Mick Lay, a 20-odd year veteran of Japan cricket and playing his debut match for the Wommies, brought a promising Tasmanian (aren't we all?) by the name of Luke. In total this made 7 (Chuck shakes head) of us present for the toss. Once again cursed by the god of coin, we were to field first.
Once out in the middle things started off perfectly for the Wommies, Beathy letting go a ripper of an inswinging rank full toss, first ball, which the batsman kindly decided to leave–straight into middle stump. As the innings progressed we bowled tightly, fielded with gusto (e.g. Mick somehow fracturing a rib) and held our catches to take regular wickets and restrict the Wyverns to about 6 an over for the first 25 overs or so. We'll take that! So good were we in fact that quiet comments were made about playing with 7 more often. It would've been quite like Chiang Mai had the heat and my hangover been 4 times as intense, as well as a few other differences to do with ball tampering (see Ian Gason's mail for this year's CM round up – brought tears to my eyes….).
Malcolm deserves a mention for volunteering his efforts with the gloves, and his chest, and head. True Wombat spirit that. Luke showed promise with the ball despite the years in between spells, perhaps heartened by the fact that whatever he served up, he wasn't exactly gonna get dragged. The makings of a handy all-rounder. All the way from Sendai another debutant Lakesar (Lackie) was solid also. Having given up the search for Richard ("he's either dead or getting laid – either way cricket isn't high on his to do list"), Patmore and Tim turned up in a taxi about the 25 over mark, not quite straight from Roppongi. Tim was reassuringly nonchalant with the ball despite being dragged to a (for him) random game of cricket, on holiday, from the bar to Gunma. Though ironically this is when the run rate started to get away from us, Wyverns going on to post 243 for 7 or 8(?). Doable, but not as doable as the lady sitting opposite me as I type this…
The batting chase started steadily, though the loss of wickets prevented the necessary surge in run rate, which inevitably got away from us. Beath and Patmore were solid as always, Mick, despite injury, showed his class against an opposition that were rubbing riceballs into the rug and screaming at Doraemon when he first padded up in Japan. I never bothered to find out our total, and I was scoring, which speaks volumes about how much it was.
One of the outstanding parts of the Wommies outfit is to never let a shitty result get in the way of a bit of post match 'banter' . After a jovial train ride we decided on Shinjuku for dinner as the almighty piss down of rain that was promised finally delivered. It was interesting and more than a little ironic to find the long-lost Richard waiting at the ticket gates dressed to the nines, ready for another night out. As it turned out, he had made it out of (someone's) bed, was able to play and had been waiting at Shinjuku station for the rendevouz phone call that morning–the call that never came. It just goes to show, even if you've never played a game for the Wommies, the instinct is there. Result be damned, who else eats roots and leaves for a game of cricket in such fine fashion…?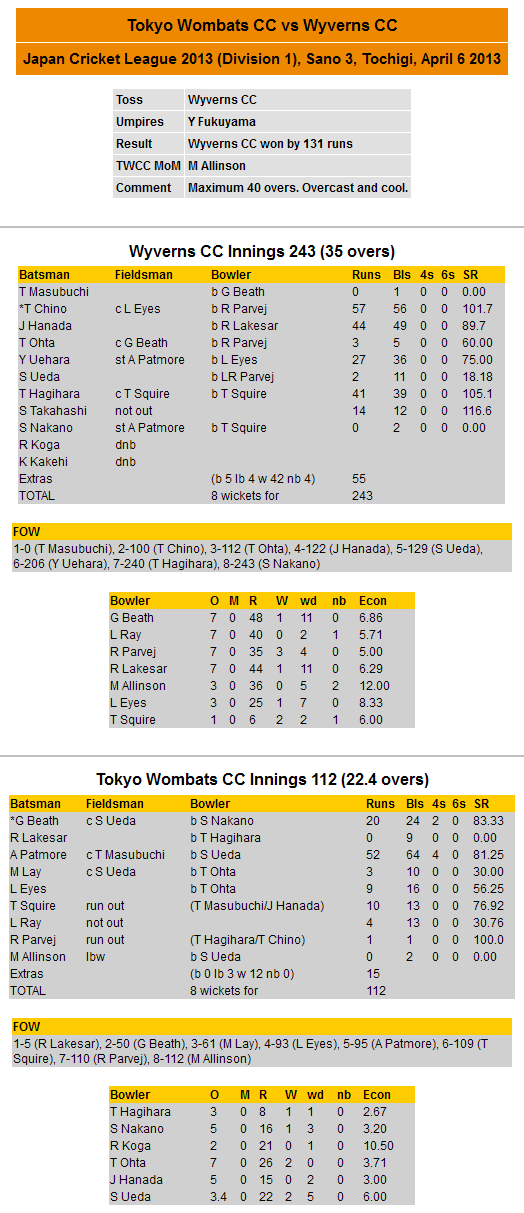 Hardys Man of the Match
vs Wyverns (Apr 6, 2013)
Malcolm "Vegas" Allinson took charge behind the stumps for the Wombats' first JCL game of 2013 and performed admirably. His efforts were rewarded with a bottle of Hardys wine and the title of Hardys Man of the Match!