Match Report
Scorecard
Highlights
Photos
Wombats ousted in bog slog
by Nigel McKay
After a rollicking start to the season winning the first four games on the trot, the season hit a lull due to rained off games and summer holidays. We arrived at Sano 3  a little underdone but knew that it was a one-off game and anything could go down. What came down was a torrential downpour the night before leaving the pitch and the outfield an utter bog. As we were below Max CC on the points table heading into the semi we needed the game to be played.
The next three hours were spent mucking about, clearing water off the pitch and outfield using sponges. Oh and the odd bit of fielding practice and banter (Richie enjoys his jobs at JustLegal).  We didn't make much headway getting rid of the outfield puddles but Luke (using the kiwi part of him)  used some kiwi ingenuity to cover the puddles with dead grass. Around 1:30pm Max CC agreed to play even though they could have just said no and go through to final (cocky bastards). The game was reduced to a 23 over affair and Patmore won the toss and chose to field first. Koolof opened up bowling and opened up about his dream job…a 'fluffer'.
The first few overs were decent from Koolof and Nigel but it didn't take long for the Max openers  to bludgeon away some boundaries and build up the score. In no time the field was very defensive, the ball was wrecked,  no demons in the pitch at all,  and the score began to mount. The opening partnership passed a 100 and then 150 with pretty much no chances. Nigel came back in his second spell and after several attempts to paddle a ball to short fine leg the Max opener in Vinay succeeded and hit a dolly to Vikram who took his first catch for the Wombats!
The score went to 200 quickly from one over that went for 33 and then the other opener, Supun, finally plucked out a fielder on the boundary and Nigel turfed it after stumbling just as he went to pouch it (so he says). He was finally out for 125 off only 67 balls from a well worked runout from Himanshu throwing a bullet throw to the bowlers end so Zeesh could whip off the bails. Max finished the innings on a mammoth 263 off their 23 overs and the Wombats were little dejected.
However, we knew how difficult it was to field and bowl out there and had a strong top order. We got off to a great start with our openers Alex P and Richie putting on a great opening partnership at a run rate of 10 at least. Richie hit some great covershots and Patmore hit a classy six whipping of his hip over deep backward squareleg. After Patmore got out Aamir came in and continued the rapid scoring alongside Richie. At the mid-point of the innings we were only 1 wicket down and not far behind the required run rate.
Confidence started to grow until Aamir and Zeesh went in quick succession and not long after that Richie went also after a well hit half-century. With the lower order needing two runs a ball the ask became a bit too great and wickets regularly fell. Nigel put up a bit of resistance with a couple of lucky sixes due to odd shaped boundary ropes but the Wombats run rate wasn't enough and fell short of the target by 81 runs making 182/9 after 23 overs were up.
Max were well deserved winners bettering us on the day in every department as Patmore said in the after-match presentation. Richie got man of the match for the wombats due to his half-century knock and after the game most of the team went to an Izakaya next to Tatebayashi station for drinks and deep reflections on the game and season. Season highlights would have to be top-order batting with plenty of big opening stands this year. Few too many mid-lower order collapses and some bowlers had some admirable performances but all in all an enjoyable season was had. Congrats to the new players who joined this year and let's hope 2017 is the year of the Wombat.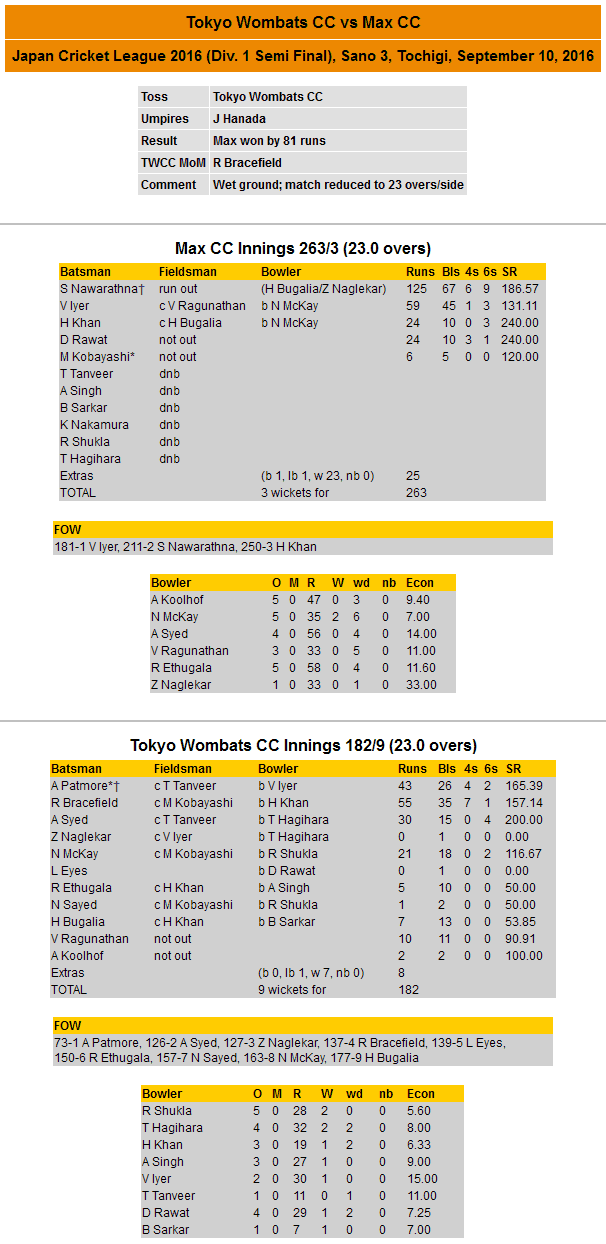 Catches
Vik's first catch for the wommies
He-man at short third man
Dropped Catches
Nigel on the boundary spilt quite a sitter!
Great Moments in Sport
Bowlers kept coming back after being hit for boundaries.
Opening partnership b/w Patmore and Ritchie which was then followed by Amir and Ritchie.
He-man's quick hands to get Supun run out
Towering sixes by Ritchie and Aamir.
Quotes
I was hired by a recruitment firm called JustLegal….explains Richie about his adventurous start to working life in Japan
"That'd be a good job" – Kooly after hearing about the job description of a fluffer, which is to keep male 'talent' interested between takes

"I've got a lot of shit in my rear" – Amir talking about his car
Golden Thong Nominations

Vik nominating his own catch?!
Wyndham Estate Man of the Match
vs Max (Sep 10, 2016)
Richie performs admirably again this week and takes home the George Wyndham wine as the Wyndham Estate Man of the Match! Despite an unfavorable result for the Wombats, Richie's big hitting was a delight to watch and gave TWCC a lot of hope early on in the chase. Great effort Rich.