Match Report
Scorecard
Highlights
Wombats Muff Up Against Max
by Luke Ray
Three things to take away from the recent TWCC vs Max fixture would be that as a team, the Wombats can be strong in the field, shaky with the bat, and downright shithouse at arriving in the same place at the same time.
(Has it ever happened?)
Cracks appeared before the Wombats got anywhere near the pitch, with designated driver Yusry not picking up the phone. Now, having indulged in the best that nighttime Tokyo has to offer with the nefarious nocturne that is the big Yuz, this writer's head was immediately filled with possible scenarios: was he locked up at the army base he frequents? (not impossible.) Had he been arrested for beating up one of those thousands of fluffy mascot characters (I've seen him try.)   Or perhaps he'd fallen asleep on the 5:30 train back home from Roppongi and was currently hitchhiking back from Shizuoka (similar things have happened.)
Alas, the undisputed reigning savage of the current Wommies team had been kept awake by a crying baby…
Minus an obviously traumatised Yusry, the Wombats won the toss and took the field. Things went well for us early, as the Max adopted their usual tactic of boring the opposition into complacency, with the run-rate suggesting a score of perhaps 120 off 40 overs at one stage. Admittedly this didn't take into account the Khan factor (57 off 24 at No. 4). With a fantastic eye and zero footwork he'd stand a better chance of converting his cricketing prowess into popularity with chicks if he'd played baseball. For us, Rasika (8 overs 4 for 53) bowled well, using the occasional yelp to good effect to eventually take out the two half-century scorers and give us something to bat for. Koolhof was solid as always, pooing successfully before play (harder than it sounds for Al). He also bowled well with 2 wickets for 34 from his 8. L. Ray was nice and loose (once again not dissimilar to his morning evacuations) to pick up 2 wickets for 5 from his 2 overs. G. Jones also chipped in with 1 wicket (no idea how he poos). Max 9 for 228 after 40 overs.
Batting-wise, with the exception of 'Dizzy' G. Jones (25 off 45) the Wombats scorecard was rather impressive—had we been playing golf. Reasons as to why we failed with the bat have been bandied about, and after careful consideration there are a number of factors which may have played a part, chiefly no practice, no lasting partnerships, an umpire with no clue, and in a few cases (mine included), no batting skills. A special mention must go to Koolhof, once again unbeaten on 2. What a stalwart for the team. Surely some great things to come from this fine young batsman.
Wombats all out for 82.
With the extra drivers thanks to Yusry's child's vocal chords, not everyone was able to enjoy the post-match beers, and others chose not to, which was something this Wombats veteran had never seen before. But the banter was there, and two old boys Koolhof and Ray even managed to end up enjoying the night time breeze in the imperial gardens.
Whether it be arrival times, match results, or random piss-fueled missions, this writer is happy to say that even after nearly 15 years of cricket, predictable is one thing the Wombats are not.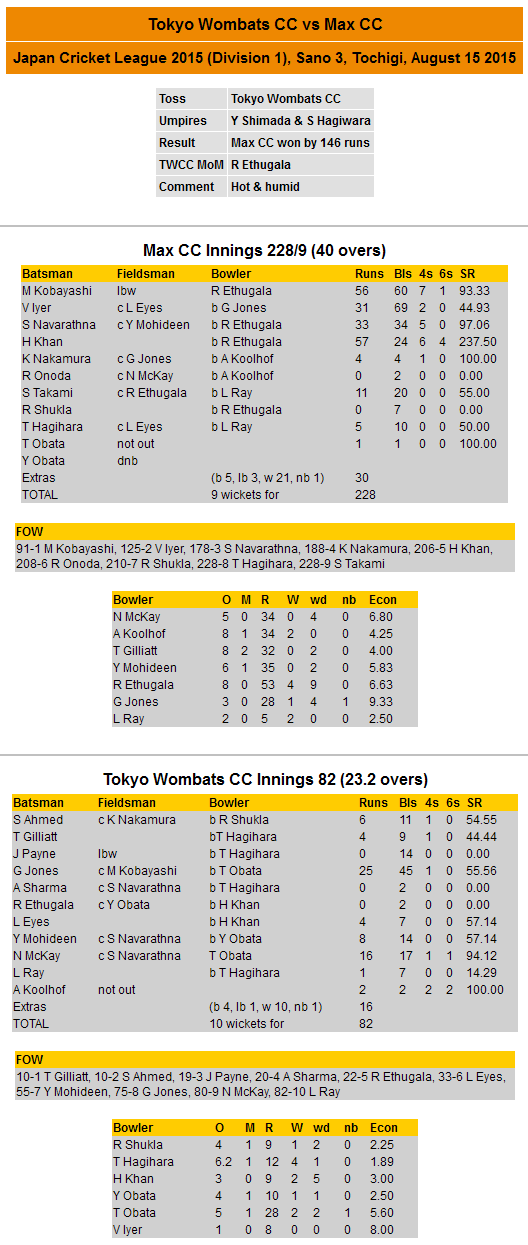 Catches
Nice jelly-legs jump from Nigel at 1st slip to take one above his head.
Luke's catch off rassi between the legs. Definite use if the ball sack.
Dropped Catches
Huge herschelle nomination for Nigel at mid-off. Dolly straight to him….softly hit….but plops out of the hands like a slippery mountain trout.
Great Moments in Sport
Rassi's random appeals/blurts of joy.
Gordo batting about 20 overs under tough conditions: sickness, 40 degree heat and a middle order collapse.
Dummy Spits
All the Wombats (excluding the drivers) that didn't have a beer in their hand during the highlights.
Wyndham Estate Man of the Match
vs Max (Aug 15, 2015)
Mango "Rassi" snared four wickets in TWCC''s loss to Max and was one of very few shining lights for the team. His enthusiasm never wavered on the field and deservedly, he took home a lovely bottle of Wyndham Estate wine for his valiant efforts.