Match Report
Scorecard
Photos
WOMBATS MARCH INTO JCL FINAL WITH WIN OVER WYVERNS
by Shahir Ahmed
The Wombats avenged their loss to the Wyverns earlier in the season with a hard-fought 53-run victory in the supplementary semi-final, thereby booking their place in the JCL final against Sano on October 21.
On a bright and sunny typhoon Sunday the Wombats (sans Angus who needed an extra couple hours of 'recovery' in order to be ready for the big game and opted to drive separately instead) met up at Mejiro Station, which was the rendezvous point for the van. As Koolhof's email instructed all to head to the meeting point by veering left after taking the only exit at the station, it wasn't much of a surprise to see that in fact the team members had all gathered on the right hand side of the exit.
Confusions averted, pleasantries and AFL scores exchanged, the lads all piled in and off we went towards the Sano 3 ground in Tochigi. The ride was uneventful for the most part, other than Koolhof demonstrating safe driving skills by only narrowly avoiding driving through two red lights.
For the second game running, Beef won the toss and elected to bat first. The Sano 3 surface being on the slower side, quick run-making was expected to be difficult. And so it proved especially in the face of some disciplined bowling from Hagihara and Nakano first up. The Wyverns led by skipper Chino also kept things lively with a bit of chatter, at one point even sledging a batsman who was still in the pavilion. "Come on lads, one wicket and then we can get Dino run out."
Beef perished quickly, nicking one behind on an attempted cut shot off Nakano, bringing Dino out in partnership with Patmore. The pair pressed on slowly at first but gradually the innings gained momentum. Both fresh from a tour with the Japan national team to Samoa, where Patmore earned the honour of becoming the team's first centurion, carried their good form into this match and added 121 valuable runs for the 2nd wicket. Dino fell 4 short of a well-deserved half century, as the Wyverns true to their word indeed ran him out with an exceptional bit of fielding at mid-wicket. However the platform for a decent total had already been set at this point.
Baines who hitherto had patiently been waiting his turn to bat, padded up since ball 1 and lazily smoking his e-cigarette to kill time, arrived to liven things up immediately. A push to point for a single was followed by some choice words aimed at Rony the 'leg umpire', who – deciding he couldn't be bothered to keep switching sides for the right/left combo – was standing in the direction of the shot, and was also easily confused as a fielder given that he had strolled out in all whites. Rony's defense was that he was carrying a water bottle, but at the next over break a pretty pink shirt was brought out for him to wear and make him truly stand out.
Baines next contribution was to get Patmore run out, choosing to admire a cover drive in his crease rather than return the non-striker's call for a run. By this time Patmore had completed a well-made half century and had helped bring the score close to the original target of 175. Then the rest of the middle order scratched around to add a few more runs to the total, as the Wombats played out the 40 overs to finish with a respectable 185 for 6.
This was a decent target to defend but not one that would afford the Wombies the luxury of wayward bowling at the start like in the previous round against Chiba. The other thing on the horizon, literally, were clouds from Typhoon Jelawat forming in the distance with a promise of heavy rain later in the afternoon. Out in the middle Patmore shouted instructions to move things along quickly during over breaks so as to get the maximum number of overs in before the rain came. (Some say Dino moved faster during these changeovers than at any point running between the wickets, though this isn't readily verifiable.)
Damo got things started very early, forcing Ohta to play one on to his stumps with just the 3rd delivery of the innings without a run on the board. Just a couple of overs later he struck again, as Hanada edged one to first slip where Dino took a sharp chance, and just like that both openers were gone for 7. At the other end, Kyal kept things in check with some tight bowling and made sure the Wombats had the better of the opening exchange.
Then as a partnership seemed to develop between Chino and Ogawa, Beef brought Koolhof on, who with his strange mixture of wides, long hops and fuller ones struck early and got two wickets in quick succession to compound the Wyverns' misery. Koolhof's bright red socks worn under his Vibram FiveFingers might have had something to do with Hagihara's lbw, however to date no official complaints have been lodged with the JCA.
With captain Chino still at the crease building patiently, the Wyverns were still in it with an outside chance. A stand of 30-odd with Matsuchika – before Damo came back to get him caught behind in his second spell – was followed by a threatening 52-run partnership with Nakano scored at quick pace, which brought the asking rate back under a run-a-ball. Meanwhile the Wombats reverted to their old ways with wides and no-balls and dropped catches all thrown into the mix, and were seemingly staring another semi-final defeat in the face.
The reintroduction of Rony into the attack however put to rest any such notions, as both Nakano and Chino were removed in the first over of his new spell. Baines took a well-judged catch at mid-off covering a fair bit of ground to his left, while Chino hit a full toss straight into the waiting hands of Kyal at square leg to all but wrap things up for the Wombies. The Wyverns who were playing a man short finished all out for 131 in the 32nd over, which coincidentally was the same number of overs we needed to bowl for it to be counted as a complete game in case of a rain interruption.
No sooner had everyone changed clothes and thoughts turned to the post-match barbecue, the rain arrived, forcing all to scramble into the van and head to a spot under a nearby highway bridge to fire up the grill. With the van providing strategic cover against the typhoon wind and water being splashed down from passing cars on the bridge above, the team enjoyed tasty all-beef hamburgers together with Koolhof's famous pickled beets and some local brews. A few beers, burgers, and one rousing rendition of the team song later, all made their triumphant way back to Tokyo.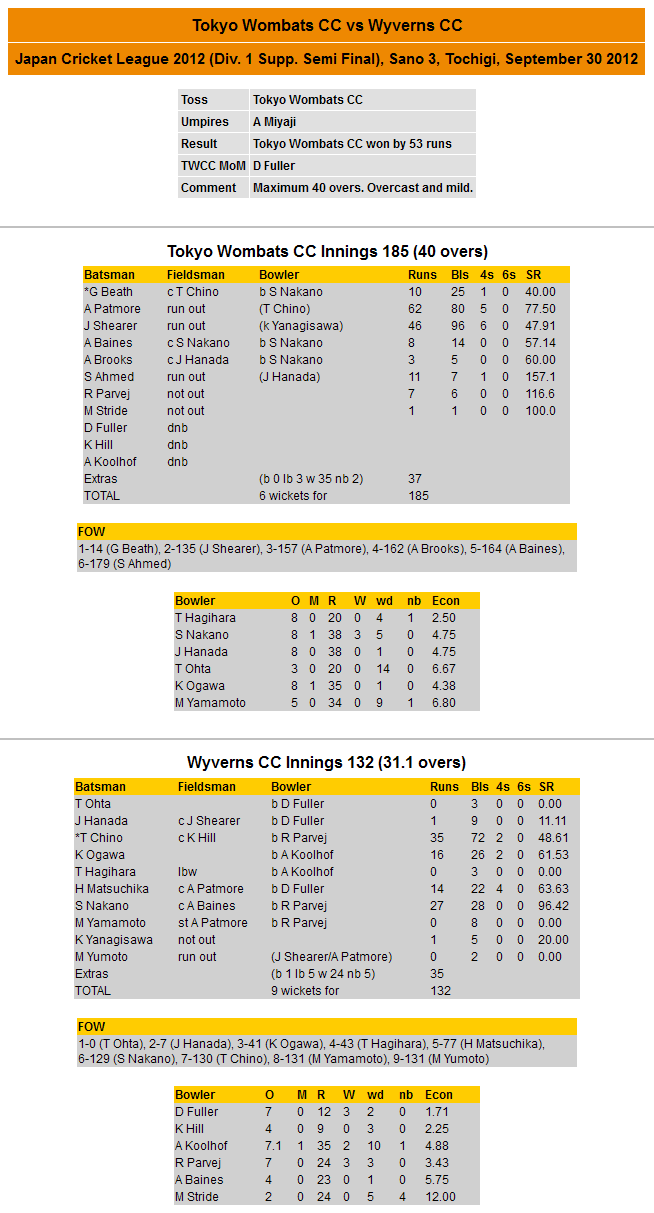 Hardys Man of the Match
vs Wyverns (Sep 30, 2012)
2012 recruit Damian Fuller exhibited his true potential as a solid fast bowling option for the Wombats with a very tidy 3/12 from 7 overs. "Damo" dismissed both Wyvern openers with a fiery but controlled display that kicked off TWCC's defense of 185 on a fast outfield, and as such, earned himself a bottle of Hardys' wine!