WOMBATS MAKE LIGHT WORK OF ADORE IN FUJI FIELDS
by Alex Vakil
At the usual inappropriately early rendez-vous on Saturday morning, there was concern that Dino's laziness to send round a call list had backfired when there was a 15 minute delay in the bus' arrival. Could it be that the senior trio of Wombats had snoozed?
A few phone calls made reassured the masses and the bus duly pulled up at 8am. The day hadn't got off to a good start when the team's talismanic leg-spinner and kit manager, Rony, had turned up without his trainers. A quick dash from team skipper, Gav (the quickest he has ever been witnessed to move) back to his house to pick up a spare pair saved Rony's blushes. The team was also relieved to see Evan pitch up: looking slightly worse for wear after what could have only been a couple of hours sleep, the team were on their way to Sano to face Adore, the same team who had almost humiliated this antipodean dominated team only last month.
The presence of a model helicopter flying nearby delayed the team's exit from the bus. However, worse was to come. With funding for Japanese Cricket being at an all time low, first on the chopping board was the JCA's budget for pitch grooming, with the outfield resembling a farmer's field just prior to harvest. It was going to be a day of running quick singles or smashing boundaries: either way, a low scoring match looked likely.
With the skipper set on winning the toss and bowling (his decision mainly based on a desire to wrap up the game early and crack on with the bbq), a fortunate fall of the spinning bat saw Adore given the chance to bat first and post a total. However, after a brief team meeting, and in a move that was highly reminiscent of Ricky Ponting's ill-advised decision to bowl first against England in the 2nd test at Edgbaston in 2005, Adore decided that even with 9-men, they fancied a chance to skittle the Wombats and chase a total, and thus elected to bowl.
The experienced duo of Beef and Dino opened the innings and immediately it became clear that shots would not be receiving their full value on an outfield in which cattle would have felt at home. Ten or so overs of singles and hastily taken 2s were interrupted by a cracking six over midwicket from Beef. The cheers were short lived, as Beef was controversially given out "inside edge" before wicket the next ball. Alex "Tyson" Patmore might have felt that his 60 odd the last match would have solidified his position at number 3. However, in a tactical shift of personnel, it was decided that fellow pommie Alex "Robin" Vakil should bat at number 3 and steer the innings. Robin's running between the wickets had been identified as a potential chink in his armor as Nick and Malcolm may or may not have attested in this fixture in April. However, with some firm words from Dino, Vakil and the vice-captain began notching up a few runs. The going was tough and a few agricultural swipes across the line from Robin and some more conventional shots from Dino kept the score board ticking.
Not being content with only taking the solitary wicket so far, Adore thought they had a breakthrough when Dino inside edged onto the deck and then onto his lip. Shrieks of concern shot around the ground and the towering Dino looked to be in trouble. The Wombat's first aid kit consisting of frozen sausages and a bottle of water was expertly deployed by Bainsey, and yet with a cut top lip, Dino bravely continued to build his innings.
Robin managed to pick out a fielder at his favoured "cow-corner" and was dismissed for 39. Tyson arrived at the crease and due to his tight hamstring sought to forgo any reason to run quick singles. A quick fire 31 off 22 balls got the score board racing forward. Conscious that the rest of the Wombats were waiting in the hutch ready to have a go at the Adore attack, Dino selflessly hit a lofted drive to the cover-fielder and was dismissed for 49. The Wombats middle order were given license to have a go and push the team towards 200.
Angus steered the innings and was left carrying his bat whilst others fell around him. Evan came out to bat, well rested after a 30 over nap, and immediately decided that the bat he had chosen wasn't quite up to the big hitting required at this stage, and notwithstanding the fact that Robin had previously used the bat to relative success in his innings, called for a bat change. Unfortunately, Evan was unable to test out his new bat in any way shape or form, as his off-stump was sent cartwheeling the next ball. Baines had decided that this was the perfect opportunity to try out his un-knocked in bat. However, only a few balls made contact with the face as the Wombats slumped. Koolhof came in for the last ball and managed to maintain a 100 strike rate with a quick single to finish. The Wombats had managed to reach 195-9 off their 40 overs. A worthy effort considering the state of the outfield.
A "delicious" Kombini lunch was had and the Wombats set about defending their healthy looking target. Beef selflessly decided to open up with himself and he immediately got the openers into trouble. At the other end, Kyal (or is it Karl?) was putting the ball onto the spot nicely. A lofted swipe from Hashiba made it to Patmore at slip, who in true wicket-keeper-cum-fielder style, had positioned himself in the slip cordon. A solid catch running backwards had the Wombat's first wicket. As Patmore himself said: "I made it look easier than it was".
The second wicket fell when Beef trapped Sasaki plump in front of all 3 first ball. A confident looking Ito strolled on out to the middle knowing that a big knock would be required to get Adore anywhere near the intimidating Wombat's total. His confidence was swiftly put in check when he realised that he had made it out to the middle with gloves, bat, lid but no pads. A quick kit switch was made and slightly embarrassed Ito took guard. His pads might as well have stayed in his bag, as a seaming delivery from Karl took out his off-stump. Advantage well and truly to the Wombats. By wondrous communication, keeper Vakil was given the signal that Karl was about to bowl a rank delivery down the leg-side. The pre-empted charge by the unsuspecting batsman left him stranded out of his ground and Vakil took the bails off for a rather close stumping.
Koolhof was brought on from the Mount Fuji end and quickly got the Adore middle order playing and missing. Three-wicket opener Karl was replaced by Rocket Rony whose collection of "legally-bowled" leggies, offies, doosras, googlies as well rank long-hops got Adore tied up in knots. Shahir was given the nod to warm up but before he could begin to limber up, it was too late for Adore, with Rony finishing up with an LBW to dismiss the last batsman. Adore comprehensively dismissed for 47 and the Wombats won by 152.
At the traditional man-of-the-match awards, Dino was forced into an embarrassing apology for forgetting the wine. However, a couple of tinnies from the esky were swiftly used as a replacement. Adore's man of the match was Nakazawa who took 4-30. Robin managed to pick up the award for the Wombats but was certainly second best when it came to sculling the awarded beer as Nakazawa showed the Wombat's man of the match how it was done.
The early finish was appreciated by all Wombats as the BBQ prepared by Koolhof and Rony was sparked up and the sausages and beer devoured. A special mention must go to Angus for holding up a table perpendicular to the ground for a good half an hour so as to provide a windbreak for a BBQ not use to the windy conditions of Sano 2. As designated driver, Dino got stuck into his 0% beers but was cruelly denied a final one when Patmore, distracted by his rather dashing 3/4 sleeve length cardigan/blazer, obliviously decided to crack into them.
A rousing chorus of the Wombats song was belted out whilst the oppo headed home (having just had a couple of hours of post-game nets whilst the Wombats enjoyed their BBQ). An embarrassed looking Baines admitted that in the two years he had been in Japan, he had managed to master the language but had failed to learn the lyrics to the Wombat's song! A tekitoni if there ever was one.
The customary stop at the Kombini to obtain supplies for the drive home was carried out and numerous fines for highlights and tekitonis were distributed amongst the team. A rousing rendition of the Wombat's song was duly sung at the toll-booth, with Baines now admitting that he had picked up about 50% of the lyrics. A big thank you must go to Dino for driving the bus so expertly and only making the team fear for their lives on half a dozen occasions.
So three wins in three for the Wombats as they continue their dominance of the league. The next match against the Wyverns will be a tricky one but sure the boys will be up to it!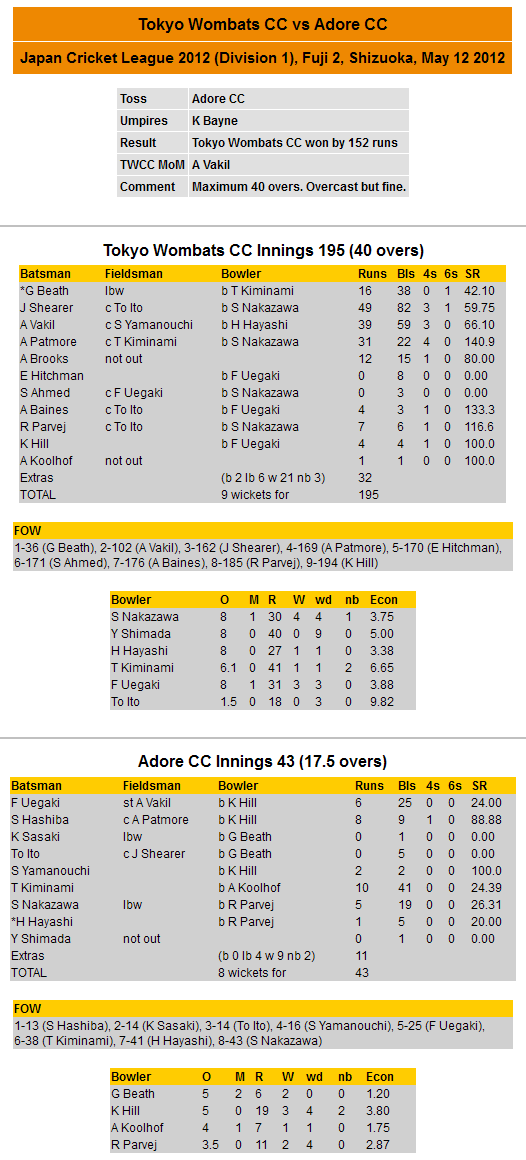 Hardys Man of the Match
vs Adore (May 12, 2012)
Alex "Robin" Vakil plundered 39 runs in the long grass at Fuji to steer the Wombats to a decent score. He was then very tidy behind the stumps to finish off a good day's cricket and take home the prize for best on ground.