Match Report
Scorecard
Highlights
Photos
WOMBATS HUNT DOWN SHARKS AGAIN
by Luke Eyes
On a wet morning in Tokyo the Wommies were up at the crack of dawn to take on their old foe — the Chiba Sharks. Most of us thought the game was going to be cancelled due to the weather and that Dino had just stitched us up saying it was sunny at Fuji because he was so lonely and needed some company, how wrong we were….
Now first and foremost before getting to what actually happened in the game, a big thanks to the Prez Alex Koolhof for driving the van even though at one stage driving to the ground we all feared for our lives when he turned to the back of the van and started having a conversation for what felt like almost five minutes prompting an early runner for quote of the day "just drive the van, you don't have to look at his face Koolhof!"
We finally made it to the the famous Fuji ground (which some people believe is more picturesque than Newlands Cricket Ground in South Africa with Mt Fuji overlooking it) and the brains trust quickly got together and decided to field if we won the toss thinking if it rains later it would be better to know the total and that if the ball got wet, their bowlers would pitch it everywhere. Breaking with Gav's recent tossing history — we won and sent them in.
At this point I would like to welcome two new players to the club, Yusry and Nigel, in what it is believed to be the first time since the Wombats initial game that two newbies opened the bowling attack, and did they what! Both these boys haven't played cricket in a number of years and after both had a warm up over to get back on line, they completely out bowled the Sharks for the first couple of overs. Yusry finally got the first break through after putting their opener on the back foot with a sharp bouncer only to follow it up with boomerang amount of swing to clean up the stumps! Nigel's next over was very handy, being behind the stumps you could see he will be a good bowler for the Wommies in the next few games bowling both in and off swingers.
Yusry was really puffing after his second over and walked up to the captain to say "I'm done", only for Gav to turn around and say "whose heard of an opening bowler only wanting to bowl 2 overs" and convinced him to bowl one more and lucky he did as once again he went for the one/two blow of a short ball followed by another ripping boomerang knocking the stumps out of the ground again.
At this stage we had the Sharks on the back foot and were looking good with them 2 for 30 off about 7 overs. Over the next 15 overs, the boys plugged away and Rony, Rasika, Goold and Koolhof came on and bowled a good line and the fielders kept the pressure on, especially the Captain stopping a certain 4 at shortish mid-wicket diving full length to the right. But in the end they got away from us and at the halfway mark they were 2 for about 85.
Bring back Yusry! was the cry and straight away he found the edge of David Lollback (40) taken neatly behind by Patmore's stand-in keeper Lukey Eyes. And soon after that he also removed another, once again with his now famous one/two combo of a short ball followed by a leg-side in-swinging yorker to clean up two stumps.
At the other end both Rony and Rasika were keeping things tidy but just without any luck. Rasika had a chance to take catch of the year and even got a hand to it but coming off the bat at 200kms an hour he ended up with (surprising not a broken hand) just a massive bruise!
Rony then with some fine bowling (after being told to put his wrong'un away) got the better of the Sharks batter and took the top of middle stump, followed up quickly by Rasika who then had someone caught by Nigel at square leg. Nigel ended up being unlucky not to take a wicket with an easy chance going down so will have to wait until next game to take his first wicket for the club — I am sure this will happen quickly.
The last two overs of the innings we ended up playing like under 12s, a number of over throws, some shocking fielding, only to have the Sharks pile on the runs and to top it all off the man who self proclaims he never drops a catch (Alex Koolhof) dropped a sitter on the boundary that went for 4. On being told he needs to stabilise his base when catching we heard him muttering as he walked off "I had balance until I fell over…"
Half time and fair to say the Wombats had their work cut out for them with the Sharks ending up on 7 for 218 with Prashant Kale 96 not out from 90 balls, David Lollback 40 and wides (once again 3rd highest score) 35. For us, Yusry ended up with 4 for 35 off his 8 overs.
Dino & Gav, the Wombat openers, walked out after the lunch break (two guys that have been around the club for many a year) and the boys felt that we had a decent chance to win this game and after Gav whacked an early boundary, it was looking good. But this didn't last long. Just as quick he ended up getting an edge and caught behind, and as he slowly walked off the field the team could hear Rony saying "We'll that's the game" — nothing like having a bit of faith in the boys!
Missing some of the key guys to the batting line up, Evan Hitchman got promoted to number 3, and having a reputation as a hitter, we had a feeling he was either going to get out early or make a quick fire 20 or 30. But with the old-hand Dino at the crease talking him through it, the two of them went about resurrecting the innings and next thing you know we were 1 for 50 off 10 overs and looking good. During this period Rony has officially been nominated for this year's Golden Thong Award for the second time and its only June and if you were at the races he would be odds on favourite at 2 to 1 to win it. After one of Dino's many boundaries the Chiba Boys were throwing it back to the bowlers and it happened to stop right in front of Rony umpiring at square leg. Just happening to have a bat in his hand, rather than pick it up and throw it back for the Sharks, he decided to play croquet with it and hit the ball (only four overs old) as hard as he could along the ground back to the bowler!
Dino now taking the initiative hitting 4s at will, with the occasional gay dab down to 3rd man, had the score flowing. Once after a mighty impressive gay dab, one of the boys (not mentioning any names but it rhymes with "Dili") shouted "you can have my sausage!"
The runs continued to flow with Ev getting in on the action with some nice cow corner hitting but a couple of overs before the drinks break Dino, trying to make quick work of the target, got caught behind for a well crafted 61 (62 balls) — 2 for 97 of 17 overs. The next batter was Lukey Eyes and with Ev now settled, just needed to hold up the other end until drinks then continue on. Both the boys continued batting well with the odd 4 but by now the Sharks had pushed most of their fielders to the fence, so there were plenty of singles to take.
Ev brought up his first 50 for the club but just after, he ended up getting caught behind on 53 (74 balls) with the score now 3 for 160 off 27 overs. Nick Goold was very unlucky getting judged caught behind only to have the ball go nowhere near the bat, and as a surprising turn of events, took the decision very well.
Rasika was next in and after being told there were plenty of singles to be taken and just push it around and we can get home, promptly replied "I don't like running!"
The next few overs the runs dried up and we ended up needing 25 off 35 balls for the win. Luke relieved the pressure with a great on-drive for 4 that should have been stopped but Prashant tunnel-balled it to concede a boundary in front of the peanut gallery. So with that, the pressure was lifted and the boys just knocked around singles to win and just like that the Wombats once again hunted down the Sharks!
Final score 4 for 219 off 37 overs, Dino 61 (62 balls), Luke 58 not out (59 balls), Evan 53 (74 balls).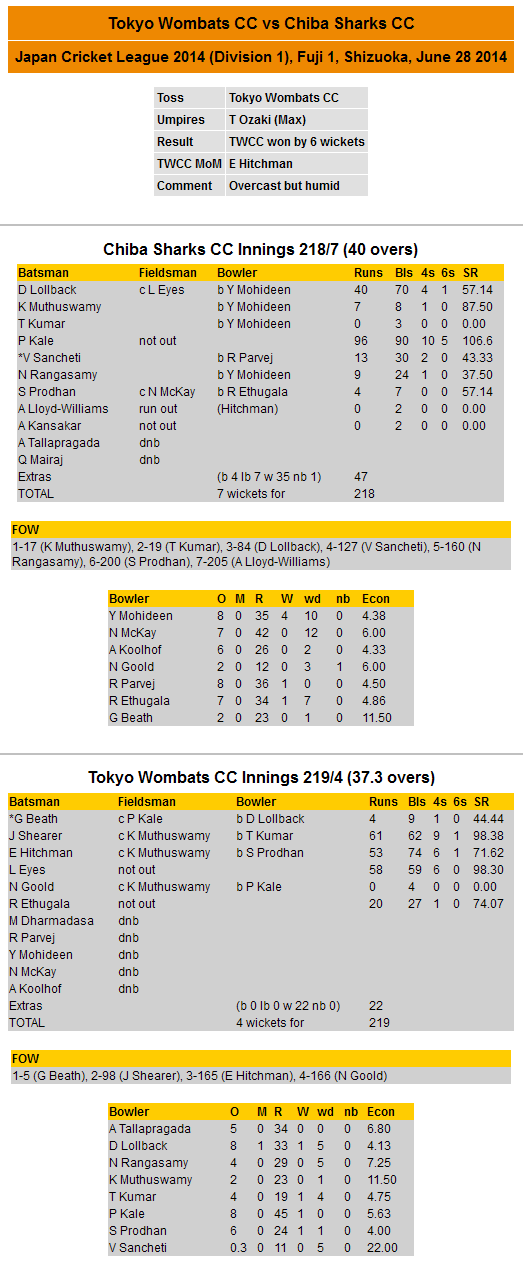 Quotes
"I would never say something THAT stupid", says Alex "Quote Machine" Koolhof after a quote he found foolish was allegedly incorrectly attributed to him.
"Always pay for hookers with cash"
"I thought the umpire was a fielder!" protests Alex "Needs Glasses" Koolhof when giving away overthrows even though half the team was yelling "easy" at him when he threw the ball.
"Almost all sri lankans have been to jail at least once" – Mili describes his countrymen.
"Just drive the van, you dont have to look at his face Koolhof!"
"Watery piss" – someone's description of Orion beer.
"You could have left it" – Rony's astute advice to Beath after he nicks one to the keeper.
Dino's working his ample arse off to get his team back into the game when Rony strolls over from square leg between overs and asks, "Dino, do you need a runner?"
"I had balance until I fell over" replies Alex Koolhof upon being told he needs to stabilize his base when catching after dropping Prashant off the last ball of the innings.
"You can have my sausage" – declares Mili after being gobstruck by a beautiful Jarrad Shearer gay dab to third man.
Catches
Luke Eyes: Diving catch behind the stumps to remove danger man Dave "Lollibags" Lollback.
Dropped Catches
Yusry: Sitter at mid-off.
Alex Koolhof: On the boundary – drops the last ball of the innings and it goes for 4.
Great Moments in Sport
Evan's dig at #3 to steady the ship and bring us most of the way home. Also his highest score for the club.
Yusry's 4-for on debut.
Prashant tunnel ball to concede a boundary in front of the peanut gallery.
Golden Thong
Rony: Hitting the ball as square leg umpire.
Yusry: The week prior to this game, Yusry leaves home in Fujisawa, south of Yokohama, with the wife, at 03:30 for a 3 hour drive to Sano as he was so excited about the game. Arrived at ground at 06:30 – game was cancelled soon after!
Dummy Spits
After copping a shocker, Nick Goold walks off calmly and says "Bah. I don't care anyway" and then tosses his bat.
Rony: For not wanting the golden thong
Wyndham Estate Man of the Match
vs Chiba Sharks (Jun 28, 2014)
Evan Hitchman posted his highest ever score of 53 for the club and effected a very good run out to lead the Wombats to a victory by chasing down 218 in Fuji. The little general's solid stroke play, including six 4s and one 6, was certainly good enough to win this week's Man of the Match Award.