Match Report
Scorecard
Highlights
Photos
Videos
Wombats grounded, Qantas Koalas fly high
by Alex Koolhof
The Qantas Koalas defeated the Tokyo Wombats at YCAC in the first twenty20 match of the day. Losing the toss and batting first, the Wombats could only muster 110 runs off their allotted 20 overs. Aamir was the standout batsmen for the Wommies, bashing his way to a quick-fire 30 (and retiring), which included six 4s and one 6. Payne scored 20 runs, and Bracefield 19. Elliot and Singh picked up two wickets each for the Koalas.
In response, the Koalas overhauled the target with seven balls to spare. Captain Rice carried his bat once again for 31 runs, while the other major run-getters were Barnes and Singh, with 18 and 32, respectively.
In the second match versus the YCAC, the Koalas continued their winning ways to bring their Japan tour to an end. The YCAC compiled 113 from their 20 overs for the loss of 7 wickets. Rajneesh top-scored with 44, assisted by Ashok with 33. Bray and Singh picked up two wickets apiece for the Koalas. In reply, the Koalas were untroubled by the YCAC bowlers, reaching the target with 5.3 overs to spare. Richie B of Wombats' fame put on a grand opening stand with Forward, both of them retiring at 30, while Barnes also scored a 30 not out.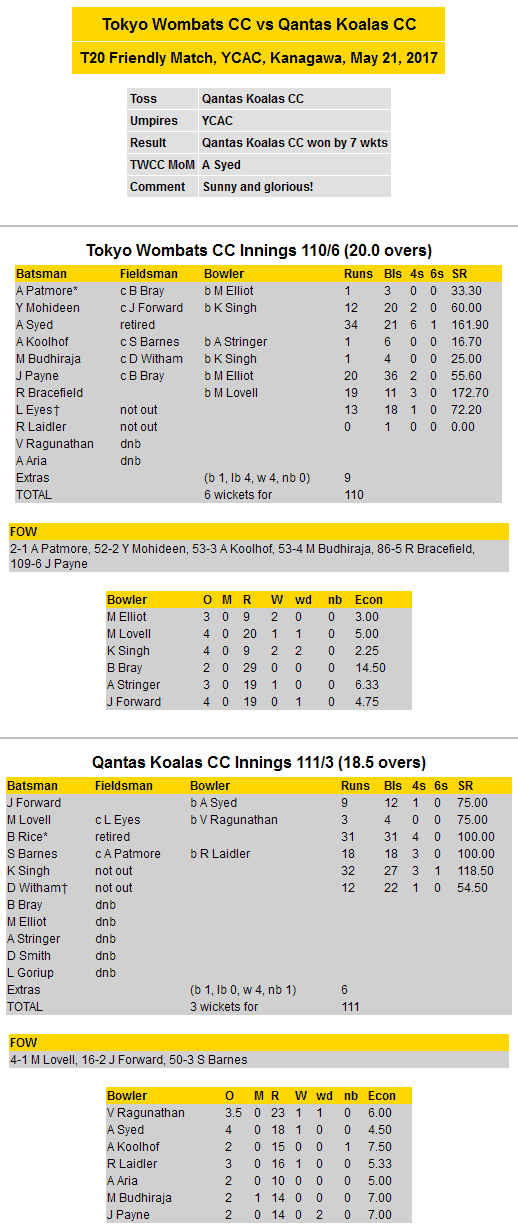 Catches
Patmore imitating Dino with a tricky back-pedalling catch at backward point.
Great Moments in Sport
Amir smashing his 30 runs in no time (retiring at 30).
Kush dumping his load on Patmore in Yamashita Park… his load of beer.
One of the Koalas highlighting Kenny's shocking reverse parking.
Dummy Spits
Apparantely, according to our captain Patmore, experiencing a déjà vu is no longer worth mentioning or talking about – Koolhof was quickly rebuked for having one.
Dummy spit: Koolhof. See above.
Richie complaining about doing long-on to long-on for several overs. For the good of the team bro!