Match Report
Scorecard
Highlights
Photos
Wombats Flatten Foley's
by Vikram Ragunathan
Win the toss, restrict your opposition to a manageable total, and bat through the chase to win it for your team. Pretty much everything went to plan for skipper Patmore, whose 1st wicket partnership of 165 runs with Mick steered the Wombats to their second consecutive win of the season after the bowlers had kept the opposition to 215 in conditions that led to a well-matched contest between bat and ball.
The Wombats were transported from Tokyo by Mick and the Yoko boys by Yusry. The morning started off quite windy, so much so that it could have blown off a few skirts, and seeing that the weather wasn't very promising and the Foley's had a few new players, skipper Patmore won the toss and chose to field first. Wombats had to make a slight change with Zeesh joining Yuz for the opening bowling attack. Oh, did I mention the Wommies were missing a player? That's right, Rasi had a sprained ankle or knee or some part of his leg was injured and was nowhere to be seen. The good news was that he'd be joining mid-way through Foley's innings. Also Lukey was missing a foot. You heard me right. Took one directly on his foot off Yuz in the nets, which the following day was confirmed as a fracture.
The Foley's opening pair Hussain and Barkat kicked off their innings with a slow start but just as they were getting comfy, they misread Jamie "JONTY" Payne and tried to steal a single. Skipper Patmore collected a slightly difficult throw from Jamie and ran out their opening batsman Barkat. The overall fielding effort that morning was rather impressive, especially Mick, Jamie, Naren (diving all over the ground), Shaz, and Lukey (one legged), which saved quite a lot of runs for the Wombats. The first bowling change for the Wommies was Vik and Amir. Both bowlers were applying enough pressure and the Foley's started to crack. Vik struck early for the Wombats as Abbas nicked one to Patmore. According to the batsman, it was the sound of his pads, which the umpire simply laughed off. This was followed by an absolutely stunning catch by Jamie Payne at point. Diving to his left, Jamie took an absolute screamer, one-handed, which again was complained about by the opposition batsman. This was probably the best catch for the Wombats that I have seen since joining the club.
Wickets were falling at regular intervals as Vik and Amir built the pressure. A bowling change was made with Rasi and Naren. Rasi, with his variation, was picking up wickets regularly, including a well-judged catch off a skyer by Zee at mid-on that hung in the air for a while. Foley's were down 7 wickets when in walked Mubbashar. With some meaty blows, he scored 41 runs for his side, swinging the bat against all bowlers and fielders a few times. I should definitely mention that both Zeesh and the ump barely avoided some really close blows. Rasi cleaned up the tail and finished off strongly with a 5-fa. Along with 40 extras, Foleys managed to score 215 runs just shy (38.4) of their allotted 40 overs.
After the break, the Wommies started off with Patmore and Mick – and slow and steady was the order of the day. Meanwhile, on the sidelines, Jamie and Vik were discussing the run rate at which we needed to score to be able to win the match. The openers did not disappoint though, and after 10 overs they were comfortably settled and easily finding the boundary. With every player captaining the team, the Paddy bowlers suffered the consequences of becoming easy prey for our openers, especially with Patmore loving to cut, slash, and pull. All boundaries scored against the quicks and the spinners were fine cricketing shots. Mick eventually joined in on the action and helped push the opening stand along to 165 runs before the first Wombat wicket fell with the skipper top-edging a paddle off Barkat directly to short-fine leg. He was out in similar fashion in the previous game too. There was a small dummy spit there if anyone bothered to notice.
Mick, with a pulled hammy and a few other body parts, continued his innings with Shaz, but this partnership was short-lived with Mick being dismissed and returning to the tent with a well-made 57. Shaz was then joined by Amir. Shaz scored a quick 15 which included two fours, but was trapped leg before. Looks like Lukey has passed on something to Shaz for this season! The Wombats still required 26 runs to win off 6 overs and it was looking more and more like a signature Wommies middle order collapse. We're the Wombats after all, and we don't like to win comfortably these days, do we? Zeesh joined Amir out in the middle. Both were trying to take turns to hit boundaries only, with neither of them interested in taking singles and you could clearly see they weren't particularly interested in rotating the strike either and instead wanted to score the rest of the runs by themselves, which was fun to watch! A few boundaries from these two and the Wombats were home with 12 balls remaining.
A good overall performance by both teams, and thank you to the umpires for their efforts during the match.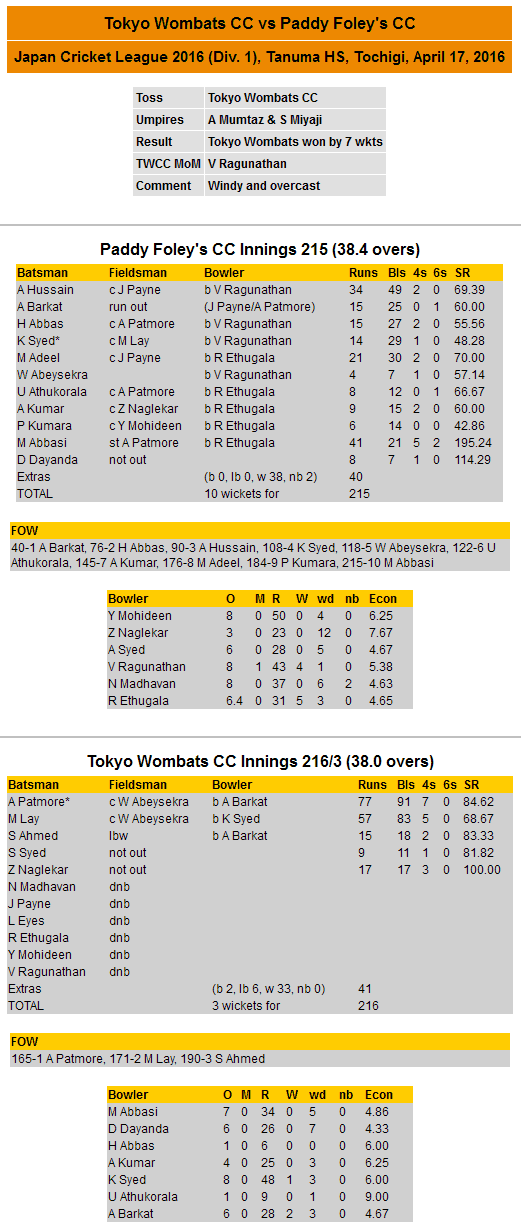 Catches
Jamie at point, full length dive to his left, one-handed grab inches off the ground. F**k me that was special. Catch of the decade. Off their man bat too who was well settled on 30 odd.
Jamie at point again, this time with both hands but got in a great position early to a rapidly traveling cut shot.
Zee at mid-on, extremely well-judged catch off a skier that hung in the air forever.
Patmore with a nice take behind the stumps off Vikram.
Yuzzy's catch at gully.
Dropped Catches
Shahir with another sitter at mid-off, off Aamir
Vikram at mid-on off Naren
Great Moments in Sport
Patmore and Mick's 165-run opening stand that sealed the chase
Vikram's bowling, pulled things back really well with 4 top order wickets
Rasi with a Michelle after coming on to bowl in the 27th over cuz he showed up late
Luke running around the field for 40 overs despite his foot the size of a football after Yus hit him during batting practice before the start
Jamie's run out to get things started.
Zeesh doing pretty bloody good with the bat and ball after seven years of no cricket.
Quotes
"Oh shit, I really don't want to do salsa tomorrow" – Yusry
It's craft wine" – Jamie to Vikram as he accepted the MoM prize
"Which end is that?" – Patmore to Shahir after the latter kept yelling "batter's end!", the fielding equivalent of "scorer's name"
Dummy Spit
Dino complaining about Koolhof's wife's Facebook use
Wyndham Estate Man of the Match
vs Paddy Foley's (Apr 17, 2016)
Vik really placed a squeeze on the opposition top-order with four excellent wickets and helped keep the total to a gettable target for TWCC. He triples his overall wicket tally for the club with hist best-ever figures of 4/43 and pockets a bottle of Wyndham Estate wine!