Match Report
Scorecard
Photos
WOMBATS FEAST ON FOLEY FUMBLES
by Gavin Beath
The Wombats assembled at the usual place in Harajuku on a crisp and sunny morning for the first game of the year in order to face the much-improved Paddy Foley's team who are now boasting a number of dangerous players such as Andrew Goldsmith and the Rana Brothers. It appears the Wombats will be a highly disciplined unit this year with no reports of excessive late-night drinking the night before or participation in any forms of adult entertainment. All members were looking as fresh as flowers – apart from Rosco, who as per usual, looked like death warmed up.
The van ride up was a smooth and safe affair with the President behind the wheel. It appears that Rosco is taking his health into consideration a bit more these days. He decided to go for a few healthier options at the conbini instead of his usual routine of ice cream and fried chicken for breakfast.
Wombats won the toss and decided to bat first after observing a minute's silence to respect the victims of the recent earthquake and tsunami. Three new Wombat virgins were presented with their Wombats shirts – Alex Howard, Abdullah, and Saifullah. I certainly hope they enjoyed their first experience with the Wombats. With a bit of luck and some rather loose bowling, the Wombats managed to cobble together a respectable 316 for 5 from the allocated 40 overs – which is the second highest score for the club.
Highlights include a maiden 50 for Nick Goold – who looks to be benefiting from few adjustments to his technique, quick fire cameos from GT, Dino and Rosco, and a golden duck off the last ball of the innings for Hitchman. Beath also chipped in with 145 runs. The CEO of Japan Cricket may well be expecting an angry phone call from Dino about the state of the ground, which apparently left this dinosaur rolling about the side of the pitch like a spastic after falling ass-over-tit trying to take off for a single. It looks like we have an early front-runner for the dummy spit award.
With 300-plus on the board, the weight of runs was always going to be a problem for the Paddy Foley's team despite a couple of guns in their team. This proved to be the case with the Wombats claiming victory in the 33rd over. Highlights include a 5 wickets haul for Rony (desperately in need of a haircut). It was an exceptional spell of bowling with a mixture of fizzing doosras, venomous top-spinners, exploding cannonballs, half-tracker pies, leg-spinning offies and off-spinning leggies. Rony took care of the key wickets of Goldsmith and his foil Blackeney. Abdullah shook off some rust and looked threatening, Goold knocked over a couple of top order bats, and Rosco lobbed down a few of his hand grenades to claim a couple of late wickets.
Not such a great day out for Koolhof as Goldsmith proceeded to give him the spanking that he should have received as a child. Debutant Howard also had a day to forget wildly spraying it around. In fact I have not seen a case of the sprays that bad since the morning after I allegedly drank 16 pints of Guinness on one Chiang Mai tour. GT also managed to produce one of the most boring spells of bowling I have seen for the Wombats, recording three maiden overs in a row. All in all, it was a fine performance in the field and hopefully we can maintain that standard for the rest of the season.
Bottles of wine went to Beath for 145, GT for a couple of good catches, and Amila for a couple of wickets and a few runs later in the game.
The van ride back was a cheerful affair. Not too much trouble apart from a naughty Dino trying to pick fights and throwing ice. I can sense the Curly tut-tuts from here. The highly intellectual topics that the Wombats usually discuss such as politics, economics and science were talked about in-depth throughout the van ride. One could tell that Howard fits in well with the Wombat's structure – estimating that buying four 6-packs would just about be enough for his trip back.
Big thanks to the umpires Thurgate and Lolly-Bags Lollback. Well done chaps.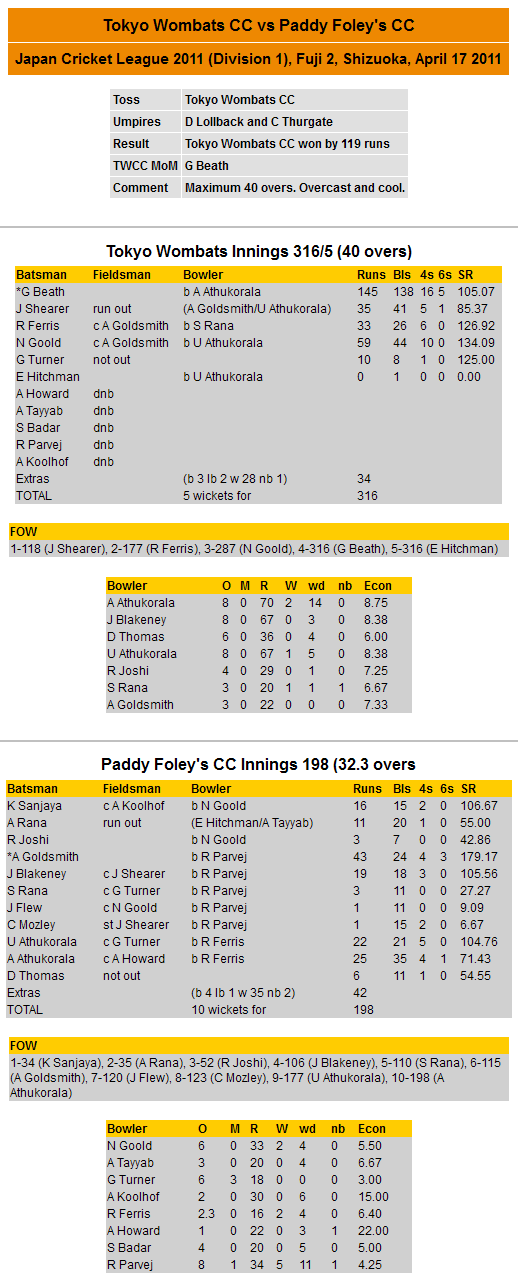 Hardys Man of the Match
vs Paddy Foley's (Apr 17, 2011)
Captain Beath led the Tokyo Wombats from the front with a very solid knock of 145 runs that included 16 fours and 5 sixes! Gav's third hundred for the club put the opposition to the sword and set the wombats juggernaut rolling in 2011!