Match Report
Scorecard
Highlights
Photos
Video
WOMBATS FAIL TO PRODUCE MAXIMUM EFFORT IN GF
by Evan Hitchman
We lost! Not much more to say than that. It was an unusual day from the off with no traffic on the highway and all the Wombats turning up fully dressed, not stinking of piss and well before kick off time. For a change it was the opposition who were opening cans on the sideline with about a dozen Max supporters bringing their deckchairs and eskies full to the brim with morning beers to help them cheer on their team. Hats off lads! They certainly play in the right spirit!
Wombats were put into bat and it would be Ev and Gordo to open. The Max attack was on the money from the off, with not many wides or balls to hit and the outfield sluggish it was difficult to get runs away. Gordo was out early on hitting through one and being caught which brought the skipper to the crease earlier than he had planned. Would it be another 150+ partnership between these 2? Unfortunately it was not be as Ev, after hitting a few fours got squared up and knicked one behind which the Max keeper gladly gathered. 2 for about 20 but still plenty of batting to come with Patmore at the crease with Tom and still Luke, Chula, Nige, Shazza and plenty more to come – 200 was still very much on the cards. A score of 200 is about par for Tanuma so that's what the Wommies needed to put on.
Alas, it was not to be as the middle order that has been very often missing this season, and for the past few seasons crumbled with some rather aggressive shot selection seeing us lose 3 quick wickets and soon be 5 for not many at drinks. Patmore was playing very circumspectly as he made sure that we would at least see out 30 overs and set some sort of target. Shazza held up an end well for a while before also departing. The lower order once again came to the rescue with Rasi and Nige launching some big ones and adding some vital runs to the scoreboard. Patmore was out after a game-saving half century and with 120 odd on the board, there was half a chance for the Wombats if we bowled tightly, took early wickets and fielded like a team of Jamie Payne's on acid.
Again, like many games this season the fielding just didn't back up the bowlers and the energy and effort wasn't quite there. Heads dropped as runs were scored and even though we knew a few wickets could easily change the game it seemed many Wommies had made up their minds that the game was lost. All the bowlers tried their hearts out, but in the end we didn't have anywhere nearly enough runs on the scoreboard and Max fully deserved their win getting the runs for only a few wickets down and so comfortably in fact that ex-Wombat Hanif felt comfortable enough to have a snooze only 10 overs in.
The game was played in good spirits and Max were certainly the better team on the day in all 4 departments; batting, bowling, fielding and even drinking! An opposition cracking the beers at 9am is surely a first for the Wombats! Skipper Patmore gave a gracious speech to the victorious Max who in the absence of an actual trophy, certificate, speech, ceremony, presentation or even attendance by anyone at JCA were presented with a beautiful mock-trophy made of a milk carton and some chopsticks by Tom!
We wish the non-Grand Final feel of the presentation meant that this was just a practice game, but sadly it wasn't – and although we were all proud to have made our first GF since 2012 – all the Wommies definitely felt that they had left something on the field; be it runs they could've scored, wickets they could've had, catches they could've caught, or runs they could've stopped in the field. We say goodbye to Tom and Gordo who have had all too brief stints with the Wommies and we wish them well and hope that we will be back next year, beers in hand ready to have another crack next year.
Highlights after the game were Alex's slip and slide on the blue mats and Rasi's blasting his machine gun above his head and shouting like an American Indian! Random moment of the year for sure. Expect arrests anytime soon!
Huge thanks to Skippers Beath and Patmore for guiding the team through the season and doing all the paperwork and attending meetings behind the scenes to make everything happen. To President Koolhof for all his organising and his lack of vetting email inquiries of players who end up joining other teams instead!, and to all the players who joined us this season. We hope you will be back next year to put on the Wombat creams and enjoy having a hit and a few beers with a great bunch of blokes.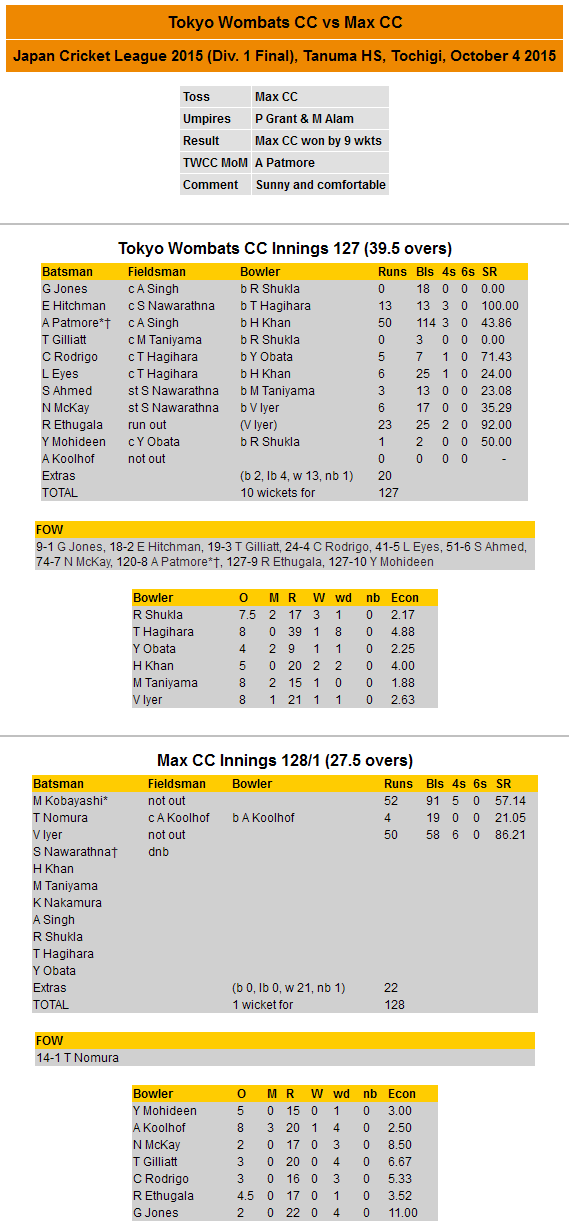 Catches
Koolhof, caught and bowled for the only wicket for the Wombats.
Great moments
Patmore is batmore with his half century, I especially enjoyed the square cuts for fours.
Rasika's determined running to put more points on the board for the wombats, real team spirit there.
Rasika's machine gun. A great idea!
Quotes
"She'd been dancing all night so her pussy really stank" – says one Wombat after freshly returning from a Chiang Mai holiday
Yusry: "Anger boys, Anger" after the half time team talk by Patmore, telling all the bowlers to keep their cool and bowl on the same short-of-a-lenght spot.
"Come on Nigga, break the shackles!" – Koolhof to Nigel
Dummy Spit
Koolhof ranting on about the shit ton of spam he receives each week from blokes abroad wanting to join the Wombats and this being the reason he failed to respond to a few legitimate enquiries from players who, then, went on to join clubs such as the Chiba Sardines (blokes we wouldn't mind having in the Wombats!).
---
---
Wyndham Estate Man of the Match
vs Max (Oct 4, 2015)
Basically, the only bloke to really have an impact in the Tokyo Wombats' JCL grand final against Max CC at Tanuma was TWCC captain Alex Patmore. "Tyson" stroked 50 runs while the rest of the team suffered some serious violet-crumbles around him. In the field, the captain-keeper spat the dummy big-time in an attempt to fire up the wommies and spark a famous come-from-behind victory. It wasn't to be however. Still, Patmore gets a bottle of Wyndham to drown his sorrows with as Man of the Match.