Match Report
Scorecard
Highlights
Photos
Video
Wombats emulate Mick Fanning, just evade Sharks
by Evan
On a warm Sunday morning,
On a highway going nowhere,
I met up with the Wombats,
Most of them hadn't been to sleep.
So we took turns a dozin;
While Yusry did the drivin'
and on the Wombats LINE feed, the Dino began to speak
He said, "Iads I've made a living..
out of going in odd places
knowing what the brown stains were
and making up an alibi
so if you dont mind me saying
I can see youre out of aces
for a taste of your Jinro
ill give you some advice"
so i handed him my bottle
and he drank down my last swallow
then he complained about the poms
during the Ashes late at night
and the LINE feed got deathly quiet
and his face lost all expression
he said if youre gonna have a phone boys
dont leave it near your wife
you gotta know when to catch em
know when to bowl em
know when to walk to the loo
know when to run
you never let your wife near your phone
when youre sitting at the table
therell be time enough for excuses
when the seasons done
Having finally made it to Tanuma after what felt like 8 and a half hours, we arrived to a Chiba team that was also having traffic trouble. The start was delayed and once all were accounted for Patmore won the toss and of the course Wombats chose to …….bowl. Chiba were a bit short handed for this semi final contest with a number of quality players unavailable but as is always the case the Sharks would prove to be a handful as they tried to gain an unprecedented 3rd win of the season vs the Wombats and just their 5th victory all time out of ……well……shiteloads!
Bowling seemed like a masterstroke with Yusry "That's not a beer-gut, it's a Married Man Six-Pack" Mohideen bowling like a demon and picking up a few early wickets off the back of some tremendously tight bowling, including his first 17 deliveries going for Zero from Alex "Japan's former number one bowler" Koolhof. Yusry soon had 4 wickets to his name with some ripper deliveries, Jamie "I really don't need to dive every time a take a catch" Payne taking a good catch at point once again and Chula "I've never taken a slips catch before" taking his first slips catch!
It could've been 6 for as well with a couple of dropped catches and before you knew it Yusry had bowled 8 overs on the trot with a great match winning spell. Our change bowlers Chula, Rasika and Nige came on and helped out with a few important breakthroughs right when Chiba's middle order of Wickramasinghe, Takada and Grant looked set to make a big innings and set the Wombats a big total to chase. As Yusry, Chula and Rasika from Sri Lanka chimed amongs themselves about field placings and bowling strategies in their local dialect, Rony "I really want the golden thong award again" Parjev put his hand up for Borderline comment of the year, parroting their murmurings with "bulabulabulabulabulabula-bula-booooo". Solid work there from the Bangladeshi! Rasika "Mango" Ethugala bowled his traditional straight and fast spinners to grab a few Chiba wickets and Nigel "I swear I don't own a selfie stick" McKay finished the Sharks tail off taking the score from 4/74 to All out 86 in no time at all.
The tail wagged in our last game vs Chiba at Fuji and the Wommies were lucky that it didn't happen again as they would need all the runs they could muster in this tight contest. As they say it's all about runs on the board, or "runs down your board shorts" for some Wombats but once again The Wommies would struggle to chase what seemed a pretty easy target to chase.
Alex "You call that a pitch?" Patmore and Evan "You think your job is tough, my boss is also my Mother In-Law" Hitchman opened at the same ground where they shared a 180 run opening stand earlier in the season. A long opening partnership to take us to victory and early beers was not to be however as good bowling by the Chiba openers saw a Patmore edge taken in the slips and we were one down for not many. Ev was looking scratchier than guy with a peanut allergy being force-fed snicker bars and somehow managed to not get out to the frustration of the circling Sharks. After a few big hits he was still there but Chula was not, out LBW to Singh and suddenly, like a Wombat arse mooning the main street of Roppongi of a Saturday night around 3am…our middle order was "exposed". Shahir "My ramadan is longer than your ramadan Yus" Ahmed was just the man for the moment. As he is want to do, he stuck his head down and his solid defensive technique saw him hold up an end and see off some tricky Sharks bowling while the runs slowly but surely got rattled off.
At the other end Ev must have been going at it abit too hard as he had to retire hurt with "repetitive strain injury – to the wrist"…… must have been writing all these long match reports, that's definitely the reason! He headed back to the pavillion for 15 and an ice pack as Luke "No way will I be given out LBW this week again" Eyes looking great, hitting a few super fours before….once again…. being given out L.B.-"I hate this bloody game"!…It was not all wasted though as a terrific dummy spit was had, one for which I am sure Lukey may receive a Dummy Spit of the Year award nomination for.
Rasika came and went and it looked like the old Wommies collapse was in full bloom. Jamie saw out a few overs and was just starting to middle a few before missing an in swinger and seeing the dreaded finger go up from the umpire and the Wombats were staring down the barrel at 7/73 with an injured Ev and a fired up President, Alex Koolhof in the trenches warning everyone who told him to "just block it out-let Nige score the runs" – that he would in fact…."fark it, Im just gonna bloody smash it!". Luckily the trademark Koolhof sixes over cover wouldnt be needed as Nigel and Rony saw out the last few runs with ease…..well if you call trying to hit a six over cow corner with a man on the boundary with ease, then yes! It was a great innings by Nige, to back up his sterling performance with the ball and saved the Wommies from another embarrassing collapse and loss against our Chiba rivals.
Hats off to Chiba who made us earn every last run and kept pushing till the last ball of the innings. We are sure to have many more epic contests in the future. Beers were had and laughs shared, blood was almost spilled too as Ev elbowed Jamie by accident giving him an awkward black eye to try to explain away to the wife! Wombats stocked up at the nearest 7-11 and heading back we found out the answer to the age old question, how many wombats can you fit in Yusrys 4 seater- Seven, and 3 cricket kits at a pinch we found!
Pretty smashed by the time we rolled into Shimbashi the beers, gins and tequilas kept flowing – thanks to Vikram! Some wommies went home and others decided to have singing and shouting contests with a local basketball team across the platforms in Tokyo while belting out the Wombats song yet again. Trains were missed, pukes were had, hangovers were being earned and marriages were being tested….but at the end of the day the only thing that really mattered was that the Tokyo Wombats were once again back where they rightly belong (and where Fremantle definitely doesn not!) – in the Grand Final!
Bring home the bacon vs Max lads!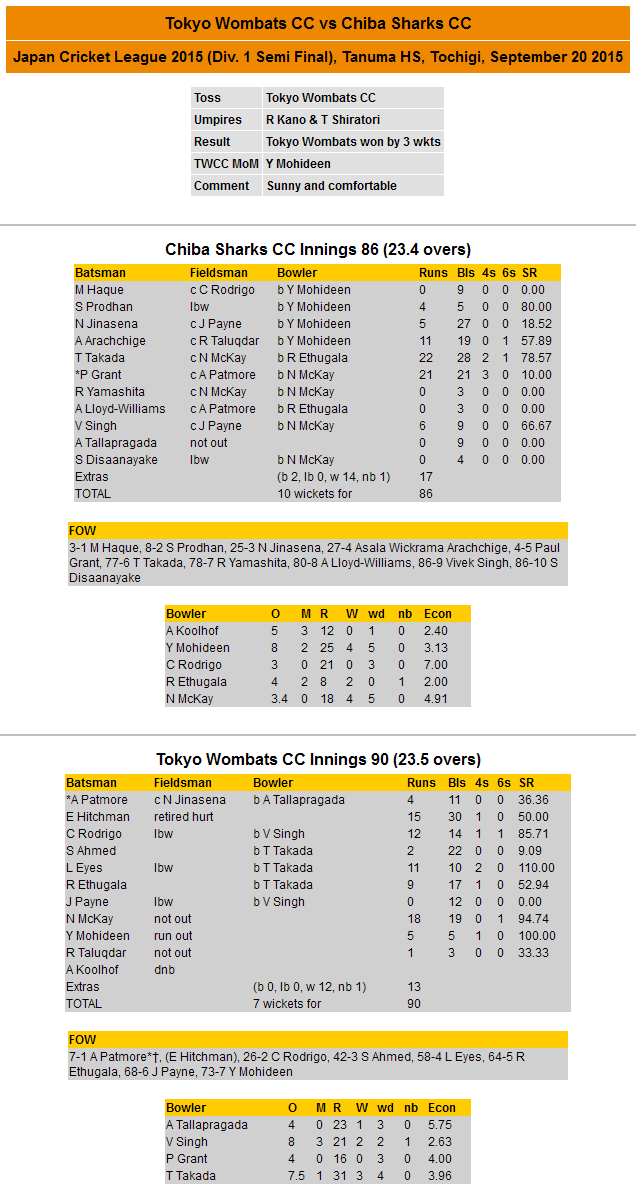 Catches
Nige's caught and bowled – superb grab down below the knees.
Rony's skyer – well judged and not dropped!
Chula taking it on the chest in the slips and then making sure of it.
Payne's sharp 2 catches as usual.
Patmore behind the stumps for Rassi's 120 kmph spin bowling.
Dropped catches
Rassi  – an easy sitter in the first over. Went straight to him at short cover. But came straight out.
Rassi in the slips – put down.
Great Moments in Sport
Beating Chiba Sharks.

Nigel pulling one for 6 over the boundary to see us home.

Yusry – super bowling for 4 wickets.

Big Gay Al – 17 balls without conceding a run.
Dummy Spit
Luke Eyes – given LBW again – and the little Tasmanian wasn't happy about it. Expletives galore, bat thrown, gloves thrown, bags kicked, actually – everything in his path kicked away!
Golden Thong Nominations
Rony – being racist to his fellow brown team mates with a not-so-timid imitation/sledge: Bulabulabullululubualabualbadabobobodao!! After the Sri Lankan contingent were having a loud pitch-wide discussion about where to bowl at the Sharks' batsman, Rony smiled, put his hands

up

in mock resignation and did his best impression of their language.

Payne's attempt at breaking Yusry's fingers in the car door before the game.

Ev – giving Jamie a black eye, after the game had finished with an accidental elbow to the head!

(or was it accidental?!)
Wyndham Estate Man of the Match
vs Chiba Sharks (Sep 20, 2015)
Yuzzie took the new ball and bowled like he drinks - hard and fast - and subsequently ripped through the Sharks'' top order. His 4-fa propelled TWCC into the JCL grand final and Yusry snared himself some Wyndham wine to celebrate with. Special mention also goes to Nigel McKay for his 4-fa (but alas, only one bloke gets the prize!).