Match Report
Scorecard
Highlights
Photos
WOMBATS CONFUSE FUJI FOR W.A. AND CULL SHARKS
by Jarrad Shearer
With the Chiba Sharks "holding all the cards" and having a "bowling attack second to none", the Wombats figured they were going to be up against it in this match. However, the (Wom) bat is mightier than the (Chiba) pen (or imagination), and the result was the same as it has been in every clash, bar one, in the history of clashes between these two sides: a Wombat victory, by five wickets.
I arrived at the ground a little before 10 am to find Prashant batting very seriously in the nets (little good it did him) and the rest of the Sharks already changed into their kit. The Sharks were so keen that they had a 10 minute meeting and a 15 minute group stretch in a circle before the Wombats even made an appearance.
Once the Wombats did arrive, one Wombat, who will remain nameless (yes, it was the skipper), upon looking at the assembled Sharks wondered out aloud whether the game would make it past early afternoon if we bowled first and hence thought long and hard about the risks of batting first if winning the toss. A number of us rubbished his concerns but it would be the skipper who had the last laugh. Luckily (unluckily?) for him he lost the toss and the Chiba Sharks, sensing that our bowling was junk, decided to have a hit first. It's worth pointing out at this juncture that the official Sharks FB account tried to lure one of our boys, Rony, to the Sharks, saying that his time in Japan "would be more enjoyable playing for them." Words were said, promising that this encounter would have even more spice than usual. Yes, it was going to be Wombats/Sharks rivalry at its best.
Jimmi "Jinkansen" was getting it to go away nicely and at pace, and it wasn't long before the first Shark was back in the hutch with the Jink getting a thick outside edge which keeper Batmore graciously tipped to me soccer goalie style at first slip. The other opener hung around a bit and played some ungainly shots, and Hasan was unlucky not have him out twice, with yours truly dropping a straightforward chance at first slip and Hanif a much tougher chance at cover running in the same direction as the ball. Our man Hasan was not to be denied though and Milli took a good catch running forward at mid-on. In an early contender for the dummy spit, Milli wasn't happy though complaining that one of the opposition batsman had put him off!
Prashant didn't last long, playing a very lazy stroke to the "slow medium pace" of the skipper and being caught behind; with no slips in place, Batmore had to take this one. Prashant had continued his miserable run of scores against us. Lollibags' resistance ended shortly after when he failed to play a shot to a Rony wrong-un and was gunned by the umpire. The inspirational Sharks' skipper played a couple of airies and was caught; next ball Takada suffered the same fate to have Hanif on a hattrick in his first over for the club. Perhaps a club first! The hattrick ball was negotiated but from there it was all downhill for the Sharks. With the clue shop sold out of ideas (or is that the idea shop sold out of clues?), it didn't take long for the Sharks to be bowled out for 76, losing their last batsman, bowled by the Jink. All in all, a good fielding and bowling performance, with the bowlers sharing the wickets; Rony and Jimmi were the pick with 3 and 2 wickets respectively.
Skipper Beath and Vice Batmore headed out to bat soon after with a small but perhaps tricky chase. Beath looked shaky, the term "crayfish" comes to mind, Lollibags making a meal of a high-ish one at mid-on and a few others just barely clearing the in-field. Batmore, on the other hand, was looking solid, and dare I say stylish in the mold of David Gower (I'd be concerned that saying that would give him a big head but seeing as he is too young to know who that is I'm safe).
The two openers raced to 20-something in about 5 overs, obviously wanting an early finish to get into the BBQ and beers. One would think Beath's tortured innings might come to an end first but cricket being the game that it is it was Batmore who was knocked over by a Takada. While it was a straight, ankle high full toss, which should have been deposited in the jungle, one Shark was overhead to say it was the "Ball of the Century." I wouldn't even rate it the ball of the day but the Sharks are nothing if not creative, as we've seen with their match reports.
Yours truly walked in next and didn't hang around long enough to enjoy the sledging. First pill, front foot, pad, gone. As a Wombat legend once said, "I'm just going to look forward lads." Hanif came to the crease and both he and Skipper Beath wasted no time in smashing the hapless Sharks to all parts of the ground. With not even 15 overs gone and victory in sight, Hanif, perhaps trying to hit the winning 6, holed out in the deep. Luke Eyes then was given out BBO (balls before wicket) to a ball that was short enough to pull but kept low, and Chaminda was run out soon after by skipper Beath going for a suicidal single, although it may have had something to do with being bagged from the sidelines—shouts of "are your legs painted on" were overheard—when he didn't go for an easy single the ball before.
It didn't matter though as the Jink brought up the winning runs a few balls later with the Wombats winning comfortably by 5 wickets. The flurry of wickets at the end made it look a lot closer than it actually was.
The Wombats then got stuck into beers and BBQ while the Sharks had a training session, both of which lasted longer than the actual game. As I wasn't on the van ride, I can't give any details but I believe that it took five and a half hours to get back to Tokyo. Having seen one bloke buy three beers for the trip, me thinks that this may have been a gross misestimate.
Thanks to the Sharks for the (short) game and thanks to Tetsu for driving. Also, thanks to Ogawa for making his way out to Fuji for a couple of hours of umpiring work.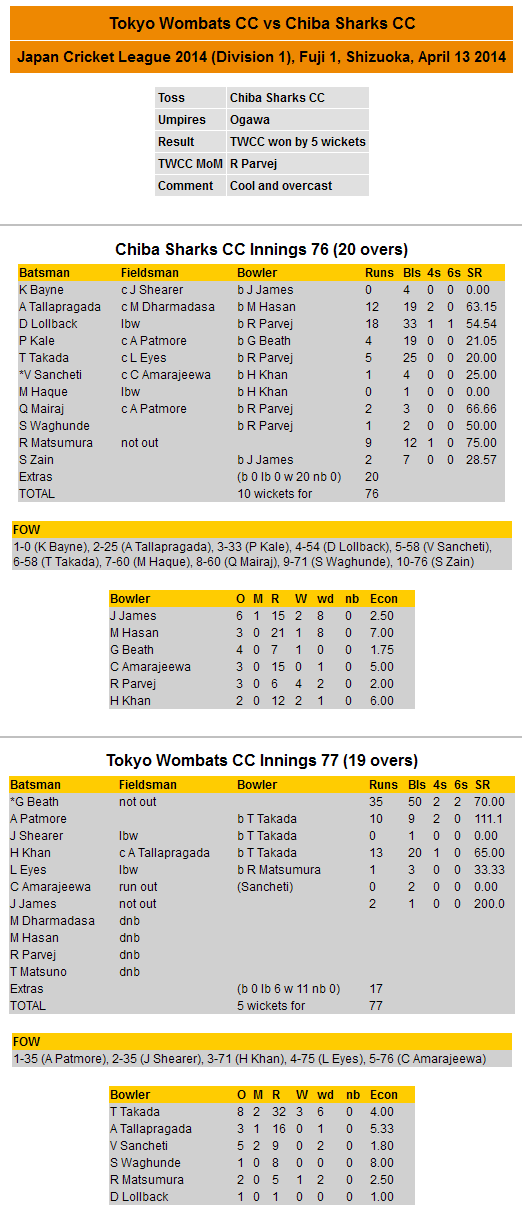 Catches
Jarrad the juggler at slip.
Dropped Catches
Jarrad at slip off a slow delivery.
Hanif on a catch nobody thought would be one, running back – tough one, but still a drop.
Great Moments in Sport
Hatrick opportunities for both Hanif and Rony in the same match.
First spell of Jinkansen, where the batsmen were fishing outside with no idea and no luck.
Golden Thong
Chiba Whitebaits – the entire team!
Dummy Spits
After the first innings of the Chiba Whitebaits we knew that the umpire had the fetish for pads and was happy to give anyone who didn't get bat on ball, out. Out goes Dino to bat, big stride in first up, ball shaping to go down leg gets hit in the pads and the umpire gives the epileptic-nod and the finger goes up yet again. Most certainly breaching Article 2.1.3 of the ICC Code of Conduct for Players and Player Support Personnel, "showing dissent at an umpire's decision during an international match", Dino walks on the back of a golden duck.
Wyndham Estate Man of the Match
vs Chiba Sharks (Apr 13, 2014)
Rony spinned the Wombats to victory with 4 bamboozling Bangladeshi scalps against Chiba. His figures of 4 wickets for only 6 runs is the best-ever bowling performance for the Wombats on the Fuji #1 ground.