Match Report
Scorecard
Highlights
WOMBATS CAUGHT SHORT VS SHARKS, REFILL AT DINO'S PLACE
by Evan Hitchman
On a beautiful day for cricket we assembled bleary eyed at the Shibuya Family Mart, coffees in hand and pants full with our morning logs yet to be dropped. Jamie "We'll do this in wides" Payne found the first gap of the day running up the hill to the nearest 7/11 to find the nearest open bog! Everyone was wishing that Evan "You should get your bowels checked" Hitchman had done the same as he let some scorching drives out in the van that will certainly have tested the upholstery on the "new" van hired by Pres Koolhof. On the way our driver kept us entertained as he kindly informed us that "bus stops on motorways are a good place to pick up blokes!". Despite leaving at what seemed like 5am we still managed to be late and after our arrival we lost the toss and were sent into the field under beautiful, clear skies at Fuji.
With both teams short of some experienced players it seemed like it would be an even contest and so it would turn out to be. Wombats with what looked like a light bowling line up dug deep into the pocket and pulled out some super performances. Yusry "I like getting drunk on ribena" Mohideen had his best spell for the club, bowling 8 straight overs in the heat, the last 4 after rolling his ankle and for only 1 wide and 1/22 with the big wicket of Dhugal being snapped up at short cover by a very excited President, despite the batsman shouting out "Nooooo!" straight after he hit it, the Pres wasn't put off and snaffled up a good catch. Our President loves going down on balls, what can we say. Yusry only ended up with the one wicket, being very unlucky not to have had more.
Alex "I enjoy a dark alley rendevous" Koolhof got the innings started though bowling tight lines and getting one opener bowled before getting the other Paul lbw after a pretty thick edge onto his pads for the Wommies first wicket – one of the many "interesting" decisions on the day. With some good tight bowling and 2 of the more dangerous Sharks batters out it was time to clean up the middle and lower order, something that the team has been very poor at during the past few games. Ev was as shocked as anyone to be brought on first change, but the Pres did his best to boost confidence by reminding him "you're not a bowler either" or that could have just been Patmore!
Ev was getting a few actually onto the pitch which confused the batsmen no end and also seemed to confuse the umpire. A caught behind down leg off a big edge, with bat away from the body was denied before trapping Asala in front on middle and then having Takada on the back foot only centimetres in front of his stumps, the ball hitting his pad halfway up middle, the only decision being…..we have no idea as it was turned down again and Ev was left wicketless in his first spell. Ev was even so helpful as to recommend the umpire take up stance behind the stumps and not atbout a foot outside leg! He also very politely asked the umpire, "Excuse me, is it possible for one to be so presumptuous as to enquire as to whether there was the possibility of a chance that perhaps, all things being well, that the leather manipulative that was projected towards the wooden stumps could, on the off chance, perhaps could have had a trajectory as to possibly be heading towards the wickets?". Well, that translated into Australian vernacular anyway! Those numerous "not outs" turned out to be crucial as the pair started playing their shots and hit a few big boundaries in a partnership of 50 or 60 with Asala top scoring on 45, taking the Sharks score above 100 and a decent total still on the cards.
The Wommies turned to partnership wrecker Vikram "Biscuits" Ragunathan for some inspiration and he delivered on cue, picking up 2 as a few quick wickets fell, the first through a classic catch and contender for catch of the year with Jarrad "I'd give the portaloo a few minutes if I were you" Shearer scaring half of Kanto as he fell with swan like grace, forwards and down to take an absolute ripper at gully – the resulting 6.5 magnitude earthquake after his fall scared many of the local oba-chans out of the house. If only Beathy was there to clean up the scraps! Koolhof picked up another couple including a comical effort as Biscuits, who had a broken hand at this point still shouted "mine" under a skied ball despite the wk coming at great pace – and with gloves! – to the scene, only to proceed to drop the catch straight to Patmore's feet who took a super relfex catch."That's my assist" Biscuits was heard to have mumbled! The Sharks were 7/118 and once again we let the tail wag more than it should have and despite some good bowling by Anupam "My name's not Anpanman, Evan you bastard!" Sharma and Tom "Go Large" Gilliatt, the Sharks did well to get to 167, more than we would've hoped but still a very gettable target at Fuji and with a decent batting line up.
After the break Ev and Alex "I'm Sanchetti's Bunny" Patmore opened up with Singh and Sanchetti opening, both bowling well. Ev was not looking sharp and it wasn't a surprise when he went for 8, just missing a yorker by Grant by a few inches…..and another 2 feet! Patmore and Tom then put on a big partnership that took us to 1/117 and presumably out of sight. At the same score Sharks were 7/117 so although Tom "went large" and got out for a well made 40 surely victory is in sight.
"Only the Wombats could lose from here" one member was heard to have said and right on time, the Wombat Wobbles in the middle order continued as we lost the next 5 wickets for about 5 runs. Yusry being run out, perhaps his partner forgetting about the injured foot, or possibly Yusry's peak fitness – Luke "I hate this game" Eyes copping a beauty from Sanchetti first ball…..again!, Dino getting bowled, with a broken back to the fair, although he should've been much lighter after redecorating the Fuji portaloos which was nice!..and finally Jamie going first ball with, well a very questionable leave, being bowled middle stump and walking off could be heard saying "I hate spinners, just give me a medium pacer, who bowls straight and lets me get my eye in" – wouldn't every batter in the world like that Jamie! Needless to say the Wombats in the middle, on the sideline and on the LINE feed were wearing the brown pants as we were suddenly 7 for 120 odd and in serious need of a partnership. Overs and balls weren't an issue…………….yet!
Enter El Pres, Alex Koolhof, promoted to 9 and he did a sterling job of keeping out some tight bowling from Sanchetti and Grant and the tricky floaters from Takada. A resolute ZERO, Jamie Payne-esque at the other end off 25 balls while Patmore whittled away at the runs seemed like it would be enough to get the Wommies over the line. But the cricketing gods, or the Fuji umpires decided otherwise and Big Gay Al was given out LBW, trying to push one off the hips down leg, the finger going up under a big appeal. The Wombats were glad the umpire had found his finger, as it seemed to have been amputated during the previous innings with some plumb deliveries going unrewarded.
Nevertheless there were only 5 runs to get and still 2 wickets in hand and over 3 overs left. Easy enough! Patmore bagged a few singles leaving 3 off the last over to win. Tight, death bowling by the Sharks gave nothing away and with 2 balls to go it was still 3 to win. Patmore went for it and pushed one through covers, coming back for a second that was never really there but guaranteed him the strike. In comes Ken "I had 5 Danish birds" Oiwa in for the last ball at the non-strikers end. 1 ball left. 1 to tie. 2 to win. The bowling had been good length or yorkers, nothing to put away the last few overs from the Sharks and for the last ball all we needed was bat on ball….but a swing and a miss from an unexpected shorter one saw the boys run anyway, to see the bails taken off and the Sharks victoriously celebrating a miracle win on the pitch. Hats off to captain Patmore with an unbeaten 70 odd, a top innings – but just not enough support from the middle order…or others in the middle!
The Wommies are never ones to get too down, even after such a tight loss and the cans were soon being cracked, barbeque firing and beers being downed. MVP bottles of wine went to Takada from the Sharks for his useful 17 and 3 for not many off 8 overs after coming on as the 8th bowler! For the Wommies it was Alex Koolhof with a fantastic 8 over spell for 4 wickets and his stoic innings of 25 balls playing Patmore's fiddle…so to speak! The cans were finished, the ground packed up and before you knew it, it was already 7pm and time to hit the Tomei and back to civilisation.
On the way we dropped off Dino in the disabled zone, with his broken back and were greeted by the lovely Etsuko "she's alright, she's got small tits but she's alright, wait a minute they're bigger than that, they're huge! Shearer who made sure that although the Wommies were caught short by one run earlier on, we wouldn't be caught short on the Tomei Expressway and she generously plied us with a dozen beers and snacks to add to the crate of bourbon and beers we had taken from the Max Valu. Dino was farewelled with loving waves and best wishes….and a few pieces of pizza to the face and shiteloads of water gun squirts all over! The trip back was alcohol fuelled, thankfully not the driver Ken though, and it was back to Shibuya for a few sherbets and to search in vain for Ken's 5 Danish birds!
All in all a great day, away from the wives and girlfriends, loads of beers so despite a loss – not a bad day out! Hopefully the Wommies can find a middle order between now and the end of the season, and can win our remaining games to make the semis and possibly see the Sharks again during the finals for what will be another closely fought encounter for sure.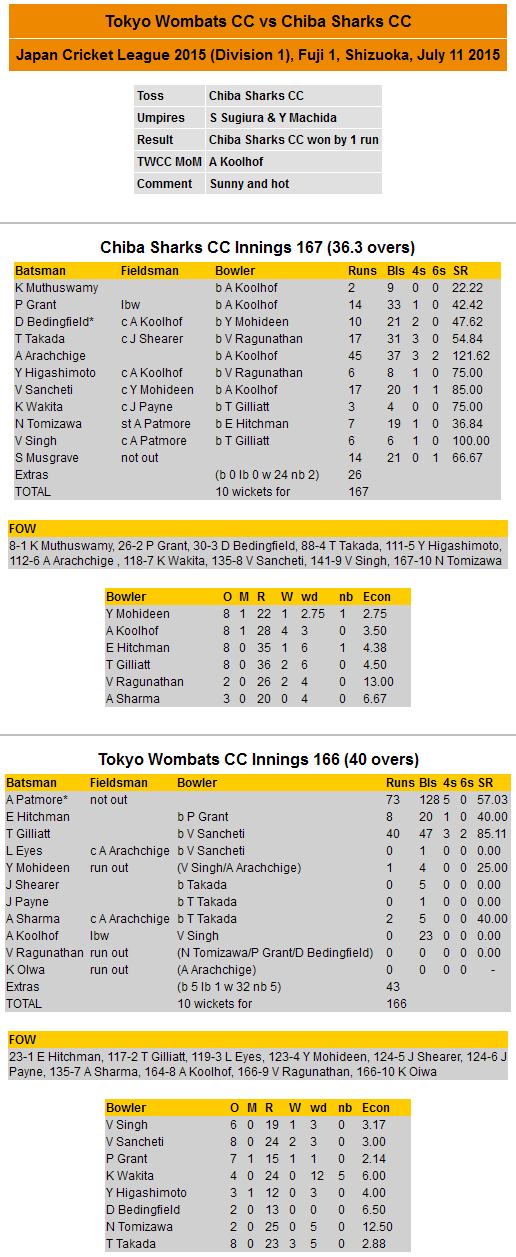 Quotes
"When you say you're being borderline racist, you do realise you're ACTUALLY being racist, right?" – Ken on the van home

"Is the game still on?" – Tom while getting changed into whites in Fuji with not a drop of rain.

What else was it gonna hit?? Evan asking the umpire
"I want to highlight Tom's huge six into grandma's veggie patch." (Koolhof)
"Smells like Indonesia." (Tom describing the BBQ.)
"Virkam" (Tom coining a new name for Vik.)
"Tekitoni for anyone who says 'Tekitoni for anyone' " – a frustrated koolhof remembering the good old days of the focused tekitonying.

They should call Planet of the Apes, Planet of Sanno – KennyO

Dino sledging the opposition batsman in Japanese "

これを見ながら打たなきゃだめだよ。

" Pointing at the ball.  "You have to watch the ball when batting"

Shearer: Failed a trial the other week and was a bit bummed by it.

Koolhof: Yeah some places have high standards

Tom – go large boys! (when we had just lost 5/2 and were in desperate need of a partnership!)
Ev (to ump) – you know it'd be helpful if you actually stood behind the stumps?
Alex K – "bus stops on the highway are a good place to pick up blokes"
Ken – "I had 5 Danish girls"
Catches
A crippled Dino arching and diving Free Willy-style to snaffle a looping catch just off the ground

Patmore's catch after Vik dropped it from the air as he had a bruised hand

Koolhof's safe hands to get rid of Dhugall, made even harder by the batsman shouting "Nooooo".
Jamie taking one above his head to get rid of big hitting tail ender
Yusry – first catch for the club!
Dropped Catches
Tom's tough, but gettable dive to the left at gully…..hits the hand but keeps going.
Tom's sitter at gully – straight to him….plops out.
Golden Thong

Dino – redecorating the Fuji portaloo after missing his target, again!
The umpire. Had to be moved by Evan to stand behind the stumps rather than a yard to the left. Made 6/7 howlers. Clearly didn't know what was going on.
Chiba – for their gay fairy dance doing ring a ring a rosy in the middle of the pitch
Great Moments in Sport
Patmore batting through the whole innings under very trying conditions: heat, poor umpiring and a middle order collapse.
Dino and patmore's water gun and pizza fight on the bus
Alex Koolhof 25 ball zero, sadly in vain thanks to the umpires
Dummy Spit
Koolhof yelling Shark Fin Soup after taking the catch of Dougall

Batmore yelling to the clueless Hiroshi umpire after Koolhof was gunned:

ルール分かっていますか?(Do you understand the rules?)
Wyndham Estate Man of the Match
vs Chiba Sharks (Jul 11, 2015)
Koolhof picks up another bottle of Wyndham as best on ground with four key wickets and then a defiant 25 ball innings for naught as he tries to assist his captain in getting the Wombats over the line.