WOMBATS BREAK BONES TO SECURE VICTORY OVER SHARKS
by Kyal Hill
The Tokyo Wombats Cricket Club claimed a deserved victory against arch rivals Chiba Sharks on a scorcher at Sano 3, nailing their first JCL win for 2013.
Taking the train to a game at 8:00 in the morning has some charms over the traditional van ride. Room to stretch out, do pull ups on the overhead hand rails if you like, time during the transfer for Starbucks and a poo, and sometimes a bit of morning eye candy. In some ways it beats being squashed into the warm armpit of a furry mate for 2 hours. But the tendency it has to befuddle and lose Wombats is becoming legend, and it always causes concern when 5 minutes before departure there are only 4 Wombats on the platform. Second timer Jamie Payne, coming all the way from Yokohama, and 2 others made it just in time, and it was mentioned that 2 would meet us at the ground, so we were only 2 short. That was a relief.
Having confirmed Milinda was on his way, Captain Beath put a softly threatening call into Shahir, hoping that he'd actually told him he was playing today. He had; Shahir'd meet us there. So now we had a full team, we'd just have to turn up where it counted. Having lost all 3 of our games so far this year, and with President Koolhof reminding us that Chiba Sharks had only beaten us once in our 20-odd encounters, this was a focused pack of Wommies determined to keep that stat. And with an esky full of ice and beer in the back like the good ol' days, the mood in Luke's and Angus's cars as we drove to the grounds from Tatebayashi station was one of confidence.
Gav wasted no luck on the toss and the Sharks sent us into the field. Hasan and a potentially rusty Hamburger opened the bowling, but the Chiba openers were timid and we were tight and tidy. A jagged edge unluckily sliced its way through Luke's hands behind stumps, and tinny edges were falling just short of eager claws, but the Wombats were noisy and fired up in the field and determined not to repeat the Herschel-esque shambles that haunted some from past games. The Russian gazelle then came in from the river end, with Gav from the street end, and in the last over before drinks the Wombats finally struck, Beath taking a simple but solid catch off a swinging Koolhof special, leaving the Sharks shivering in the sun at 1 for 40-something in the 15th.
Minutes after taking the field again, seconds before Koolhof began his loping stride, Angus asked the Captain if he'd prefer him at square leg rather than gulley. Gav agreed, and Prashant watched Brooks re-position himself but then proceeded to knock one just short of over his head, and in a display of stunning potential athleticism, Brooks propelled himself backwards to take a great one-handed catch. 2 for 44 and the taste of Shark blood was sweet on Wombat lips.
This brought in the Lollback, however, a menace who has been known to knock us about, on one occasion for 110 or so. Wombats' eyes narrowed, their determination dug in another level, and they set about the job of containment and attack. Molloy and Lollback proved a sturdy pair, though, and runs started to flow, as Rony bravely soldiered through only his third wicket-less spell for the Wommies, and Milinda had a similarly wicketless jab from the other end. The mood took a somber turn when, after valiantly returning a tin-ass shot from deep backward point, Sydneyite Jamie Payne went down on his hindquarters clutching his right elbow and grimacing in pain. "Get up, mate, you'll be right, it's probably just a dead arm" prodded his mate, Ev. But even Hasan, who was bowling, heard the snap and Jamie was starting to look a little pale despite the 30 degree plus heat. Just to be sure, we bundled him into the car and Kris Bayne from the Sharks took him off to the hospital. A new Wombats' first! Skip forward a couple hours and Jamie comes back with his arm bundled in a sling, now the proud owner of an x-ray clearly evidencing his broken upper arm, which had diagonally spliced itself almost cleanly in two just above the elbow. Dead arm indeed….
But such is the Will of the Wombats: when the Cricket Gods ask "How far are you willing to go to win," Wommies answer with broken bones. Second drinks came and the Sharks were feeling slightly buoyed at 2 for 120ish. Wombats welcomed the reprieve from the sun and gathered for a short pep talk by ever confident Captain Beath. Despite a semi-warning from a loud-mouth Hitchman aka the Little General, who was overheard commenting (unknowingly standing right beside Lollback) that "Lollback hasn't even opened up yet," the mood was still strongly positive. We took the field again, Hasan and Hamburger re-engaging the bowling attack, and when Lollback belted a confident 4 of a loose pickle from Hill, the General's words took on an evil ring, but on the very next ball, sharp-Eyes Luke picked the Lollback out of his crease and swiped his castle. Dubious stumping? Judging by the raised eyebrows and lack of appeals in the field, probably. But when the square leg umpire is on the batsmen's team, whaddaya say?
With the Molloy-Lollback partnership broken, the Wombats spirit fired into high gear. The Captain's fears of Shahir following up his morning ballsup with a shocker in the field were dispelled as the Pakistani-New Yorker displayed speed and agility in stopping numerous thumpers and taking two great catches on the run. Rony and Angus were also jumping left and right in an effort to stall the run rate, and Evan, who insisted he needed the exercise for the upcoming rugby season, was not only running from deep mid-off to deep fine leg, but also covering acres in frustrating wannabe boundaries. Even the bloke from the Sharks, who kindly filled in for My Biceps Are Too Big For My Bones Payne, did a much respected job of stifling potential 2s or 3s into 1s. Wombats were just licking it up in the field.
Al came back on to finish up a good spell (2-41, 1 maiden) and Molloy survived a few gay dabs, just dropping them short of Angus at gulley, who seemed to be a magnet for Koolhof's balls, but Hasan claimed him moments later from the other end, sending one out to Rony who secured an important catch in the safety of his armpit. "That's why we don't shave our armpits, boys!" roared the Little General. Hasan took another wicket, again in combination with Hairy Armpits Parvej, who used his hands this time, though, and finished up a good spell at 2-36. Gav came back on attack and was soon rewarded with a cartwheeling off-stump. And although the sharks held on to the end by the skin of their fins, the run rate had been stamped out and what was looking to be a 220 chase was shut down at 190 even.
Perhaps a little nervous about the depth of our batting line up today, Captain Beath wasted no time in getting the board ticking over, with monstrous 4s and 6s as well as drives, pulls, and cuts beautifully timed only the way the Dunedin boy can do. Angus seemed to have a brain fart at precisely the wrong moment and forgot to open his eyes to the oncoming ball or something, as he was quacking his way off the pitch much too early for the likings of the Wommies' nerves. As Evan marched onto the crease, Angus could be heard muttering, "I got outta bed and came all this way for that?" (2-ball duck). Hitchman, however, relished the opportunity to go shark fishing and opened up with an enormous 6 that reverberated back down to Tokyo and sent the ball deep into the tall grass over long on. Unfortunately his relishing was short-lived, as he, too, fell victim to a Sano brain fart and placed a thick edge nicely into Thurgate's gloves.
A tremor threatened to creep through the otherwise jovial Wombats peanut gallery—who were discussing the halals (permitted) and harams (forbidden) of fasting during Ramadan or laughing at no. 7 Millinda's encouragements to the batsmen to stay in so he didn't have to bat in the heat (he wasn't fasting, he just didn't fancy the heat so much)—and the threat deepened when the hope that was placed on a firing innings from Luke Eyes was smashed a few balls later. But then a pleasantly strange thing happened: Shahir stepped up to the crease, took control, and anchored the innings with Beathy with a stellar performance that has earned him even deeper admiration and respect from all Wommies there that day. His placement was sharp and his strikes were confident. All this despite not having eaten since the dark hours of the morning and not being able to drink under the sweltering sun because of his fasting. He and his Captain together took the Wommies from a wobbly 3-37 to a commanding 4-125, when eventually Gav (76 off 48) fell to a catch by the only Sharks player who by rights probably should have dropped it.
Shahir continued in fine form with Hasan, and together they looked likely to take the game to the end. We were 63 runs away, then 52, 41, 29, then a mere 17 with the best part of 10 overs to go when despite Millinda's prayers and shouts the fatal wicket for him fell as Shahir was given out LBW. Shahir returned to the pavilion to a hero's applause, Millinda swaggered out to the crease, and with a brooding sign on his pink forehead saying "Oh please don't let us collapse now…." Captain Beath nervously stroked his cleanly shaven chin. Wombats 5-174.
Millinda and Hasan poked about for singles as Gav's stroke rate increased, and when Millinda fell to another LBW 7 runs later, there were more Wommies standing than sitting, willing Rony and Hasan to stick the knife in the gills and twist as the ice cracked and beers beckoned in the esky behind them. Wombats 6-181. Jamie "you only need one arm to swing a bat" Payne insisted—or maybe it was Evan on his behalf—that he could still bat if needed, a melting Hamburger stood padded and ready (hoping for something more than a duck), and "it better not be up to me again" Koolhof was changing his undies or padding up, but no such bravery was needed. Rony and Hasan knocked out a couple of singles, and then it was the Chiba Sharks, our second highest scorer for the day (including 41 wides), who finished the game off with a 9-wide over, including the finishing wide that got away for 4. Wombats 6-192 with 6 overs to spare.
Beer flowed under a blue sky, a sweet breeze blew across the open green field, the river rustled and beckoned but went unvisited just beyond the tall grass, and whisperings of the first words of the Wombats song floated around among smiling faces, but after a short and sweet presentation from President Koolhof—consisting of "you've only beaten us once in the 20 plus times we've played, so we're very happy we've kept it that way" and a few other words—the sharks had pissed off and Wommies too had scattered, broken bones and all, leaving 4 blokes behind to do the dirty work of finishing off the beers. No song was sung, an incident that mustn't be repeated. But it was still a sweet day topped off with a glorious victory and cold beers among good mates.
Man of the match went to Shahir for an awesome knock and slick work in the field and to Molloy for his sturdy 82 off 105. The last 4 Wommies stashed up with roadies and on the train back had the smallest round of highlights and tekitonis in history.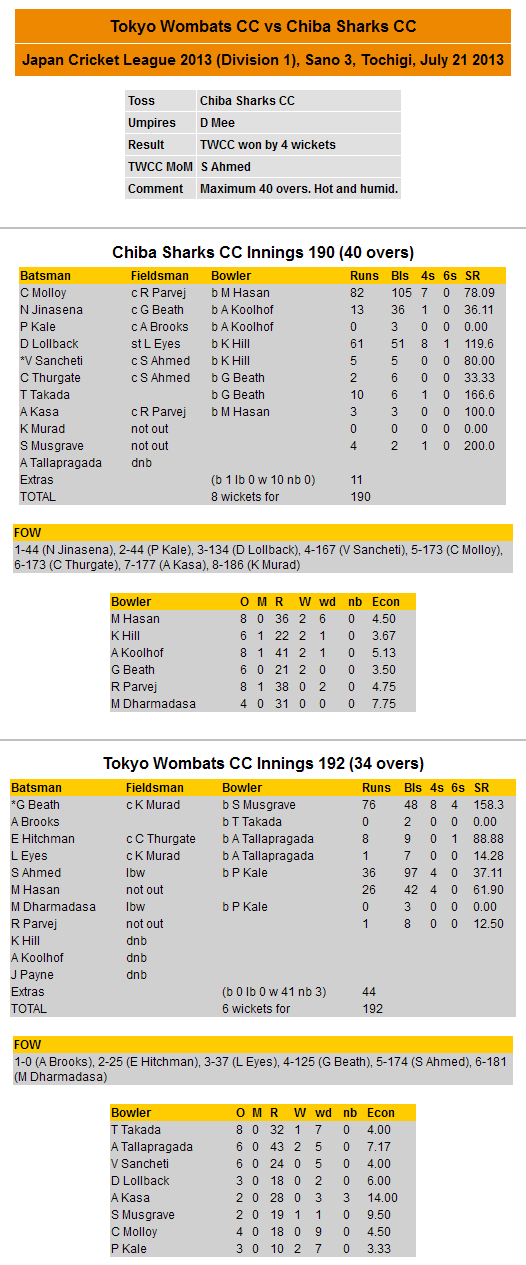 Hardys Man of the Match
vs Chiba Sharks (Jul 21, 2013)
Shahir Ahmed took two excellent catches in the field and stopped plenty of runs all day and then backed it up with a very important knock of 36 runs to keep the Wombats' run chase together and see us through to victory over cross-town rivals, the Chiba Sharks. A well-deserved Hardys' Man-of-the-Match!