Match Report
Scorecard
Photos
WOMBATS BAIT SHARKS OF CHIBA
by Alex Patmore
Last Sunday the Tokyo Wombats travelled to Sano to face the Chiba Sharks in the second game of the season, after the previous week's rain-off with Sano 1sts.
Having almost thrown away not lost a game all season, confidence levels on Shinjuku platform 4 were as high as some of the alcohol ones in certain team members. The mystery supplier of smells on the train to Sano was Dino never identified, so instead the team turned their attention to laying down a marker on the Chiba Mackerels at the earliest opportunity. The Wombats definitely bought more fried crap at the convenience store than their rivals, and so the gauntlet was laid down. Chiba Clownfish tried to respond with an intimidating pre-match warm up, but this went largely unnoticed due to the Wombats' ten-man slip cordon facing away from the calisthenics, and which counted as our warm up.
Skipper Beef decisively lost the toss, and the 'Bats were in the field. If Chiba's skipper knew how well we were about to field, it's unlikely that he would have made the same decision again. KB and Carl found swing early doors, and getting the ball away was difficult for the Sardines' batsmen. However, they stuck around and crept towards the 50 partnership. Shacks was brought on at Kyal's end, and took a wicket in his first over, luring the batsman into one attacking shot too many. A second soon followed for Koolhof, brought on for the skipper, and Wombats were looking lively. Tiddlers opener Lollback was playing a few shots by now, and it was clear that his was the wicket most needed. Rony was on at Shacks' end, and proceeded to bowl a better spell than he did against Adore, even though he only took one wicket this time (insert your own "that's cricket cliché" here).
Thurgate and Lollback built a decent partnership during the middle overs, and at this time the Carp were rattling along quite nicely. After Dino was brought on mainly so that he could argue with Umpire Miyaji from closer range, there was more joy for the (even) slower Wombat bowlers. Rayos' spell may have been short, but in terms of wickets it was massively productive, taking two in as many overs. More on Rayos later.
Chiba Urchins innings was entirely built around opener Lollback, who remained steadfast at one end whilst wickets tumbled at the other. Second top-score for the Chiba Crabs was extras, which could tell us a number of (not very) interesting things. Lollback was last man out in the last over, having scored a fine century.
*You may have noticed that nothing has so far been said about the feast of fielding laid on by the Wombats. To have done so in the main report would have made it unreadable. Some were more culpable than others, but we must take responsibility for Rayos as a team. Almost everyone (Malcolm excepted, I think) was culpable for a dropped catch/missed stumping at some point, the number of times centurion Lollback was let off the hook was many, and had we taken but one of them early doors it's doubtful if they would have scored more than 120 perhaps. It's a clear indicator of how well Rayos bowled that he almost took as many wickets as he did shell catches. In fairness to the bearded one, he never shied away from the next one that was inevitably hit in the air towards him, and he remained philosophical about the whole thing after. I forget what he said.
So out to bat Beef and Tyson went, and KB especially looked in fine form early doors, blasting fours over the infield to put the Chiba Tadpoles on the back foot immediately. Tyson was more cagey in the opening rounds overs, before punching and hooking his way to a few boundaries. Enough of that. TWCC were rattling along at a fair lick, and the 100 was reached inside 13 overs. Beef and Iron Mike were batting so nicely that the next batsman literally couldn't keep his sh#t together. I won't mention his name to protect his privacy.
So the next batsman in was Jarrad Dino Shearer, after Tyson was out, biting off more than he could chew, feathering a long hop to the keeper for 62. The runs kept coming for TWCC, and Dino was just thankful they were coming off his bat this time. Beef then chipped one to cover, just after reaching his half century too, having apparently seen the taxi to take him to the station arrive the previous over.
Perhaps the Chiba Guppys' sensed a glimmer of hope, but this was extinguished by Jarrad first of all, and then by Evan who chipped in with a super cameo of cuts and other shots I've forgotten — as it's now Thursday as I write — to see us over the line with more than 11 overs to spare. Dino ending on 44 not out and Ev on 16. A super run chase, and 2 from 2 for TWCC. Tyson awarded the undisputed heavywei MoM for his 62.
After the match, Team Wombat enjoyed a pleasant meal and quiet journey home where they discussed many high-brow concepts, and shared their hopes and fears about the future with one another in a perfectly civilized fashion.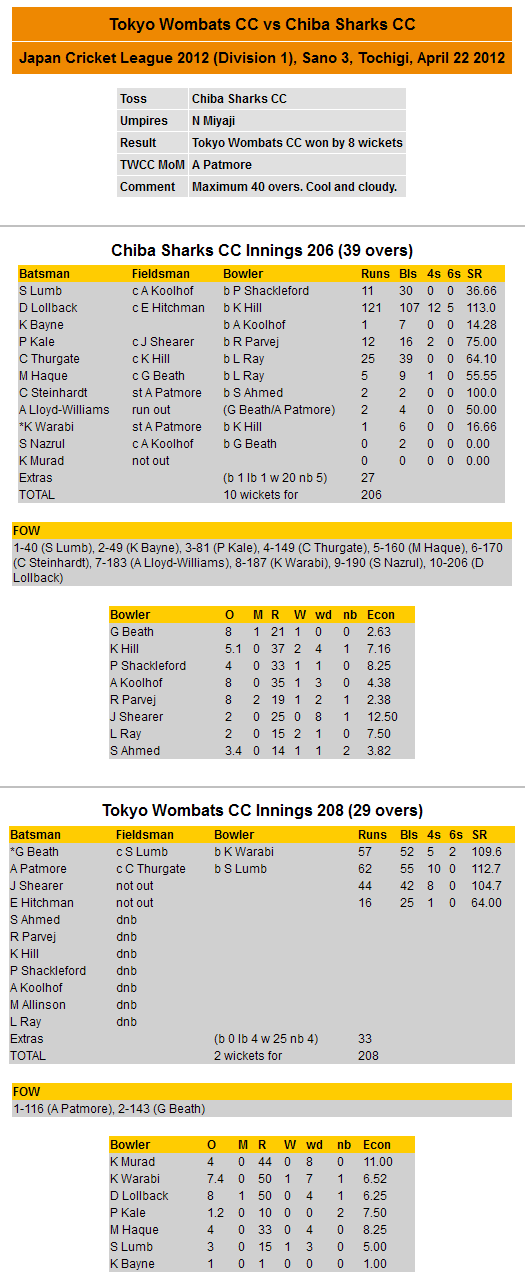 Hardys Man of the Match
vs Chiba Sharks (Apr 22, 2012)
New boy Alex "Tyson" Patmore came out swinging hard at the top of the order and landed many a good blow to dent hopes of a Chiba victory. Patmore's blazing 62 from 55 balls featured numerous 'pewter-pose' cover drives to the boundary - a deserved winner of the Hardys Man of the Match.