Match Report
Scorecard
Highlights
WEARY WOMBATS STUFFED BY SANO
by Evan Hitchman
A confident Wombats team went up to Sano looking for a first victory in the last 4-5 games against the Miyaji family outfit, in fact no one could quite remember when the last win against them was, but all were very sure that were due for a win against the bastards!
The opposition was minus one A. Miyaji who had gone "intai" apparently, but still with a double Miyaji as well as some new recruits looked like a pretty strong team and we would have to play well to win. With a strong batting line up though including Gav, Alex, Jimmy, Hanif, Luke and Gooldy we won the toss and batted and a score of 200+ was on the cards.
Needless to say in true Wombats style the batting line up and top order failed, pretty much on mass and with some tight and sharp but not unplayable bowling from Sano, as well as a very slow outfield we were down at 5/59 before we even knew it. First to go was Patmore, who knicked one through to the keeper early on and in the absence of Dino really stepped up to the plate in the Dummy Spit department with a ripper of a tirade, followed by a bat throw which had one of the Sano player's children ducking for cover! When he found out he'd actually broken his bat, as well as getting a duck that just about crowned his day! Top stuff mate!
Gav was stumped after getting a start and seeing off the openers for a good 20 odd before Luke, Jimmy and Hanif were out in quick succession. It wasn't until the 5th wicket when Nick finally scored the first boundary of the day that we started to trouble the scorers. Unfortunately by that stage we were still losing wickets every few overs and only Nick with 29 and Extras with a well compiled 28 got us into tripe figures.
119 was never going to be enough, although we started pretty well with a wicket from the first ball with Naeem missing a ball down leg that was given out caught behind to the delight of all and sundry including Nick who politely informed him of the direction of the dressing room and the formal etiquette for how to respond when the umpire raises his finger. After we'd separated those 2 we discovered that Jimmy had a side strain after only his first ball and he wasn't the same in his spell after that.
The rest of the Sano innings was pretty disappointing from a Wombats perspective with a very silent, lax effort in the field and some wayward bowling allowed Munir, Aravinda and Bebe to easily see of the runs in only about 20 overs. The highlight had to be Nick firing up again after the Sano batsman got a bit cheeky and bumped Gooldy bumped him off the pitch. We'll have to see what the AFL Match Review Panel have to say about that one!
Dutifully the Wommies made the best of a bad day and hammered the beers down on the train and then back in Shinjuku, onto Golden Gai until the wee hours of the morning where phones were lost, skippers were falling into the gutters and Wombats of all sizes and shapes were spreading the word of cricket in great style!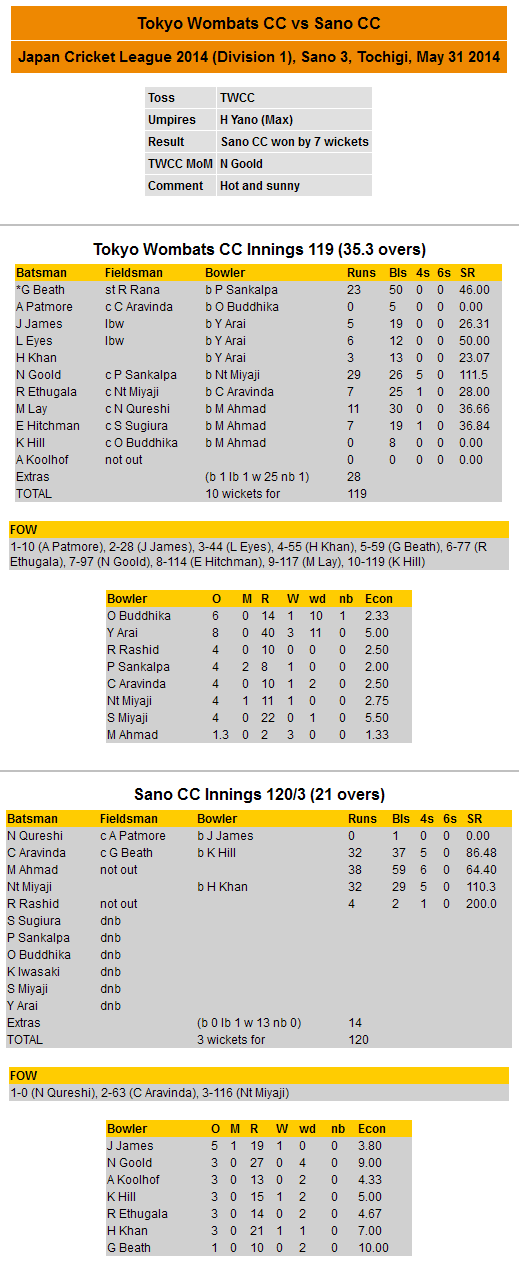 Quotes
Nick Goold's classic to the opener who was given out first ball of the innings and was just standing there saying "I did not hit it". Nick says "You`re out so f*** off".
Dummy Spits
Patmore gets out, obviously unhappy with himself. The tent then shakes three times after three massive clashes of cricket gear against tent pole. Helmet, bat and something else? It is later revealed that the bat was broken during said dummy spit!
Wyndham Estate Man of the Match
vs Sano (May 31, 2014)
Nick Goold was the best of the very few shining lights for the Tokyo Wombats in a disappointing loss to Sano. "Strepsils" top-scored for TWCC with 29 runs.