Match Report
Scorecard
Photos
UNDER STRENGTH AND UNDERWHELMING WOMBATS PUT UNDER THE GUN
by Luke Ray
Here I sit, staring at a blank word document for 10 minutes, pondering the unenviable task of resigning the events of last match to the annals of history. However, for the benefit of all Wommies who weren't there to witness the carnage (Where the bloody hell were you!?), here goes…
My 14 hour pre-match ritual honed to a fine art, I missed the goings on of the train ride out to Sano, catching up on some sleep. Once at the ground it soon became apparent that all 9 of us were in for a long, hot day. One small, straw-clutching blessing was that Sano had a full team but were missing some of their big guns due to Ramadan fasting.
I wonder what the Wommie excuse was?
Batting first with the intention of negating as many overs as possible from the dangerous opening attack, a relaxed (when is he not?) captain G. Beath and a determined P. Shackleford successfully saw off the opening spell. Shackleford, particularly stoic in his dogged protection of the stumps, was perhaps slightly miffed that he wouldn't in fact take the record for the oldest person to play for the wombats, despite celebrating his half century the day before. Beathy on the other hand, revealed the key to his laidback-almost-to-the-point-of-boredom approach to batting, stating moments before kick off that he "doesn't actually like the game all that much, just plays it." Inspirational stuff from the captain there!
After Shackleford departed for 7 after a youthful swipe saw him caught at point, Beath, continued to play a mature innings, though perhaps didn't really hit his stride. This writer quietly wonders whether a little bit of love for the game snuck in and distracted him somehow. Beath caught out on a very respectable 39 after trying to lift the run rate.
K. Hill came to the crease and added 15 off 17 in a pretty decent innings that was only let down by the fact it was about 75% too short.
At 2 for 69, N. Goold, hailing from a different school of cricket psychology than captain Beath, walked out to the crease, quietly stating that he "felt good today. It's gonna be good day I reckon." Goold back in the shed for 1 brought Andrews senior (11) to the crease. Underspoken, (learned from Goold's mistake perhaps?) Richard went on to provide some much needed positive batting together with son Ben (15), who showed good potential that we are sure will not be wasted in Canberra (is there anything else to do?) Next at the crease was Stannard (15 n.o.) whose sheer doggedness just goes to show that you can indeed make your own luck, of which he had his fair share. Ben's departure brought L Ray (2) to the crease and the less said about that the better, suffice to say: wide wide 2 wide wide bowled.
It was right about here, with A Koolhof arriving at the crease, that Goold, who single handedly put on enough mockers to service the Shibuya Starbucks, came out with a gem: "Well, looks like I'm gonna be the lowest scorer with only 1 run…", moments later Koolhof was back in the shed. You can guess his score.
Wombats all out for 123. If I may wring one positive drop from this bloodstone of underachievement, it was that we pretty much saw out our overs despite being two players short.
Our efforts as a team in the field were pretty consistent with our batting performance: certainly no lack of will or effort, just generally…underwhelming. The wickets we desperately needed early didn't come.
Beath had an interesting time of it behind the stumps, copping one on the honker after deciding against the helmet. As if that wasn't enough, batsmen Ahmad had another go at him a few balls later, literally turning around 180 degrees and attempting to swat the ball pretty much straight at the bewildered keeper, drawing a typically understated "Are you crazy?".
Koolhof was as tight with the ball as he is with his cash, drawing the only Wombat wicket of the day, A Miyaji LBW for 42. Stannard showed promise with his shapey little darts, if he can find and fix his radar. Goold had well and truly dug his grave by then. 2 overs 0/16. Though to be fair the man deserves more wickets than he gets. Maybe if he'd just keep his mouth closed…? The spinners were basically taken apart. Ummmm, do I have to go on? Sano got the runs with a day and a half to spare for the loss of one wicket. S. Miyaji made history as the first female to pick up the player of the day award with a well-earned 4-er. Beers in the yakitori place put a softener on a hard day, as did the chu highs on the train back into Tokyo, amid discussions ranging from anatomy to class difference, the ultimate unfairness of life, and bbqs.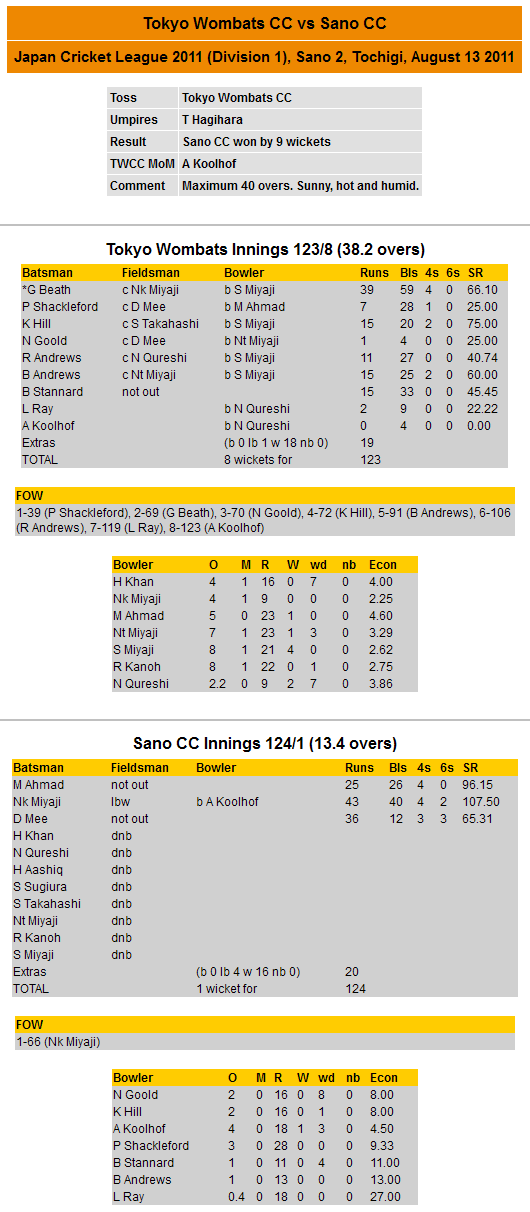 Hardys Man of the Match
vs Sano (Aug 13, 2011)
Koolhof's tight spell of bowling earned him a bottle of Hardys wine but it wasn't enough to get the Wombats out of trouble against Sano.