Match Report
Scorecard
Photos
TWCC VS SANO — THE BORDERLINE SERIES
by Evan Hitchman
With 2 losses already in the bag this season the pressure was on the Wommies to kick-start the season with a first win. No motivation would be needed with the opponents for Round 3 being our rivals from Sano and the victors in controversial circumstances in last year's Granny. The day started auspiciously with most of the team making the train, although some looked a little worse for wear. Patmore, upon finally reaching us described the smell coming out of our carriage as somewhat akin to rotting carcass coming out of Hitchman's arse (borderline derogatory comment). He certainly wasn't wrong as his creams were looking a distinct shade of "beige", "off-white" and "brown" as the day progressed!
Winning the toss Captain Beath sent Sano into bat in the hope that knowing what we'd be chasing we'd have more chance, as long as we had a fair and neutral umpire, which against Sano is about as likely as Alex Koolhof scoring a century, or Zulu turning up sober! (borderline sarcastic comment). Honours were shared early on with some good tight bowling by Captain Beath (4 overs, 0/5 – why only 4 Overs???!!!) and some great fast stuff by new-boy Hasan we had our chums and all-round good sports from Sano (borderline fanciful comment) at about 1/60 off 15 and a good chance to keep them under 200 which would be very gettable.
Miyaji and Naieem from Sano proceeded however to put together an important partnership, both scoring 50s with the Wommies being very generous in the outfield dropping Miyaji what seemed like a dozen times. One particular ball of note from Koolhof swung a mile and caused the batsman to miss the ball completely leading to our always vocal slipper, Mick to comment – "that one swung like a monkey!". Our opposition skipper apparently took offence to that and caused much hilarity by telling our keeper – "that was a borderline racist comment"! After finally getting a few wickets some tight bowling from Rayos, Big Gay Al and Ronnie kept us in it and with 5 overs left we were looking at chasing 180 or 190. Sadly our line and length went abit haywire in the last few overs, as did Haneef who scored a very important 23 from only 9 balls as we went from defending under 200 to chasing 232 – a difficult but doable total (borderline wishful thinking).
Not to worry though, no-doubt our concrete opening partnership will take care of business. Having finally got rid of that old bastard Dino, and with the shackles off we would surely see Patmore and Gav see us through to drinks 0/100 and on the way to revenge for the cruel GF loss. That's probably what Evan was thinking as he lay passed out under the tent, despite coming in first drop. Who knows what was going on in his head, because the sounds and smell coming from his arse were evil and disturbing to say the least! (borderline defamatory comment).
Our run-chase got off to a bad start when Gav nicked one to slips and unlike the Wommies fielding it was gobbled up leaving the skipper out for 16. Ev and Patmore put on a partnership of almost 50 to steady the ship before Ev was out trying caught in the deep, quickly followed by Shahir lbw. Patmore though, with his one recognised batting partner and skipper already out and the wickets starting to tumble played a sterling innings and held it all together, giving us half a chance. Good support from Mick Lay, Jamie Payne in his first game for the 'Bats and Hasan, with 14, 15 and 12 respectively gave Patmore the platform to do his thing and we were looking like pulling off an unlikely victory, as long as someone could just bloody stay in and hold up an end!
It was getting tight as wickets 6, 7 and 8 fell leaving the 2 Al's at the crease. With Koolhof promoted to 10 after his heroic, record-equalling 2* not-out a big W was assured. 20 runs off 12 balls, very possible – especially considering we shipped about 50 runs off the last 3 overs ourselves! Sadly, or predictably the result was taken out of our hands by a less than confident appeal by our nemesis N. Miyaji, who after seeing Alex sweep down to fine leg off the middle of his bat to bring up a well deserved 100 began to appeal, the only player on his team to do so – and as Alex reached the other end of the pitch was given the finger! (borderline intimidatory action!).
We ended up falling just 20 runs short of the total, Patmore 1 run short of a century and Koolhof 1 run over his record with a beautifully compiled 3, but given that he batted 10 and not 11 his record didn't count! Despite the disappointment of coming so close the Wombats drank in style with a few cold cans thanks to Mick Lay and off to the local Kuki izakaya for nomihodai and tabehodai to take away the bitter taste of defeat. A much improved performance from us though, especially with the bat. It was good to see a few lads get in double figures and support the openers – WIDES this week was a big disappointment after getting second top score last time out! Catching and fielding were poor again though, and with a few more wickets taken and boundaries stopped the total could have been a lot less. Practice makes perfect lads! 0/3 to start the season but we're on the up and the first win is just around the corner no doubt.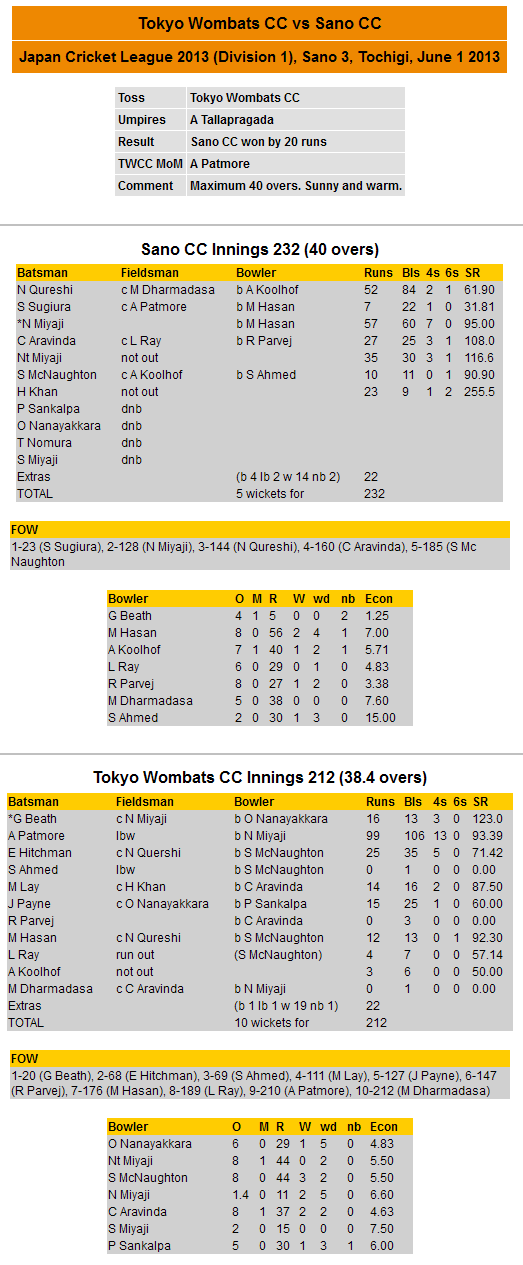 Hardys Man of the Match
vs Sano (Jun 1, 2013)
Alex 'Tyson' Patmore batted valiantly for the Wombats and nearly secured us victory against Sano until a cruel LBW decision stranded him on 99! Still very deserving of a bottle of Hardys, however.