Match Report
Scorecard
Highlights
TWCC trounced as Tigers tee off
by Shahir Ahmed
The Tokyo Wombats took on Tigers CC in their fifth match of the 2016 JCL competition at Fuji 1 on May 21. A week on from a big win against rivals Chiba Sharks and having won their first four games, the lads were full of confidence, looking to make it five in a row against the newly promoted Tigers team.
Perhaps too full of confidence. "This should be an easy game," last week's man of the match Rony Taluqdar told skipper Alex Patmore, a bad omen before the start of play. Additionally some of us driving down from Tokyo got stuck in traffic on the Tomei, barely making it in time for a few minutes of fielding drills.
Continuing with the luck we've been having with the weather, it was another beautiful day for cricket. The Tigers won the toss and elected to bat first. For the Wombats, there were three changes from the previous game, with Mick Lay, Zeeshan Naglekar, and debutant Dean Dowey coming in for Bruce Amano, Richie Bracefield, and Rich Laidler.
Opening the bowling same as last game were Yusry Mohideen and Aamir Syed. The Tigers were on the attack from the get-go and the first 3 overs yielded 27 runs as opener Imtiaz Khan got stuck in with some big shots. His luck ran out in the 4th over, however, as Aamir induced an ugly heave across the line that was well taken by Deano at cover.
Yusry at the other end kept probing away on a full length right around off-stump but with little luck as there were quite a few plays and misses as well as edges that ran away for four over the slips. It was Aamir who provided the second breakthrough as well, Mick Lay positioned at a very short cover taking a sharp catch above his head to send back Nikhil Karautiya for 11.
Alex Koolhof came on to bowl first change and struck immediately as Tigers captain Ragesh Nair played all around one to be bowled for a duck. This prompted a wild "karate chops" celebration from Koolhof, catching all by surprise. It was a tribute to his son he said, as "that's all he does these days." We hope to see more of the same in the games to come, Koolhof.
Aamir bowling unchanged from his end claimed a third highly-deserved scalp by clean bowling the Tigers other opener Rahul Koul. Soon afterwards Koolhof trapped Rajeev Nair leg before to leave the Tigers on 5 for 71 after 15 overs. At this point the Wommies might have been setting their sights on a target under 130. However the numbers 5 and 6 for the Tigers, Nikhil Kumar and Ramamoorthy Balasubramanian settled down for a stabilizing partnership. Runs came slowly at first but they started opening up after the first drinks break. Luck also played a part as a few sky balls either just cleared the infield or fell short of the boundary riders. Not to mention the five-run penalty as one from Deano sneaked past Patmore and on to the helmet, to go along with a steady supply of wides from the Wommies.
Yusry came back for his second spell and broke the partnership, sending both batsmen back in successive overs, but not before a well-made 58 from 56 balls for Balasubramanian. Even at 7 for 179 after 33 overs, the situation seemed salvageable. What followed though was an onslaught led by number nine Divyanshu Srivastava that seemed to turn the tide firmly in the Tigers' favor. 79 runs were plundered off the remaining 7 overs amidst a flurry of fours and sixes, with the final over itself, bowled by an unlucky Deano, going for 25. The Tigers ended with a hefty 258/7, Srivastava finishing on 54 off 35. For the Wommies, Aamir took three wickets and two apiece for Yusry and Koolhof. Rony was unable to match his form from the previous game, going wicketless in his 6 overs.
Patmore and Jarrad "Dino" Shearer led the Wommies reply with a steady opening. Unfortunately the skipper could not continue his rich vein of form, falling caught behind to Ragesh for 19 in the 6th over. Mick Lay joined Dino and together the two veterans took the score past 50 in 10 overs. But Mick was also unable to match his exploits from the Sano game from a couple of rounds earlier and was bowled for 1. Aamir went in at number four, and quickly laced a cover drive for four and a lofted on drive for six. That six sent the ball way out into the car park by the river, leading to a brief delay in play as people searched for the ball. The delay perhaps brought about a lapse in concentration as the very next ball Aamir played on to his stumps, the ball maybe not short enough to go for the intended pull.
At 66/3 after 12, it was time for consolidation as Luke Eyes made his way in. Together with Dino the two batted sensibly averting further loss of wickets. But the Tigers were quite disciplined in their bowling and fielding, and clever in their tactics. Noticing that the umpire was very lenient to the bowling side on off-side wides (to be fair this was the same for both teams so no complaints there) they stuck to a line wide of off stump with four fielders on the boundary protecting that area. This made scoring runs, especially quick runs, harder and harder, and the asking rate kept climbing. Luke eventually fell leg before for 26. Dino followed a couple of overs later unfortunately one run short of what would have been a fine fifty.
Although we were able to take the game beyond 32 overs to avoid conceding a bonus point, the rest of the middle and lower order came and went without much fuss as the asking rate was beyond 10 an over at this stage. The only thing remaining was whether Koolhof could finally score more than 2 runs and break the Wommies record for highest score by a number eleven. A shot through third man got everyone excited as we thought it was a four only for the ball to pull up just inside. Tied for the record. Next ball the Russian turned down what we all thought was an easy single to remain on two. And of course the very next ball he was out leg before, the innings ended, and the record stood.
In the end it was a well-deserved and comprehensive 64-run victory for the Tigers, ending the Wommies' four-match win streak. Man of the match honors went to Koolhof for the Wombats for a fine bowling performance, while for the Tigers it was always going to be Srivastava for his quick-fire 50 that took the game away from us.
Finally on a personal level this was my last game for the Wombats as I'm heading back to the US. Never thought I'd find myself playing organized cricket in Japan of all places, but it's been a pleasure and great fun being part of the Wombats and getting to know everybody the last four or so years. Wish you guys all the best for this season and beyond.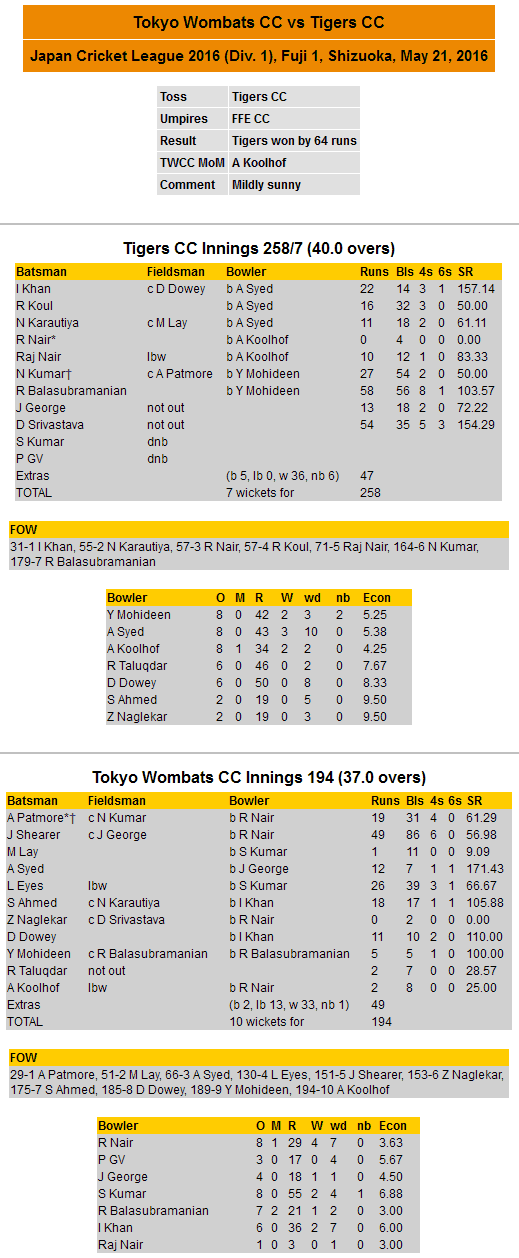 Quotes
"Oooh oooh, boys, it's Doctor Yellow!!" Dino revealing what he does with his spare time the other 6 days of the week in Fuji.
"Arrrrghaaaawwwwwwww": The sound made by Keeper Patmore as he spills the ball and it rolls onto his helmet placed behind him….
"Four! No, not four. No, four. No wait, not four." Aamir on the boundary and seemingly confused about whether the ball crossed the boundary rope or not.
"This should be an easy game." Time to get rid of your crystal ball Rony.
Wyndham Estate Man of the Match
vs Tigers (May 21, 2016)
Koolhof bowled quite accurately to stem the opposition's flow of runs and subsequently took a couple of key wickets. His Wiggles celebration was a sight to behold. Alex picks up a lovely bottle of George Wyndham Cabernet Sauvignon Bin 444, courtesy of the Tokyo Wombats' sponsor, Wyndham Estate wines.