Match Report
Scorecard
Highlights
Tigers trounce TWCC
Dino-san was too busy reveling in the glory of having played 100 caps for TWCC and never wrote a match report!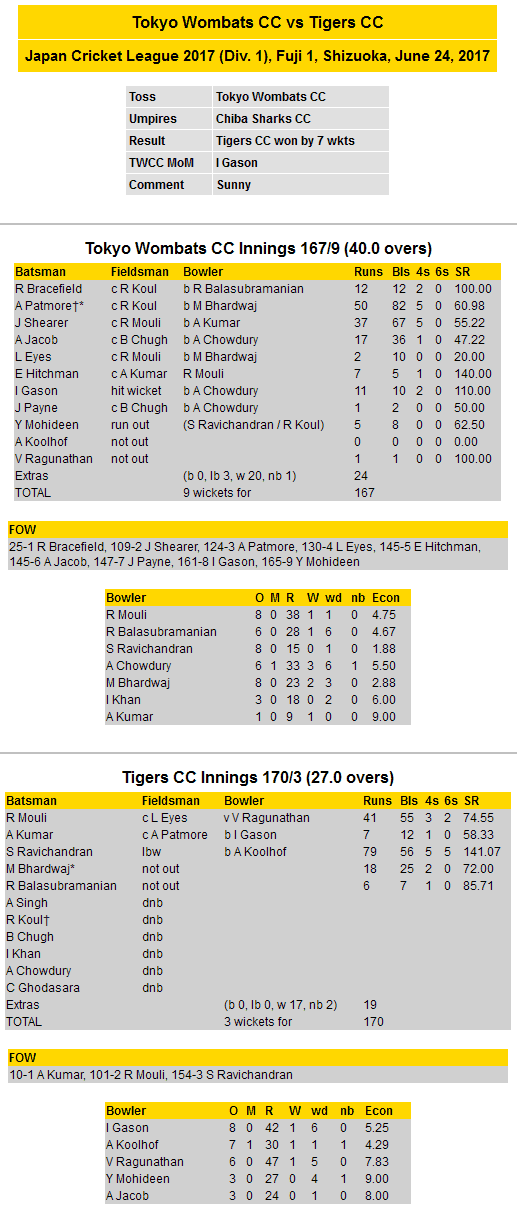 Catches
The new boy Luke "Eyles" – a nicely judged catch at long-off
Quotes
First thing Curly says after re-introducing himself to the club he helped found – "So…does anyone have any painkillers?"
Curly: "Those chicken wings are starting to make a move"
Curly : "If I was that way inclined I'd f**k him"
Curly: "She wasn't even hitch-hiking but we convinced her to get in the car anyway!"
Curly "Koolhof is a non-chewer"
Curly: "Someone took my bloody white, where are my whites?!…….oh, I'm wearing them!"
Koolhof: "Up until my late 20's I was still chewin"
Great Moments in Sport
Patmore with about his millionth 50 for the Wombats, consistency personified
The return of Curly! Great opening spell, and now only 6 wickets away from reaching 100 wickets for the club
Not really a great moment in sport, but still a great moment! – Koolhof going down on Ev's chocolate eclair….
Dummy Spits
Koolhof (Cabbage Patch) – throwing his toys out of the pram and having a big sook when asking too many questions to Patmore 5 seconds after he has returned after getting out. They hugged and kissed and made up tho!
Golden Thong Nominations
Dino – leaving the field for 4 full overs to empty out at both ends, coming back with a huge brown stain on his beautiful hawaiian jocks – the result leaving Ev and Patmore scarred for life.
Yusry – having a spew so loud that players from the other field came to ask if he was ok and if he needed medical assistance!
Wyndham Estate Man of the Match
vs Tigers (Jun 24, 2017)
Curly's return to Japan and the Wombat burrow (in mandatory Hawaiin shirt) saw him pick up a key wicket, knock around a few runs, and instigate a Chiang Mai fines session. His efforts were worth a bottle of our sponsor's wine! Nice work Curly.