Match Report
Scorecard
Photos
STEADY SANO WOBBLE WOMBATS
by Malcolm Allinson
"I tend to think that cricket is the greatest thing that God ever created on earth – certainly greater than sex, although sex isn't too bad either" – Harold Pinter.
It was with such resolution and fortitude that a motley crew of largely hungover Wombats assembled at Shinjuku station and managed to navigate their way to Tatebayashi despite train cancellations and thanks to the guile of Koolhof-san. En route, captain "Tyson" Patmore enquired of Rony whether he had given up something in order to play, as he had originally been unavailable. His response – that he had played all the games thus far this season, was feeling tired and wanted a rest – was met with incredulity and a hair dryer almost appeared although his level of concentration later, at certain times of the game, suggested that he was nothing if not honest. Reg met up at the ground where temperatures were in the 30s. Robin stunned his team mates into silence during the warm up routine by suggesting he was shy and retiring and claiming "it's only a front you know".
The Wombats fielded first and the opening bowling partnership of Hill and Koolhof was as tight as a duck's arse. Tetsuya was playing his first game and showed a level of agility and concentration in the field that absent club treasurer Shearer would have been proud. Extraordinary catches from Reg, Kyal, Ben and Bainesy kept the target within reach as did sterling bowling from Reg and Rony. The commitment of the fielding was immense (epitomised by Matt's over the shoulder pirouette-like backward dive which, against all the odds, nevertheless left him 20 feet short of the ball) tho Robin and Tyson contrived to let one through the slips and the latter dropped a top edge and then feigned injury to his lunch box. Tyson did, tho, take a wonderful catch off the Ginger Demon which was accompanied by a nick that all heard apart from the umpire who appeared to be adjusting his hearing aid at the relevant time.
An attainable 186 to win was set and Tyson went about this with measured resolution. When Robin, in the comfort and shade of the marquee, enquired of Bainesy (opening with Tyson and wearing no helmet, sun cream or box, because he claimed a box wouldn't stay in his g-string) if he was a part time opener, the single, middle digit response from the latter on the square suggested a degree of disharmony that had not been present earlier in the day. However, Tyson was ably assisted by Robin, Ben and Rony (with a fantastic 6) and victory was certainly within reach.
Unfortunately, yet another duck from Allinson (who has yet to register a run for the Wombats, leaving many to believe that his only contribution to the Club will be wining the Quote of the Week competition) and a stubborn but increasingly desperate rearguard action from the lower order meant that the Wombats were all out 34 short of their target. Reg was oblivious to most of this excitement as he spent much of the innings asleep under a polo shirt.
Alex Miyaji (38 and 4 for 14) for Sano and Tyson (63 and no catches and no stumpings) for the Wombats were deserved winners of their respective team's man of the match accolade.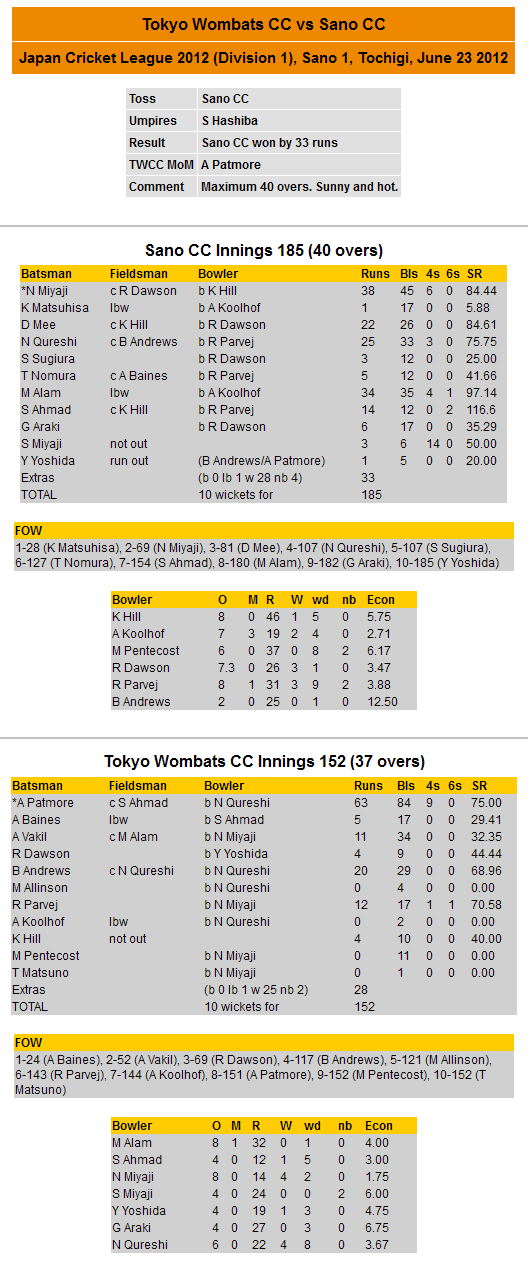 Hardys Man of the Match
vs Sano (Jun 23, 2012)
Stand-in captain Alex Patmore played a captain's knock of 60-odd runs in a valiant effort to win the game for the Wombats. The result went the opposition's way this time around, but Tyson's solid innings was good enough to be awarded a decent bottle of Hardys' picnic plonk.