Match Report
Scorecard
Highlights
Photos
Sano Say No
by Alex Koolhof

The Tokyo Wombats succumbed to a well-drilled Sano side on Saturday July 23 at the Sano 3 ground. Sano CC won the toss and elected to bat, ultimately compiling 214 runs from 37.1 overs. Top-scorers were all-rounder Rana at the top of the order with 59 runs from 69 balls, Ahmad 49 (60), and Suri 25 (25). The pick of the Wombats' bowlers was Dean Dowey, who snared five scalps in a best-on-ground performance. Koolhof bowled a miserly spell for one wicket, while Dharmadasa picked up two. In reply, despite getting off to a solid start and staying relatively on-par with the required run-rate, too many wickets fell too regularly for the Wombats. TWCC was all out for 166. Patmore top-scored with a well-compiled 59 (98).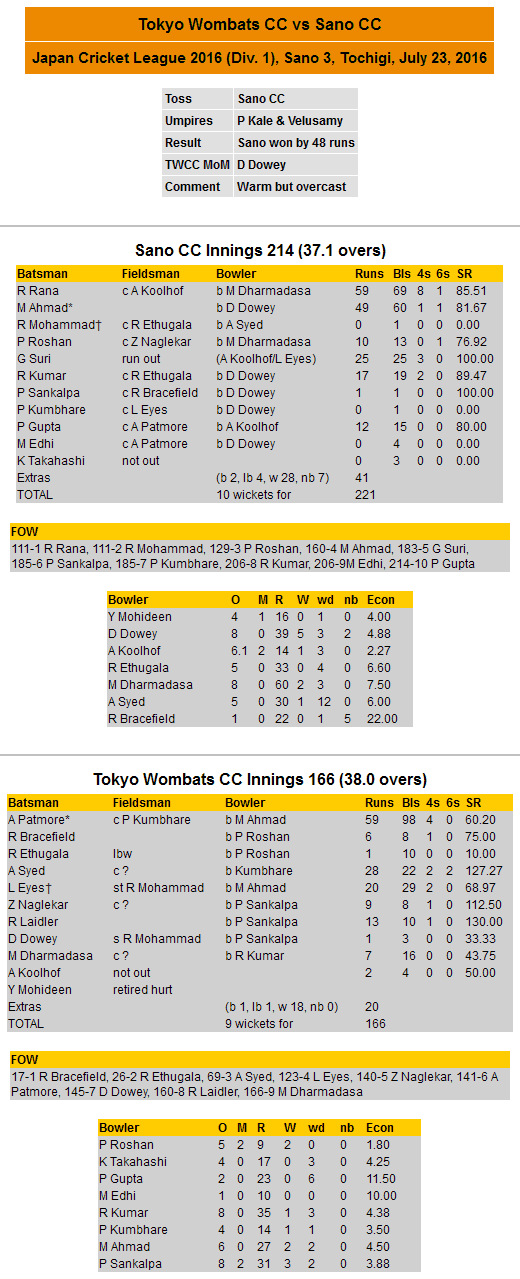 Catches
Richie taking a blinder at full stretch being Point fielder to get rid of Prabath.
Koolhof at deep mid off, taking a high two hander and hitting the deck hard after covering some decent ground to get in position.
Dropped Catches
Mili dropping a return catch off his own bowling from set batsman Munir.
Great Moments in Sport

Laids diving to his left and right in the infield saving a few boundaries that helped to build pressure on the batsmen.
Yus cramping at first slip during a delivery. Everyone thinking he was taking the piss after noticing it was the other leg than the last cramp attack.
Quotes
Soft COCK! – Laids describing in one word what Yus acted like when hit with double cramps in the calves during the Wombats fielding session.
While applying "Cool Spray" on Yus' injured leg, Koolhof says: "Kool enough for ya mate?". Still no idea if it was a gag.
Dummy Spit
Deano going hard at Umpire Kale for calling a few too many marginal wides.
Yus for putting the unprecedented cramp attack down to over-exerting himself bringing the team kit to the ground that morning.
Golden Thong Nominations

Yus thinking he was actually making a difference by standing at slip barely able to walk. He tried.
Wyndham Estate Man of the Match
vs Sano (Jul 23, 2016)
Dean 'Demon' Dowey came back from the dead in his second spell to uproot five Sano batsmen and collect his first-ever Wyndham Estate Man of the Match award. In only his second match for the Wombats, Deano's figures of 5-39 are also a club record for the Sano 3 ground. Well played, sir!