Match Report
Scorecard
Photos
POOR WOMBATS PUNCHED BY PADDY
by Alex Koolhof
The second fixture of the 2013 JCL division one season did not bode well for the Tokyo Wombats after suffering a heavy defeat to Paddy Foley's Cricket Club at Sano ground number three on Sunday May 12.
A smoking Yamanote Line nearly derailed our plans to actually get to the ground, but train services were resumed with the high level of service we have come to rely on so much in Japan, allowing us to rendezvous with other wombats along the way without too much trouble. Only Zulu missed our 8:07 Shinjuku departure by around 20 seconds….astutely spotted on the platform by some of us as we pulled away. Together with Luke, he caught up with the rest of us in Kuki however, clasping a 500ml heartland and offering up unique entertainment to some of our new players with his random babbling. Apparently he had been up all night….not out on the town, but just chilling and getting drunk by himself in the comfort of his own home.
The wombats welcomed first-gamers Mohibul from Bangladesh and friend of Rony, and Milinda from Singapore. Paddy Foley's won the toss and sent the wombats in to bat. Twas time, many of us thought, for the TWCC opening dynamic duo of Beath and Patmore to set the tone for a solid and constructive innings, considering our weakened batting lineup that was missing the presence of founding father-turned temporary defector J.A. Shearer.
Alas, it was not to be. Patmore was bowled trying to get his innings going after playing out 20 deliveries for only one run. Beath also faced 20 balls and fared a little better – scoring 9 runs – but after edging one through to the keeper, the wombats had lost both openers for only 25 runs. Hitchman did his best with a few boundaries, but was then clean bowled in a customary manner, and Shahir, Milinda and Mohibul came and went for little addition to the score. Wombats in trouble at 49-6. Shax and Rony did their best to right the sinking ship, nudging a few around for singles and hitting the occasional boundary. Rony succumbed for 19, which was to be the team's highest score if you don't include "extras", and Shax departed for 6.
Zulu came in…all warm and fuzzy after sipping on a Tupperware container of Suntory highball and ice and attempted to patch things up. His contribution totalled 12 runs, and then Ray and Koolhof managed to add a few more before Luke was bowled straight after drinks break. All out for 108.
We knew we were always a chance if we could secure quick wickets to put the pressure back on Paddy's…which is something we successfully achieved in the first few overs after taking the field. Sanjaya smacked one straight to Shackleford at leg side, who, while nursing a very sore pinkie, managed to embrace the pill with soft forearms and take the catch. 10 runs later, Mohibul picked up his first ever wicket for the wommies by taking the edge of Ethugala's bat, which was finely caught by keeper Patmore behind the stumps.
At 23-2, the wombats had a sniff and kept hunting for that next wicket. Unfortunately, the batsmen started to get on top and the wombat bowlers were dispatched clinically to the boundary more often than not. Patmore completed a good stumping off Koolhof's wayward legside delivery to dismiss Amarajeewa, even though half the target had been eroded by now. Paddy Foley's continued to haul in the runs in quick fashion despite a freak dismissal when Geganage smacked a Shackleford delivery to the boundary but then discovered that his bat's follow-through disrupted the stumps.
The last 30 runs were accounted for in quick fashion after that to give Paddy Foley's their first ever victory over the Tokyo Wombats. The opposition were the better team this time around and the wombats certainly batted very poorly, which made it very hard to apply any sort of pressure in the field.
Shax received a bottle of Hardys Wines for his dogged efforts with the bat and ball, as well as his catch at square leg. A six-a-side scratch match was organised thereafter, with some wombats taking part….but most were content to relax with a beer courtesy of Mick Lay – who had just rocked up with an ice cold esky fully of brewskies. Zulu was out for the count soon after that…no doubt recharging his batteries for the trip back to Tokyo.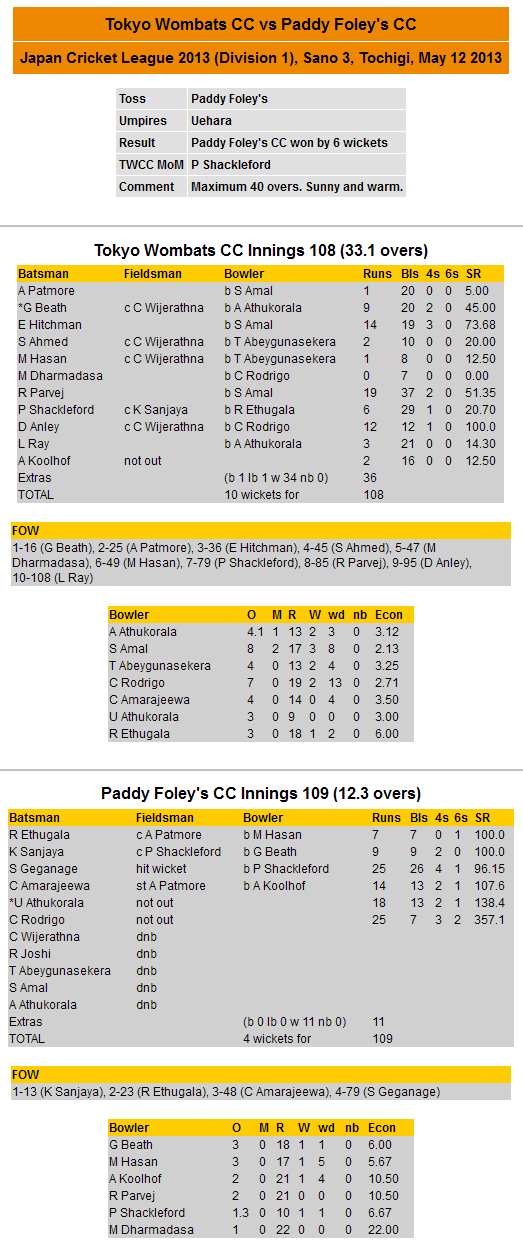 Hardys Man of the Match
vs Paddy Foley's (May 12, 2013)
Paul Shackleford earned himself a bottle of Hardys Wines for his efforts with the bat, ball and then in the field. A tricky catch at square leg, a few runs in the middle order, and then some "psychological hand grenades" from the northern end.