Match Report
Scorecard
Photos
PERSISTANT WOMBATS FALL TO WYVERNS SLOG FEST
by Kyal Hill
A lacklustre Tokyo Wombats batting attack was almost made up for by some decent fielding and bowling but in the end proved not enough for the pounding clubs of the Wyverns on Sunday, serving Tokyo's furry finest their first JCL loss for the year.
It started out ordinary enough, with an extra 30 minutes of morning banter in the Harajuku drizzle while we waited for our belated Captain. President and Chauffeur Alex Koolhof got us underway, and bus talk was subdued for a while but livened up when it turned to bowel movements. That, however, then led a few of the weaker bladdered marsupials to decide they needed to excrete, now, as in before the usual Fuji conbini stop, and it caused another nameless Wombat later at said conbini stop to require 20 minutes to dump the previous night's red wine and pizza into the luxurious 7 eleven facilities. Had we arrived on time, we possibly could have convinced the Wyverns to set up on Fuji 2 instead of Fuji 1, but, well, shit happens eh.
Captain Gavin Beath didn't waste any good luck in the toss, so the Wyverns sent us in to bat. 3 Wombats on debut were presented their shirt and welcomed to the team: Andrew Baines, Angus Brooks, and Brad Smith. And at the end of the day, they had each played a good game, each with a couple of shining moments, showing good promise for the future. Welcome to the team, lads.
Angus and Gav opened strong, with debutant Angus playing solidly with confident, well timed strokes, including a couple of powerful 4s, and Beathy belting a massive 6 on his 3rd ball high over deep fine leg with his custom hook shot. It took all 10 Wyverns 10 minutes of bush whacking to realize that when Beathy gets right behind it, some balls just don't make it back. Gav looked to be settling in for a solid knock, but a drive to mid off just didn't have the legs to beat the fielder and he was gone for 19 off 40.
Jarrad Shearer entered the fray and started on a steady-looking partnership with Angus, who by now we were starting to think might be Dino's cricket doppelganger, so similar were their batting styles. Unfortunately it was undone a half hour later when Angus fell victim to the start of the Wyvern's sharp bowling attack. With a respectable 12 off 48, his batting debut was closed.
The entrance of Ryan France to the crease always inspires hope for an advance in the score and some good cricket to watch, but such was not to be the case today. 5 minutes, 5 dot balls, and a shattered castle later, he was quacking his way back to a depressed peanut gallery.
Enter newbie no. 2, Brad Smith. A solid effort with some fine placement and good steady running between wickets brightened the Wombats' prospects, but that didn't last for long either. Brad was clean bowled for 14 off 19.
After that, well, it was all downhill, and fast. Rony showed a glimpse of form but crumbled to Wyverns danger man Ogawa for 4 off 11. Andy Baines, Hajime Akiyama, and Kyal Hill didn't really even have time to show up, all 3 gone for ducks in the space of a couple of overs, 2 to Ogawa and 1 to Hanada. Paul Shackleford came in with a half dozen overs to go and scored a small handful of well-placed singles, briefly looking like he'd last the distance, but a lob to cover undid him at 4 off 20. Alex came to the crease with 3 overs to go, but 1 run and an over or so later, we were all out for 139.
So in the end, 4 Wombats went down for ducks, only 4 made double digits, and the highest runs scorer on 53 was extras, which was close to double the highest-scoring marsupial and as much as the rest of the team could muster collectively. Dismal, really. Special mention needs to go to the slimmer and trimmer Dino, who played the anchor for the team at no. 3. But lasting the distance is of course only half the job, and the erratic and unpredictable pitch after a morning's rain made for slim pickings. Dino finished not out for 32.
Convinced 140 was more than defendable, we got off to a positive start after lunch in the brightening and warmer afternoon, with Kiwi openers Beath and Hill delivering some tight bowling and each grabbing a key early wicket for cheap (Yanagisawa and Hanada). But the third wicket seemed to elude us. Alex replaced Gav and bowled well but to no gain. Tiny edges continued to slip through gaps and our frustration started to build as we bled 1s and 2s.
So on came the masters of spin, Shax and Rony, and we got a break when the Russian gazelle safely chested a high and deep screamer on the boundary. He didn't have to cover much ground for it, but it was a breathless few seconds for all to watch, and Koolhof seemed a little affronted at the team's lack of absolute faith in him. "I haven't dropped a catch in 2 years!" he cried. Of course we all know what happens after someone says that. Sure enough, a couple of overs later danger man Ogawa knocks a similar shot high and deep to the Vibram Master, and he gets under it easy enough but botches it completely. To add insult to the Prez's injury, Ogawa went on to score 44 in the key Wyverns partnership of the day.
The one thing the Wommies can't be faulted for, though, is persistence. Mentally, physically, and verbally, we never gave up. We kept the bowling reasonably tight, with Rony in especially good form, bagging himself a decent 3 for 32 off 7. We were quick on to balls in the field, with Englishman debutant Andy Baines performing Jonte-esque stunts to stop slamming drives and cuts. Even Hamburger got in on the action, running half with his back to the ball to take an uncharacteristically cool catch somewhere round deep mid wicket. And shortly after that Gavin avoided a Herschelle nomination to take us closer to the end of the Wyverns line up.
But defending 15 runs against 2 wickets and 9 overs was a tough ask, and we just weren't up to it on the day. We succumbed shortly afterwards, in the 32nd over.
Chino and Ogawa batted well for the Wyverns, Ogawa earning himself Hardys' Man of the Match for his team. Dino took the same trophy for the Wombats, and Hamburger got a bottle of wine for his catch.
Anyway, even when the cricket's all over, there's always the second and unfailable part of the day: the beers and banter on a Sunday afternoon on the grass with a bunch of good blokes happy just to be kicking back after a good run around.
We polished off the first round of beers on the field, and the team divided over the merits of conbini v maccas, so we did both. Later in the bus, fed and boozing, we discussed heroin and Keith Richards, nurses and sponge baths, how we miss Curly's sex-related questions, the difference between being a strict catholic and a loose non-catholic, and the definition of a girlfriend, with no real clear resolution on any topic but a great yarn nonetheless. Daisy Beath took umbrage at Hajime's newly exposed racism, and Alex Koolhof tried to kill us texting while driving. But at least no bones were broken or third-party property damaged.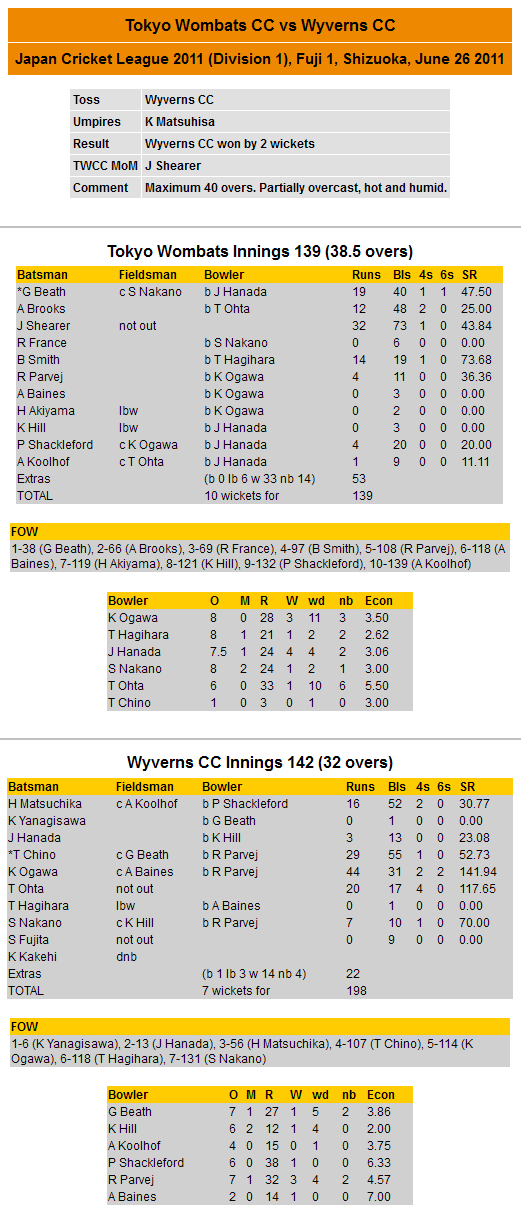 Hardys Man of the Match
vs Wyverns (Jun 26, 2011)
Vice-captain Jarrad Shearer led the Tokyo Wombats from the front with a sturdy knock of 32 not out on a very unpredictable and volatile batting wicket.