Match Report
Scorecard
Highlights
Photos
Video
Order restored as big-willy Wombats whip Sharks
by Alex Koolhof
On May 14 at the Fuji 1 ground, the Tokyo Wombats un-boxed a veritable arsenal of weapons to unleash on the Sharks of Chiba. Young and old, long and short, thick and thin, veterans and debutants, they were all there; and TWCC did not disappoint, delivering a crushing victory before drinks in the 2nd innings as the opposition crumbled to be all out for 90 after being a set a target of 217.
A typical Wombat stuff-up materialized in the early hours of the day as it appeared that Kyal was a no-show from the get-go. The ex-prez placed a call to check if ol' Hamburger Hill had once again dozed off on the dunny (yes, he actually did that once), but no reply was forthcoming. Luckily, the boys were already 12-strong for this grudge match that most Wombats usually don't want to miss (unless Maria Ozawa is in your bed) – so off we sped in the Hiace and onto the expressway. It was later revealed that Kyal assumed the game was on Sunday, consequently making an ASS out of U and ME (yeah, cheesy I know, but always wanted to somehow use that silly catch-phrase).
Joining the fray again was Dicky Laidler – whose enthusiasm and anecdotes of years gone by constantly kept the team in a jovial mood – plus first-gamer Richie, a newly arrived Kiwi in J land. Ex-captain Beath was also making a guest appearance in the side after a change of lifestyle (his words) by moving to Fukuoka last year. It was perfect timing for Beathy to don the Wombat whites again as his enduring Chiba Shark bunny, Prashant Kale, was also picked in the opposition side. How fitting it was then that only milliseconds after gleefully waving to Dino driving past Fuji Station on the way to the ground, PK most likely broke into a cold sweat when he spotted GB in the back seat staring back at him through his black Bono shades.
The rather windy expanses of the Fuji 1 ground welcomed us and skipper Patmore proceeded to win the toss, electing to bat first. Probably a good toss to win – the mole hills in the outfield had mostly flattened out, while Japan's ageing population had recently cut the grass. The JCA media department were on-site with cameras and notepads for this high-stakes top-of-the-table clash, while some even wondered if the chopper doing circle work high above the ground was part of a concerted effort to document the on-field heroics for time immemorial?
Out strode Patmore and Dino to open the TWCC account and a solid partnership of 59 ensued. Incidentally, this marked the fourth match in a row in which 50+ runs had been scored by the opening batsmen. The boys were cautious to begin with, but soon started putting the bad ball away for the occasional boundary, all the while picking up plenty of singles and 2s. Shearer was the first to fall, his cake well and truly baked, nicking one to Dhugal off the bowling of Higashimoto.
Fresh-faced Wombat Richie Bracefield was given the audacious honour of batting at number 3, and did so with aplomb, pushing along the score at a decent clip. Together with the captain, the two J-halfies really started to expose the tadpole bowling attack – P Grant, hitherto one of the comp's leading wicket-takers, took a particularly beating with the blade (and ended up only bowling three overs for the entire innings). Wides weren't helping the Chiba cause much either – they bowled 39 in total. Bracefield was caught for 32 trying to hit out against Sancheti – but his debut cameo innings at a strike rate of 133.33 certainly bumped up the Wommies' run rate. Aamir only lasted three balls before succumbing LBW to Tomizawa, which brought the Wombats' very own porn-star, Bruce Amano, to the crease.
Beath and Patmore continued to push the score along. The latter brought up a well-played 50 (his third successive half-ton), while Beathy went on the attack at roughly a run-a-ball, smacking more 6s than 4s. With the score on 174, our captain was dismissed for 58 – but TWCC was still well-placed to push for a total of around 250. Chiba had other ideas though, as they stuck to the basics and reeled in our fast-paced rate of scoring, all the while taking wickets regularly. The gun-toting, car-dealing, web-coding bloke from Westbury, Luke Eyes (surely we can identify a better nickname than "Lukey"??), only lasted a few deliveries and was bowled by Singh, while a similar trend continued for both Shazza and Laids, out in quick succession for zero runs. Rony held up an end for some time (resisting the urge to go against his captain's instructions – something he's prone to do all the time) and let Beath-cakes try and whack as many runs as possible off the remaining few overs. Disappointingly, Rony caved in to his T20 natural instincts and flayed the bat wildly to be caught-out, while Gav fell one run later, edging behind off the Malinga-wannabe-slinger Wakita for just shy of 50 runs. Yusry and Koolhof added no further runs to the Wombat total of 216 as The Body (yep…it's back!) was clean-bowled for a quacker.
Our cross-town rivals needed to score 217 runs if they were to beat the Wombats for the fourth time since 2002. We, the team with 30+ wins against the sharkies (yep…I'm really rubbing it in here!) were confident we had enough runs on the board, although we would have liked 30-40 more than the actual total.
With only eight runs on the board for Chiba, the break-through arrived for the Wombats in spectacular fashion. After Velusamy drove an Aamir delivery in the air seemingly past Richie at mid-off, the 6-footer didn't waste an inch of his tall frame and leapt slightly to his right with his big kiwi paw in the air hoping the cherry would stick. And stick it did…with a resounding slap! The boys were cock-a-hoop for the first-gamer and one dismissal brought two immediately as Yusry trapped the other opener LBW – Chiba 2 wickets down for only 8 runs. Aamir could have had another, but chronic Herschelle Gibbs Award nominee Rony shelled a sitter at square-leg.
That said, the Wommies were still fielding well for the most part (despite the lack of encouragement from the stationary cynic in the slips, Mr. Shearer, toward his fellow team-mates – reminds me of when Spacey used to play!), and alcohol-free Yuzzy continued to bowl well, despite gifting Dhugal with a couple of no-ball-induced free-hits, one of which was dispatched over the boundary for six. Yusry got sweet revenge though shortly after – as an uncanny WTF moment unfolded right before our very eyes. The big Lankan bowled a *fairly* straight delivery to Dhugal who shouldered arms and played no shot (expecting more bounce?) and is most likely still having nightmares to this day about his cartwheeling middle stump. Dangerman number one gone.
As for dangerman number two, Prashant, who had accumulated a few boundaries by now, the Wombats had a time-tested method for his dismissal. As alluded to at the top of this report, Beathy has a psychological strangle hold over this bloke – and more often than not gets him out (sometimes  first ball) wafting his bat at deliveries outside off. So obviously the brains-trust were keen to once again validate the accuracy of this cricketing outlier – and promptly introduced Gavin into the bowling attack. You can all guess what happens next! Prashant sticks his bat out at Gav's first delivery (outside off stump) and Dino at first slip makes no mistake, pouching the catch with the help of some belly fat and the celebrations go wild. Beath continues to cast his spell and is now most likely back in Fukuoka stirring his cauldron. Chiba 58/4.
The Sharks needed a mammoth rear-guard effort now if they were to piss in the Wombats' milkshake and Paul Grant and Asala were the only two batsmen that put up some sort of resistance. They stuck around for a while and pushed the score along, but it was ultimately Rony – the Sharks' real-life bogey-man – who brought the innings to a close. Not too much descriptive language is needed here really, he simply picked them off one by one: Higashimoto (2) bowled by Rony; Grant (13) LBW to Rony; Sancheti (0) bowled by Rony; Tomizawa (0) bowled by Rony; and Singh (0) caught Ahmed, bowled Rony. Yours truly joined in on the act and picked up Asala (20) thanks to the steady mits of Aamir at point. One passage of play that must also be mentioned was Shazza's fantastic boundary catch, but he unfortunately tumbled back onto the rope.
Anyway…that was that. Chiba all out for 90 in the 20th over and a great all-round effort by the Wombats (sending us to the top of the table and 4 points clear). Beath's prophecy of "10 wickets = beer" rang true and the Birra Italia flowed freely for some time after the game as we enjoyed a drink with the opposition. As TWCC man-of-the-match, Rony snagged the bottle of George Wyndham wine that he'll never drink (so he handballed it straight to Richie), but demonstrated enough cockiness (or foolishness!?) to quickly post a pic of the wine and himself on the Sharks' Facebook page! Rony's figures of 5/14 are the best-ever bowling figures for the Tokyo Wombats.
The largely Anglo-saxon Wombat contingent in the van stocked up on party goods at the Seven-11 and the highlights flowed freely for a decent while. The Prez took shot-gun and shot-gunned whiskey and coke, while van-ride virgin Richie played it safe and loaded the chilly bin with six silver bullets. Ex-prez and ex-captain couldn't help but smile and laugh at each other, reminiscing about the olden days and savouring the moment of now having less responsibility (when sober of course: responsibility when drunk is a misnomer!). In kiwi corner, old man Laids was poking percy into his plastic PET, vaporising the van with odd-smelling fumes, while Dino slowly made the transition to his customary period of no chit-chat.
A road-side rendition of the club song fixed that though….which was humorously introduced by a Gavin Beath prologue involving drunken "I love you, man" poofta hugs and impersonations of a crouching, naked Terminator in front of the Mac truck (see video). Even Richie seemed to know the words and references about our willies, despite being a first-gamer (hoping he's not a Chiba spy…). On a side-note, it's possible that one day a girl may eventually play for the Wombats, which means that if we win, she would have to tweak our victory sing (which so proudly exalts the size of our dicks), to something more gender-appropriate. Logical choice would be for said girl to substitute said genitalia with 'tits', coz it rhymes and all. Or, she could simply point at us and sing "you've all got big dicks". Just sayin'.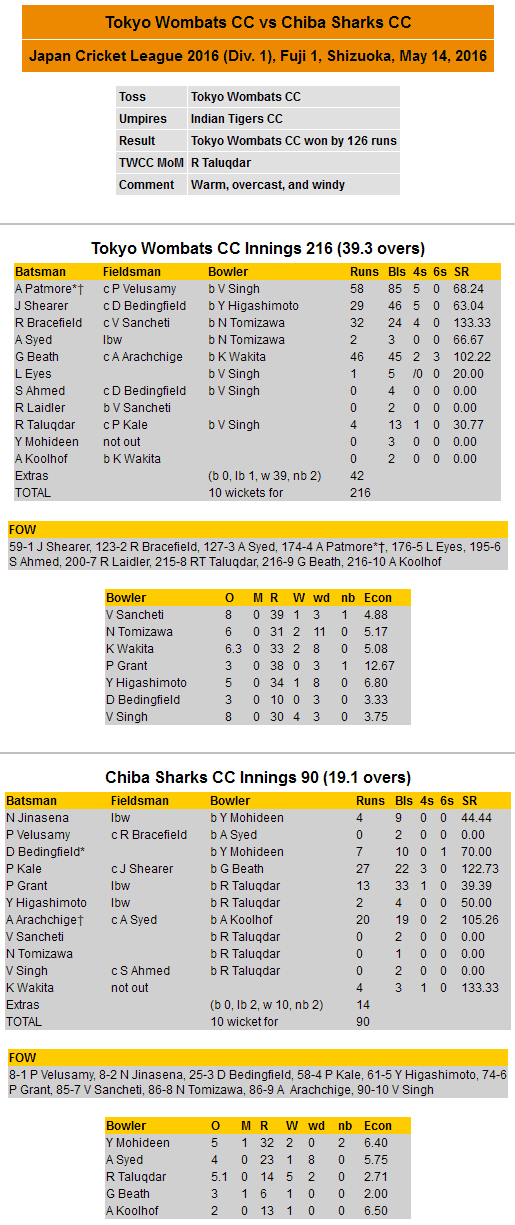 Catches
Catch of the year contender from debutant Richie – jumps and sticks out a big paw at extra cover to a ball travelling very fast…and THWACK, it sticks!
Shazza at cow corner. Brilliant. Made it look easy. Unfortunately touching the rope as he fell back…
Dropped Catches
Chronic Herschelle Gibbs nominee Rony puts down another massive sitter at square leg!!
Very catchable one put down by Yuzzy at backward square leg…..
Great Moments in Sport

Yusry to Dhugal. The latter shoulders arms and offers no shot at a pearler of a delivery from the former, which knocks over his middle stump!!
Tony tearing through the Sardines' middle and low order and finishing with the best official bowling figures in Wombats history!
Beath to Prashant. Got him. Again. First ball. (The look on Prashant's face when he shook my hand after the game was "WTF?!?!?" Classic!)
Opening Partnership – once again over 50.
Rolling the tadpoles before drinks.
Rony posting his MoM on the Chiba Sharks FB page!
9:30am – Driving past Fuji Station, Prashant is sitting outside the station.  He sees Dino in the front of the car and happily waves at him. Waving stops as he notices a Beathy shaped figure in the rear seat staring blankly back at him from behind a pair of shades.  But, but, Beath had moved to Fukuoka?! 3:30pm – Prashant caught Dino, bowled Beath, first ball.  The nightmares continue.
Quotes
"Now you just need a c***k in your mouth" – explains Gavin Beath with regard to…err, calisthenics?
Professor Gavin Beathstein: "10 wickets = beer"
First gamer Richie to founder and most number of games played Dino: "I scored more runs than you today." Nothing like a bit of respect!
After Koolhof slips at mid-off, is moved to cover. Slips again and cops a serve from the slips: "You're not fielding where I'm fielding!"
Paul Grant to Dino while batting: "You look like you're baking a cake!" (Yeah, not a Wombat's quote but worth a mention for strangeness alone)
"Oooh, I think I know him!"  – a gay guy commenting to his mate about Laids as we fill up for gas in Shinjuku.  Must have been the shirt!
Golden Thong Nominations

Kyal Hill – no show at 7:30am in Shibuya. The bloke was still in bed, thinking the game was on Sunday!!
Wyndham Estate Man of the Match
vs Chiba Sharks (May 14, 2016)
Rony snares another 5-fa! This one was his fourth - the most of any bowler for TWCC. How did he do it? As usual, he wove a web of spin around the opposition's exposed middle- and lower-order, either trapping them in front LBW or clean-bowling them through the gate. Great stuff Rony, you certainly deserve a bottle of George Wyndham for that (despite us knowing you'll never drink it!).