Match Report
Scorecard
Highlights
Nearly
by Tom Gilliatt
Patmore nearly got a ton. He didn't. Ev nearly got a ton. He didn't. We nearly made the Hub happy hour. We didn't. Nigel and Tom nearly had good figures. They didn't. The rain nearly ruined the day. It didn't. Jimmi James nearly didn't play. He did. Yusry nearly got called up. He didn't. Jimmi James nearly took a catch. You get the picture by now…
We didn't nearly lose. But, it was nearly a rout. Unfortunately Jimmy didn't fancy happy hour and wanted to spend a few more hours chasing the ball around the park.
Aside from the "nearlys" , this game was bookended by two great partnerships. Patmore and Ev effortlessly pushed the Wombats into a winning position within the first hour. Ev's aggressive spanking of the red to and over the rope inspired his partner to whip a few boundaries off his legs. The Wyverns mistakenly thought they'd found Patmore's weak spot so made sure to give him some more buffet bowling and help him towards his 50. Surprisingly both openers reached 50 on the same delivery' a cricketing first. The Wombats continue to defy cricketing norms. Rather, Jimmy's backseat scoring gave us his first clanger of the day, but not his last.
Once the openers were gone the wombats battled their way to a victorious 267. A few scratchy boundaries and dubious calling only went to further show how well the openers had performed.
The Wyverns went into bat and soon found themselves on a hiding to nothing. 3 wickets following some tight bowling inside the first 3 overs, which yielded wickets from terrible deliveries, sealed victory. Too soon for Jimmy it appeared.
Special mention to Nige and Gav's bowling. Wyverns' two prime batsmen fell for a total of 0 in 3 deliveries. Rendering the final (pretty spectacular and no less surprising) partnership nothing more than fielding practice. Rassika also chipped in with some important middle order wickets. The Wyverns must be regretting reversing their batting order.
At 60-9 Jimmy's final clanger came; a regulation catch at mid off.
What seemed like hours later, with happy hour done and dusted, bonus points long forgotten, Wombats well and truly deflated, many final wicket partnership records later, a fly ball put the game to rest and the wombats could begin their eventful journeys home.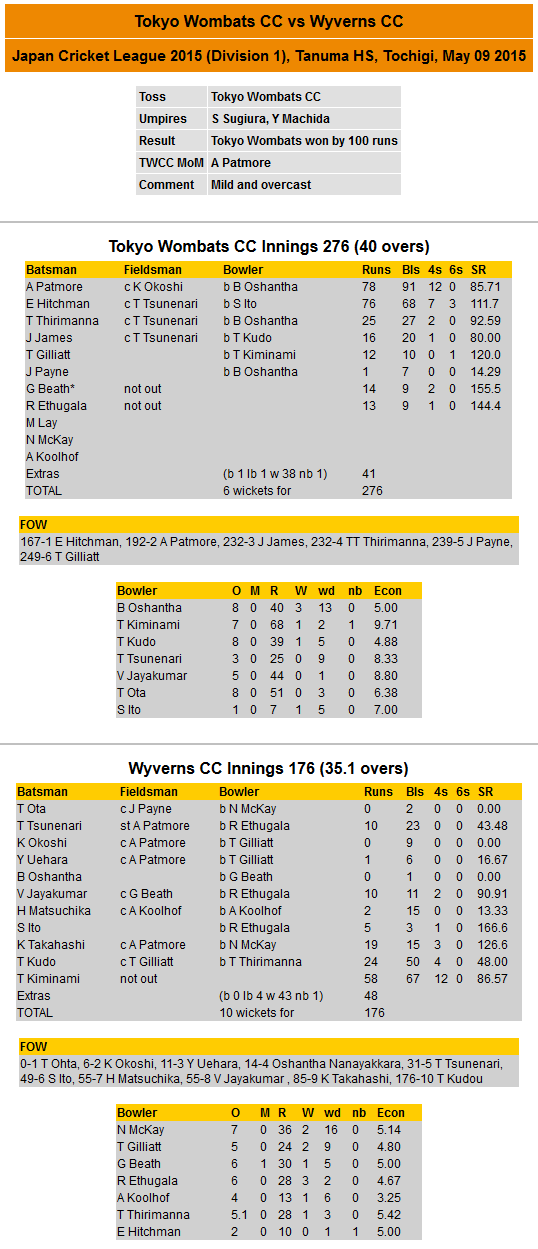 Quotes
"Come on the holocaust survivor" by Mick Lay (another nickname for Koolhof is born)
"Hey, I'm no Jew!" by Alex Koolhof in a defensive response….
"have a go ya mug" by mick to Thula – who promptly had a go and got caught chasing what would've been a wide.
"I'M THE CUSTOMER!!" – Says Gav, when told he couldn't store his cricket bag in the Hub.
"Good luck catching that mate" – says Ev to the bowler after smacking it miles over the rope.
Catches
Two handed sharp screamer at point in the first over by Jamie – a wide ball that was looking destined to be cut for four
Once handed scoop just millimeters off the ground by keeper Patmore
Tom's catch at deep midwicket to put an end (finally) to the Wyverns' innings.
Dropped Catches
Jimmi dropping one of the batsmen for the last wicket partnership when he was on not much and they went on to form a massive partnership
Evan and his hard hands at second slip spilling a straightforward catch at chest height.
Kooly's tricky one at mid on.
Great Moments in Sport
160 odd run opening partnership between Ev and Patmore.
Three towering sixes by Ev
Ev's old man coming to support us. Our first supporter to come to a game in recent memory.
Rasky's enthusiasm on the field.
Gav getting pumped up after taking his first wicket of the day.
Dummy Spits
Gavin – after shouting, "I'm the customer, I'm the customer – to the hiroshi at the Hub – he grabs the umbrella stand, with people's umbrellas in it and chucks it down the stairwell!"
Buddhika (this could also be a great moment in sport?!) – when Miyaji turned up he moved from the Wyverns tent over to the Wombats tent and sat next to Ev's dad for about 30 mins. As soon as Miyaji left he went straight back. Solid work there Buddhika!
Wyndham Estate Man of the Match
vs Wyverns (May 9, 2015)
Tyson was named Man of the Match for his 78 runs and three catches and one stumping. A superb all-round effort!