Match Report
Scorecard
Highlights
Photos
LIVELY LANKANS LOVE FUJI
by Alex Koolhof
The Tokyo Wombats got their 2015 Japan Cricket League Division I campaign back on track on Saturday May 23 with a win against the plucky Max side on the Fuji #1 ground. The bonus point was also secured with 3 balls to spare as the Wombats chased down a decent total of 181 posted by Max, who were earlier bowled out in the 35th over.
It was a very early start to the day as the team decided to not rent a van and drive down to Fuji (who's idea was that?!), but instead take the train. On the condition that one arise at sparrow-fart, the 7:10 Tokaido line train bound for Atami saw four or five Wommies aboard – and a few more joined along the way at Yokohama and Fujisawa. The rest were either down in Fuji already, or willing to pay double and catch the bullet train. No communication at all from the designated umpire for the match over the few days before the weekend fueled speculation that we might have to umpire the game ourselves. Fish burgers were purchased at the station for lunch before taxis finally arrived to transport us to the ground. Fears of a game sans umpire were dispelled as umpire Mihindu arrived in time to officiate. I sarcastically thanked him for informing us that he would actually be coming, to which a simple smile and nod of the head was given. Gotta love the Lankans approach to life! Nevertheless, he umpired well throughout the course of the match and was only happy enough to join us for beers after (which reconfirmed the Wombats' love of Lankans).
Captain Gavin lost the toss of the coin and Max, led by Amigo Kobayashi, decided to bat first. Probably a fortunate toss to win, as Max were still awaiting the arrival of two more players. The aforementioned Kobayashi and Taniyama opened the scoring for Max as Yusry and Nigel shared the opening bowler duties for the Wombats. Both bowled a good line and offered up few wides – an area that the Wombats were certainly keen to improve on after some wayward bowling in recent matches on the part of most of the team's bowlers. The Saitama Slammer was sending down some unplayable peaches of deliveries (on a side note – this writer cannot let our dear readers forget that keeper Patmore also thinks Nigel's bum resembles that very same fruit – WTF?) and soon removed the dangerous Kobayashi with one that crashed into the stumps. Wombats cock-a-hoop and off to a good start. Still much work was to be done, as was soon to be realized when first-drop batsman and first-gamer for Max, Nawarathna, got stuck right into it by playing aggressively straight away. Patiently assisted by Taniyama, he eagerly upped the tempo with the occasional boundary but mostly nudged around for singles and twos as Beathy brought on Stephen Hawking look-alike Tom Gilliatt and spinner Rasika Ethugala from the other end.
Max kept pushing the score along while the Wombats never lost faith in their game plan of attacking Taniyama and keeping him on strike, but allowing Nawarathna a single here and there instead of scoring too many boundaries. The break through came with the score on 73 as Taniyama flashed his bat at one from Tom that flew straight to Jamie "Bernie" Payne at point, who gobbled it up with his new found confidence in catching in that area of the field. Meanwhile, the sprightly Sri Lankan had continued to bowl very tightly at the other end and was soon rewarded with a snick through to the keeper – new batsman Singh out for naught. Soon after that, Nakamura was clean bowled to give "mango" Rasi another wicket, which brought Ota, to the crease. She knocked a few around on the off-side with some nice strokeplay, but Nawarathna continue to inflict most of the damage with big-hitting, including two majors over the boundary rope.
Gavin bowled well from the southern end but couldn't get the break through needed, so he turned to Prez Koolhof and Rony from the bullet train end to see what they could muster. Koolhof and Patmore combined to dismiss Ota, who missed one (may have hit the pad) that bobbed up to Tys behind the stumps who fumbled but quickly removed the bails when Ota was seen wandering out of her crease. Rony at the other end then got the big breakthrough by trapping the Sri Lankan in front which the umpire judged, after what seemed like an eternity, that he was out. A good innings of 62. The very next ball, Taluqdar (yes folks, that's his last name – he just never bothered to tell us) clean bowled the very perplexed Wahab, to put himself in contention for being the first ever Wombat to take a hat-trick. Alas, it wasn't to be, as the next ball Rony bowled was a piece of junk that, if my memory serves me correctly, went for two wides. Max, however, reeling at 112 for 7.
Hanif Khan, the recently departed Wombat-turned-Max boom recruit, had just turned up for the show and came straight into bat (as 5 wickets had now fallen as per JCA rules) – so he went about rescuing his new team's fortunes with some big-hitting. The Wombats knew very well what he was capable of, however, so we endeavoured to stay focused in the field and stick to the plan of targeting the other batsmen in Yamada, despite some big blows from Hanif to take the score up to 140. Rasika then ousted Yamada after another good catch from JP at point. Ito stuck around and let Khan do all the hitting for a while until Rony came back on to clumsily (but nearly muff-up) close Ito's innings with a c&b dismissal. Opening bowler Nigel came back on and Tom took a composed catch on the mid-wicket boundary to remove Hanif before he hurt us on the scoreboard too much. A quickfire knock of 64 from 47 balls though pushed Max's tally up to 181, which was respectable considering that they were 112 for 7 at one stage.
Lunch was scoffed down and the Wombat openers, Patmore and Shearer, strode out to tackle the job at hand – 182 required for victory. Patmore was the more subdued of the pair, while Dino gleefully tucked in to the somewhat loose bowling by playing some nice shots and backing it up with hard running. But just as he started to open up and really show some vintage Dino batting form, the highlight of which was one booming six to cow-corner, he chopped a delivery from Anurag Singh back on to his stumps. Bugger.
Singh, who is also an Indian Engineer (no, not his profession, but his other cricket club, although his name suggests he probably hails from India!), started to find his line and occasionally trouble Patmore and the new Wombat at the crease, Tom. Still, these two knuckled down to form the crux of the innings and our pursuit of 182 – Tyson playing the steady, but aesthetically-pleasing-to-the-viewer role (think Gavaskar), while the Prof went about playing his shots and accumulating runs at four-fold the rate of his partner. Scratchy at first, the Prof really opened up with a plethora of strokes that had the scorers drawing straight lines across six digits more often than not; in fact, Tom smacked 7 sixes and 5 fours in this innings to really stamp his authority over Max's lackluster bowling attack.
Batmore eventually snicked one through to the keeper from a Singh delivery for 24 runs; his role of underpinning the run chase surely achieved as the Wombats were now only 43 runs shy of the target. Jamie Payne only lasted 7 deliveries before succumbing to some good bowling from spinner Taniyama, which brought the "walking LB" Lukey Eyes to the crease. 15 runs later though, Tom failed to fully latch on to a Taniyama delivery, and was skillfully caught by Obata in the outfield to end his explosive innings of 85. Lukey did battle with the LB gods of injustice for a few more overs and won, but Taniyama found the edge of his bat instead to give Max keeper Yamada his second catch behind the stumps. Wombats wobbling at five down for 157!
Rasi and Nigel were now charged with the task of rescuing the team from this mini-collapse as the boys on the sidelines pushed aside talk of securing the bonus point within 32 overs. Rasi was watchful, and nudged a few singles, but Nigel (thankfully) played his natural game of big-hitting and eased some pressure with a four and a six. But with only 10 runs to get, Rasika got out to the girl, as did Nigel after 6 more runs were added to the tally. Captain Beath went in (but ended up facing no deliveries) and then Yusry, who copied McKay's approach of playing his natural game. The big car-dealer tonked his first delivery straight to the boundary to secure the bonus point with 3 balls to spare.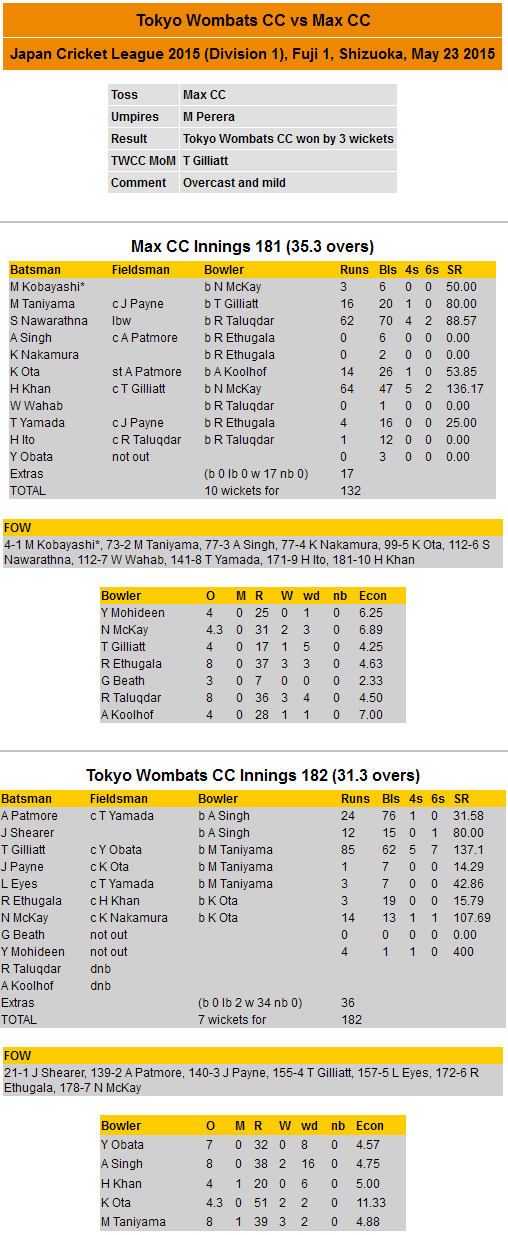 Quotes
"Do you speak Hindu?" Says Dino to Al, who kindly points out that it's a religion.
Koolhof: "Do you speak Hindu…haha…Do you speak Hindu…haha…do you speak Hindu…haha".
Jarrad: "What are you doing Koolhof?"
Koolhof: "Trying to make sure I don't forget that you said it!"
"I have the gift of the gab" – Koolhof
"Kelly Slater's been in the news recently. Did he rape somebody?" – Koolhof
"WHAAAAAAAAT?!!?!" – Rasika in response to finding out Koolhof is in fact in his 30s, and not 50, as previously supposed.
Catches
Two solid grabs again from Jamie at point.
Calm and collected take on the boundary by Tom to remove Hanif.
Dropped catches
Pretty easy one grassed at mid-on by Nigel.
Great moments in sport
Tom's maiden 50 for the club!
Professor's (Tom's) explosive 85 off about the same number of balls putting the Wombats on the path to victory.
Yusry crashing a boundary in the 31st over to win the match and secure the bonus point!
Wyndham Estate Man of the Match
vs Max (May 23, 2015)
Tom bashed and bullied the opposition bowling about for 5 fours and 7 sixes in his highest score for the club. One huge six landed in the veggie patch halfway up the bank! A bottle of Wyndham Estate coming your way Tommy!