Match Report
Scorecard
Highlights
Helter Skelter Wombats in Sano Swelter
by Narendar Madhavan

Coming into their second match of the season with the Wyverns, the mighty wombats had already handed Wyverns a thrashing (Courtesy: Batmore & Ev) in the previous game. With Batmore sitting this game out, it was time for the others to step-up. On a scorching hot and humid day of 40 degrees, the wommies reached the ground in two regiments. The temperature ratcheted up a few notches as the Japan women's cricket teamed practiced nearby. Wyverns won the toss of the coin and chose to bat the heat out.
Yus and Kooly kicked-off with some good deliveries amongst a few full tosses that were caressed away for boundaries by their openers. After the customary drops in the slips for the match, the first wicket fell thanks to a Kool(y) Jamie combo of catching and sliding off a chest-high dolly. In came their best batsmen, Oshantha, who got his eye-in quickly milking singles and punishing bad balls, while the fired-up Yus encouraged the other batsmen to poke at one with the skipper easily pouching it behind the stumps. Dizziness starts to set in for few wommies, while Kooly sets up a good full delivery to timber Ogawa. For Rasi though, mates who knew him too well quickly understood it was a different D-word. Distracted by the Japan Women's team, he was articulately reminded of his marital status by Luke.
Opening bowlers were then replaced by Chula and Nigel and after a shaky start, both started hitting their line and lengths consistently. Meanwhile, a small partnership between Vasanth and Oshantha starts to threaten the Wommies. That is probably when Chula decided he needed to go home ASAP. He produced a well-directed bouncer to Vasanth (without a helmet) that rocketed upwards, eventually caught brilliantly by Luke. Nigel who was then giving his heart out in the heat, did not let the new batsman to settle in, aided by a good catch from Jimmi.
The spinners were given a spell after the drinks break and Rasi started off well with quick off-cutters while Naren walked on thin ice bowling juicy full-tosses. It is probably a record of sorts for Naren to bowl a maiden over with 4 knee-high dollies. Oshantha shifted gears against the spinners, courtesy of a few bad balls, and hoiked a couple of sixes over cow corner. Meanwhile, Naren managed a couple of wickets, one off Suzuki, who had been kind to him, with an edge to Nigel at second slip. Wyverns' innings looked like it would fold at any moment, but Oshantha was relentless until Luke's street-smart swift stumping found him throwing his bat in an urge to reach the crease, which easily was the turning point/highlight of the match. Jimmi and Kooly were in a hurry as well, picking up the last 3 wickets with only 11 runs added after the departure of Oshantha.
The Wombats' openers Shaz and Ev began steadily, knowing the target was never going to stretch their side as long as there were wickets in hand. A few balls beating Shaz's outside edge early on, coupled with a few dropped catches (again at slips), were the only moments of concern against the new ball. Ev muscled a couple of balls to the boundary and Shaz was looking in prime form in support at the other end. However, Ev would get out playing across the line top-edging a ball to gully.
Wyverns thought they had the Wombats under a bit of a pressure, but they were ignorant to the storm that would strike them in the form of wanting-to-go-home-early Chula. Chula hit his third ball for a 4 and the rest, as they say, is history. The bowlers were leeking runs from both ends and had no game plan against this monstrous onslaught by Chula who reached his 50 in a meager 22 balls! Shaz, on the other hand, was in sublime touch, taking no risks and giving Chula the strike when he could, and slowly grew in confidence, enough to smack sixes at the fag-end of his innings. Both players never looked like they were going to get out, while Jimmi and Jamie (padded up next) secretly hoped to have a go. Consumed Chula and Supreme Shaz finished the game in the 16th over earning Wommies a fantastic win with the bonus point.
Wommies ended up at Tatebayashi station with beers in their hands, and carried out the ritualistic highlights and Tekitonis. It ended with the mighty Tokyo Wombats song which, in hindsight, was sung in D major: Dizziness, Distraction and…..Destruction.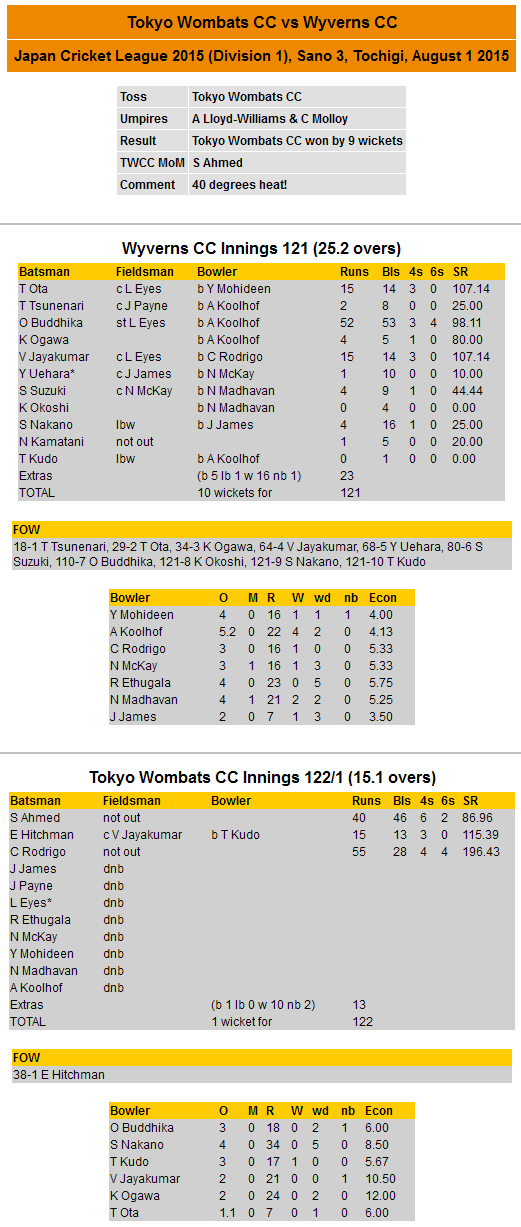 Quotes
Let's go Rassi" says Luke, to Naren multiple times by mistake before giving up!
"Rassi you're married!" – Luke, after Rassi on more than a few occasions turns his back while fielding at cover to check out the women's team practicing over on the other field.
Ev's punnery/innuendo: "Jamie loves getting down on his knees" after a diving stop at point.
Koolhof (once again) declaring 'I love nuts' on the car trip back…
Dhugal calling the wombats c*nts!
Catches
Jamie's Ponting-esk fingers-up catch 3 inches from the ground…
Luke over the shoulder catch almost at square leg off a top edge.
Jamie loves a diving catch straight on the chest at point.
Dropped Catches
Chula at slip, Ev at slip – everyone at slip! Is there anyone who can catch and wants to play there?!!
Great Moments in Sport
All the bowlers putting in a massive effort in 40 degree heat to make it a small total to chase.
Chula 50 off 22 balls.
Shahir huge 6s.
Whole match taking 40 overs combined – thank f*ck for that!!
Naren around the legs…Leggie…aka the Gatting ball!
Koolhof's 4 Wickets.
Chula and Shahir's unbeaten partnership.
Golden Thong
Thula – pulling out of the side at 10:45 pm the night before!
Dummy Spit
Yusry to his GPS: "f*ck you, thats gonna cost me way more if I go that way ya b*tch!"
Wyndham Estate Man of the Match
vs Wyverns (Aug 1, 2015)
Shazza opened the batting for the Wombats in oppressive heat and took little time in smacking the opposition bowling around for a well-compiled 40 not out! The boy from Boston wins a bottle of Wyndham Estate wine for his efforts!