Match Report
Scorecard
Highlights
Chiba Square (Leg) Up to Wombats
by Evan Hitchman
The annual fixture between the Tokyo Wombats and the Chiba Sharks is always a feisty affair and a game we look forward to keenly each season. The last few seasons have seen tight encounters with the Sharks getting the upper hand in a few of them lately (which still only brings their total wins against us to 3 over 15 years or so heading into this match), so the Wommies were ready to right the ship and put the Sharks back in their rightful place, behind the Wombats on the JCL table!
Skipper Patmore won the toss of the coin under the watchful eyes of the young and inexperienced local Umpires, and the Wommies went into bat down at our second home Fuji 1. Alex and Richie opened up, and the lads were hoping not to see them until the drinks break. Sadly we saw Richie's ugly mug far too soon, as he was out for a duck – caught and bowled by Takada with one that came on a bit quick and surprised him. Not to despair as we had Fuji local Jarrad Shearer came in at #3 and he is always full of the runs. We were hoping that most of those runs would end up on the scoreboard and not down his trousers though this week. The two put on a great partnership of 100 before Dino was out caught off Dhugal for 32, but with the Wombats still in a good position at 2/100.
Luke was able to offer some good support for a while before the traditional Wombats middle order collapse rolled into town with Ev, Yuz and Nige all departing cheaply as we lost 4/12. Patmore opened the shoulders towards the end, but departed on 79 for another century avoided, before Jamie and Himan added a few handy runs at the end to leave at Wombats 7/161. That probably wasn't going to be enough against a handy batting outfit, and we knew we would have to bowl well and probably take 10 wickets to have any chance of getting the victory.
The openers for Sharks got off to a decent start with Dhugal and Sanchetti looking in good form and racing to 20 quickly before Mohibul got the breakthrough getting Sanchetti caught at point, by who else but Jamie Payne of course! Young Thurgate came to the crease and did well to stay out of the way of a few short ones from the Wommies fast bowlers, but dug in as he an an increasingly comfortable looking Bedingfield got to 50 without further loss.
The Wommies needed a breakthrough urgently and one they got when Dhugal missed one and was hit on the pads with a Yuzzy 140 special. A big appeal followed and the finger was put up by the young umpire. Dhugal had a long look down leg, but walked off without complaint having copped a tough one that was probably going well down leg side. He took it on the chin though and went back to the pavilion to the relief of the Wombats as he was looking ready to crack on and hit a big score.
Takada came and went, bowled by the 140 man and Chiba were starting to wobble at 4-92. Another wicket or two and it would be advantage Wommies, but a good partnership started to develop between Arachchige and Pravethy before Yuzzy smacked one into the pads of Pravethy and the finger quickly went up, and the Wommies had their 5th wicket…or did they?
The batter first refused to walk, complaining to the main umpire – then bizarrely walked over to the square leg umpire – demanding that he get involved and tell his partner he got an inside edge and not to give him out. Lovely sportsmanship intimidating not 1 but 2 umpires and trying to invoke a non-rule where apparently square leg umpires can give input on LBW? Understandably many of the Wommies were upset at the ridiculous antics of the batter in question, who should've taken the lead of his teammate who earlier copped a tough one.
Finally after what seemed like an age, the umpires conferred, and the same decision was made of course – finger up, get off the pitch ya clown! The wind was blowing the wommies way and we just needed another 5 wickets with most of the batsmen already gone.
Fair play to Chiba though, they dug in and slowly scratched their way towards the total, with regular wides (32 wides in all!!!!) helping them past 150, despite Wommies taking 3 more wickets. Eventually Chiba just got over the line, 8 wickets down – and at the end of the day 160 odd was just never going to be enough for the Wombats, and 32 wides was just far too many easy runs with such a small total to really deserve the win. Another tight finish, and the spoils go to the Sharks this time, but the Wommies will be back no doubt eager to turn the tables.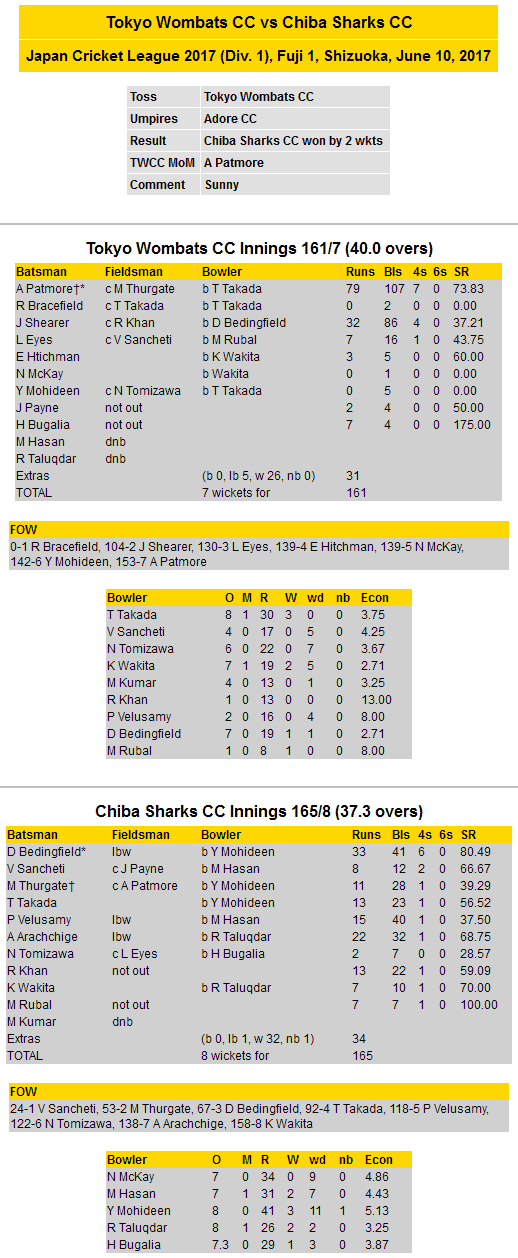 Catches
Lukey taking a lovely catch at cow corner, despite Richie's best efforts to put him off.
Easy one for Jamie
Dropped Catches
Yusry at point, going back and then ending up with some cramp, I guess
Quotes
I'm gonna find an interview with a fluffer." – Nige
Ev just keeps firing out the nicknames, with Himan copping a new one this time: "Hymen"
Yusry: "That was way down leg, shouldn't have appealed in the first place" – he says after getting Dhugal out LBW
Great Moments in Sport
I remember Laids saying at last year's presentation night that the Wombats of old never used to shut up on the field. They were always talking. I felt there was a lot of chatter from the Wombats yesterday, with a few Wommies even losing their voices for a for a bit! Great work lads. Let's keep that going.
Patmore and Dino partnership
Dive, stop, and throw back by Ev at point
Diving stops by Luke at short-point (?)
Jamie stepping down to let Nigel and Yuz try and get some quick boundaries and then running hard in the last over
Wyndham Estate Man of the Match
vs Chiba Sharks (June 10, 2017)
Captain Patmore once again proved that he is a consistent performer with the bat, knocking up a solid 79 runs at the top of the order. Alex takes home a bottle of Wyndham Estate's finest!