Match Report
Scorecard
Highlights
BEATH BIDS FAREWELL
by Ken Oiwa
The Wombats were disappointed not to be able to send their retiring captain Gavin Beath in what would be his last game for the club, after six years of stellar service, against Sano in a JCL division I game. We would lose by 45 runs, having made an excellent start in the field by striking out 8 wickets for 76 runs. However, it was not to be – sport is cruel sometimes.
The match got underway after your correspondent left a little present at Tatebashi Station toilets, with the composition of previous night's Ramen. As we were missing our key batsman "Batmore", our strategy was to bowl them out fairly quickly and then to chase a low score. Having won the toss, we appeared as if we were well underway. The first eight wickets came in quickly, with two notable catches. The first came from Tom Gilliatt, who bowled and caught a high ball in the air. The second was even better from Thula, who made a low one handed save at the slip.
We saw excellent bowling from Koolhof who managed five wickets mostly by bowling them straight out. There was trickery from Rasika, who after collecting a ball about 40 yards from the bowlers end, decided to delay the throw back to the wicket. This encouraged the opposition batsman Machida, to squeeze an extra run and with a combination of a good arm by Rasika and a one handed catch from Koolhof resulted in a comical run-out. There was excellent bowling from Yusry and Gavin, as well. However, the opposition Munir and Prabath made a very good late partnership to stay on gathering 101 runs, which eventually resulted in Sano's 189.
On the batting front, we struggled with the huge boundary but there were good runs from Gavin, who managed to hit two sixes to a total of 43. This was followed by Yusry who managed 20 not out. We were all out for 144, 45 runs short. However, the game belonged to Gavin as his last game for the club. The man of the match for the Wombats went to Koolie for his excellent five wickets.
The game was followed by a few of the Wombats (Yusry, Jamie, Ken, Luke, Gavin, Tom, Koolie) going to a park bench next to Tanuma station to reflect on the "highlights" of the game. We had an extra section to reflect on the highlights for Gavin's time at the club. We wish him well on his next adventure in Fukuoka.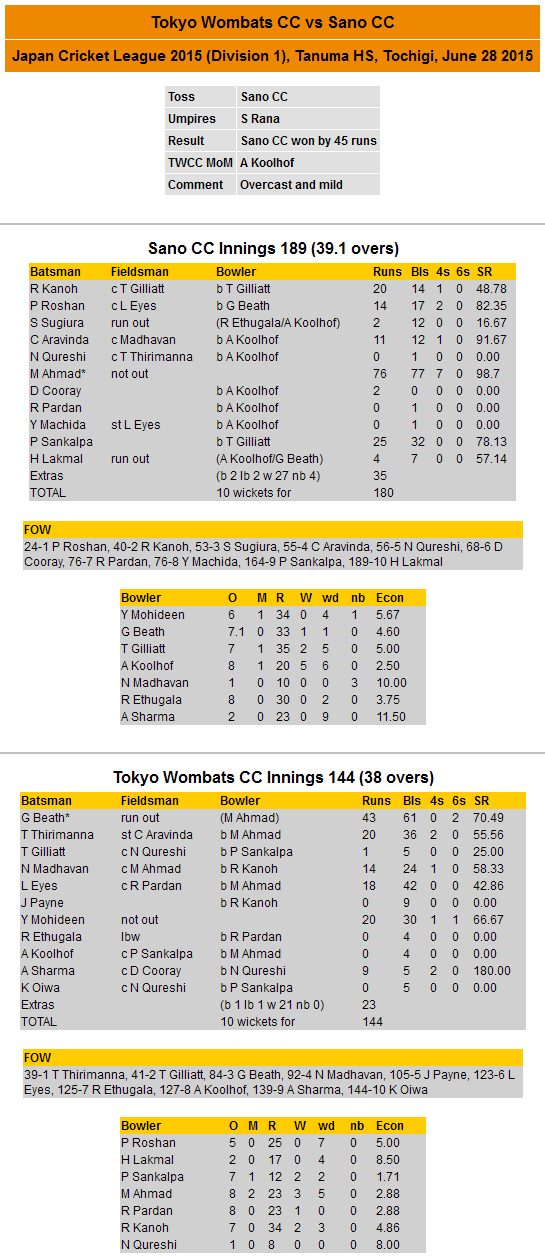 Quotes
Ken – describing the train toilets: "It smells like nob cheese in here. The sano keeper's nob cheese"
Gav – "One of the first words I learnt in Japanese was dick cheese. Chin kasu" (said very loudly in a silent, newspaper reading, library-esque carriage)
Koolhof – "Orange is always yellow"
Koolhof – "Just put your dick in the bush" (rather than walk 20m to piss in the public toilets)
Tom: "Are you sure it's Tanuma, Ken?"
Ken: [Looking down at his train app] "Oh, wait, it's Sano."
(Said just as a train closes its doors at Tanuma station, costing the lads about 40 minutes.)
Gav – "I also took 5 wickets… 1 actual wicket and 4 dropped catches"
Dropped Catches
Bit of a dolly to mid-off….but the Professor dropped it.
Rasika in the deep, twice?
Catches
Nice slips catch down low by Thula…
Caught and bowled by Tom – somewhat of a rainmaker made it a bit tricky…
Great Moments in Sport
Koolhof's Michelle Pfeiffer!
Singing the Wombats song in a shoddy park after the game in the honor of Gav's last match.
Gav's 40 odd in his last game.
Wyndham Estate Man of the Match
vs Sano (Jun 28, 2015)
Club president Koolhof snared his first ever 5-fa by ripping through Sano''s middle order. Alas, his efforts were in vain as TWCC succumbed to the batting wobbles and ultimately lost the match. Koolhof did get to enjoy a bottle of Wyndham Estate BIN 555 Shiraz as man of the match.