Match Report
Scorecard
Highlights
Photos
Alpha Male Wombats Squash Quashers' SF Plans, Koolhof in River
by Kyal Hill

As season finales go, this one was a classic for the history books. There were no tits and dragons — unless you count the hairy man-boobs and shrivelled serpents in the river after the game — but the Wommies' final JCL game for 2017 had about everything else. It's a sweet feeling when the boys all come together against the odds — the weather, the disappearing alarm clock, the absent 11th batsman, and the shit-we-really-needed-more-than-that-to-stand-a-good-chance score line — to push through like a motley mongrel family of brothers and take it home.
The day started the night before, pissing down rain in all burrows across greater Tokyo. Weather reports and predictions trickled in from the LINE peanut gallery, despite the usual captain's call to assume game on until notified otherwise. Winter was coming, it seemed, and scarred pea-hearts were hurting from past early morning wake-ups when games had been called off half-way to the meeting point. And the rumblings of dissent only continued in the cock-crowing hours, as sunlight failed to completely dispel the rain and dry some soggy spirits. Fortunately, at least one slumbering Sri Lankan was spared: thanks to his darling daughter Hana's playfully confiscating of the phone/alarm clock while he snoozed, Vice Pres Yuz was gifted an extra two hours sleep — twice as much as he'd intended after working Japan and New York hours. So while some wept themselves back to sleep sure of a rainout and others dutifully trundled by train to a pitch possibly better suited for kayaking than cricket, Mr. 140 Mohideen slowly but surely dragged his weary girth out the door and onto the highway north to Sano, Tochigi.
With a pull-out the night before and another possible pull-out from a nameless raindrop-fearer, the 13-strong squad that had been assembled to send off one of the original founding Wommies, Alex if-you-love-your-feet-set-them-free, Koolhof had now most likely been reduced to 11. 12th man and I'm-fighting-cancer-what's-your-excuse Laids was promoted into the squad and fiercely keen to extract pounds of flesh in honour of his Russian brother. And eager 13th man and sworn-(at)-to-never-play-cricket-drunk-(again) Hamburger Hill was put on alert his sober presence might be required on the field. So it was that eventually 11 Wombats converged on Sano 1, which was magically dry and needed no chair-sweeping. Faith in the weather is often misplaced, but not that placed in your captain. Lesson learned, I'm sure.
We won the toss and so, being temporarily short 2 players (the aforementioned slumberer and man-burger), elected to bat. Or there's a 50-50 chance that's what happened (I wasn't there at that point). Whatever, bat first we did. As a mark of respect, charity, and good humour, Captain Patmore decided to launch the attack with himself and I-can-actually-bat-I-just-never-get-a-chance-at-no.-11 Koolhof. Patmore's attack was short lived, though, and he found himself doing his thinking-man pose on the embankment 17 balls and 5 runs later. It seemed an ominous but all-too-familiar start — but enter Dean, The Rock, Abbott. Together Abbott and Koolhof put on a solid partnership (well, it seems 20+ is the new solid) that anchored the innings. And bugger me if Kooly didn't show us in fact he probably can bat. Kooky dabbed and patted the hard ones straight and smooth, and gleefully slapped the sloppy squirty ones neatly into the cracks, working his way to a borderline respectable 5 off 37 (a record length innings?). The Russian's removal brought strong man Luke Eyes to the crease along with big expectations built on solid past performances. Unfortunately, he was waddling back to the pavilion the next ball after a confounding LBW (from a foot out of his crease) left him with a golden quacker and watching wombats with their guts rising up to their pie holes.
A resounding boom off the bat of well-I'm-not-here-to-fuck-around-am-I Laids sent cheers and relief ripping through the gallery as the ball raced away for 4. More were to follow as the tall man fearlessly pillaged his way through a bounty of Alphalfa overs, making batting look like an actual sport. At the other end Deano was starting to settle in, finding the boundary a couple times with deftness and style. The two Aussies put on the partnership of the match, a 29-run effort that steadied our clanky iron ship. Unfortunately, Laids had his stumps peeled to what I think he said to incoming Jamie Payne was a "it's shit mate, they've got nothing" ball, but at least he'd carved off a good 16 pounds of flesh (from 17). Dean, ah-bugger-what-was-I-thinking, Abbott then pushed his luck against a razor-sharp nut and had his castle cut down for 24 (off 52). President Pain shaped up well at first, clocking a nice 4 and hustling the fielders for good runs, but a risky shot skied out to safe hands and he was done for 11. Himanshu belted a strong 4 to get off the mark but quickly suffered a similar fate to Payne for a cheap 7. On his first ball at the crease, Nigel cork-and-leather-sommelier McKay got a whiff of one of his favourite aromas — rough and bruised leather — and so on his second ball he dispatched it like you would a cheap Iron Islands hooker, with a good hard slap for 6 into the bushes. Much to his distaste, the we-don't-have-any-old-balls Alpha Questionables brought on a good-as-new shiner and McKay's stumps were quickly given a nasty disembowelment. Yus was hungry to dish out some floggings and rocketed off to a good start with a huge 6 that almost found the windscreen of Dicky Laidler's newly christened SOFTCOCK mobile. Ajay was hustling good singles with smart running, and Yusry's luck was building as a single turned into 5 when an overthrow ran for 4. But as the final over approached, the balls being served up were as fruitful as a eunuch's, and in the last over Windmill Mohideen gave us a hilarious display of how to spank raw air and turn not getting runs into a mild cardio workout.
Left to defend 122, Captain Patmore told us to sniff hard and smell the possibility, to bowl tight, field sharply, and take the catches when the chances came. We even practiced catching in the heat of the lunch break, with good talk and backing up. Unfortunately, what came in the field after that was one of the best competitions I've seen for the Herschelle Gibbs award, and anyone watching could be forgiven for thinking at times that our eyes or hands were painted on. Two high balls to long off found unimpeded paths to the grass as McKay struggled to judge the ball in the deceptively calm breeze. A dolly to Laids in the slips caught the big fulla napping. And Jamie had a momentary lapse in depth perception at deep fine leg. Thus we were, at times, doing a great job of making winning an even harder job than it already was.
But it was the things we did right, and the way we never gave up, that made it such a bloody great game and even sweeter victory. In his last game for the Wommies (for a while), Tassie-bound Koolhof bowled a tight 8 overs, snatching 2 wickets for only 23 runs. Yus was awesome despite his tiredness, slashing through 5 wickets in 7 overs for an equally cheap 23. AJ took a key wicket early in his 4-over 18-run spell, piling on the dot balls and building the pressure. And Nige bowled brilliantly, permitting only 20 runs in barely 7 overs and destroying the stumps on 2 occasions, including the last Alpha batsmen to stop them in their tracks at 105, 18 short of what they needed to win.
Himan took two great catches, one a sky ball he had to track back a good 20 feet for and looked almost certain to miss until the last second when he turned back and cupped it safely in his mitts. Patmore was sharp behind the stumps, taking a slicer down leg. Yours truly was happy to contribute to the day with an easy catch at mid-off (and even happier I didn't drop it after deciding I couldn't be bothered with the effort necessary to take it in two hands). And Yus brought his AFL skills out to fight Saint Augustine for a high ball, nicely avoiding a catastrophic collision and safely scooping up the pill.
At every step we stayed positive. We backed each other even when we were knocked for 4 or dropped a catch. And we kept our eye on the next wicket and big picture. It's easy to give in when things don't go your way and the goal seems so far away. But with the bonds of Wommie brotherhood and 11 sets of big alpha male balls, all we need is a sniff of victory and we can take it.
Awesome effort and sweet win, boys. Job well done.
Cheers also to Nareen for joining us in a long-awaited team victory song, and to the folks at the craft beer festival where the beers were even tastier due to the win.
1, 2, 3!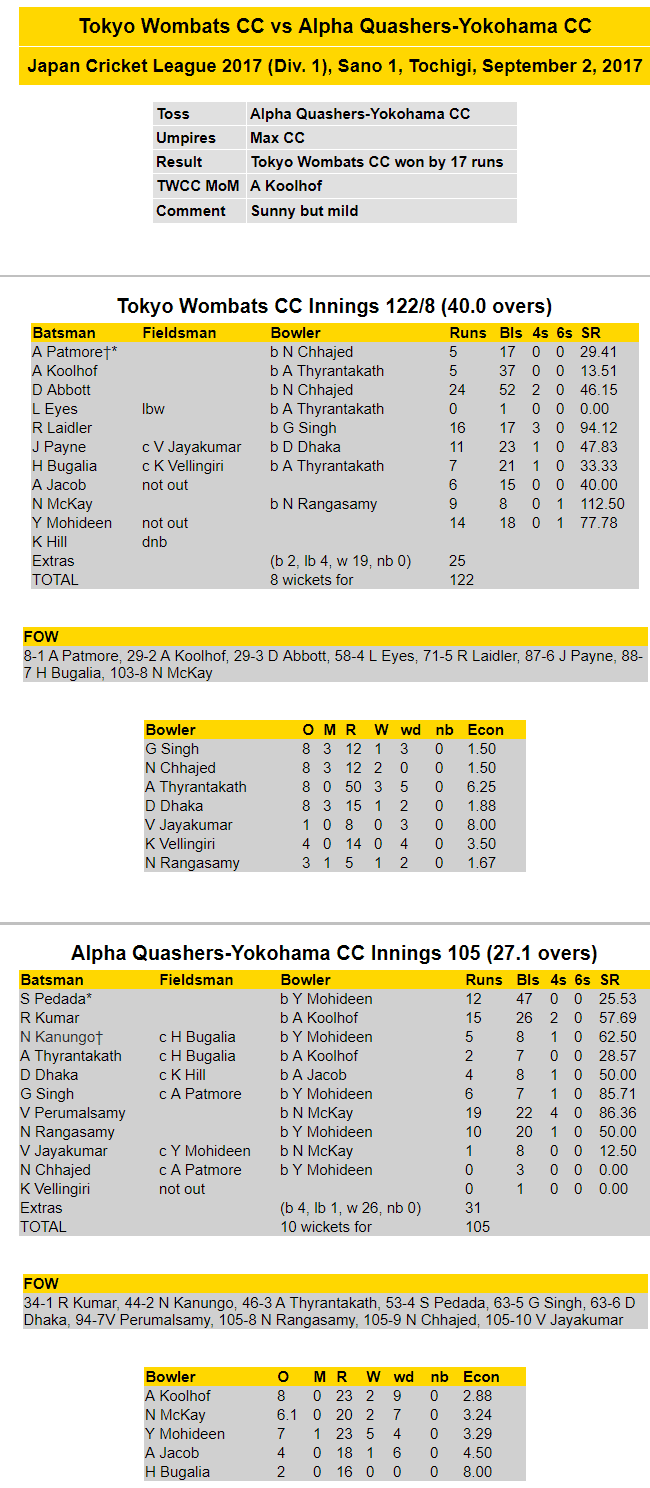 Catches

Fantastic one-handed grab from Kyal. Casual-as-you-like, sticks out the right hand nonchalantly to a well struck drive at short extra-cover!
Patmore takes a sharp leg-side catch behind the stumps
Yusry wraps up the match with a speccy by bulldozing over AJ

à la

Aussie Rules
Himanshu took one of the catches of the year – tracking back on a high ball and then taking the catch over his shoulder. Tough catch.
The He-Man took another (easier) catch in the covers off Koolhof's bowling
Patmore took another tricky, juggling catch that most certainly came off the glove – but was ruled not out by the umpire
Dropped Catches
Richie Laidler puts down a dolly at first slip (this description doesn't do justice to how easy it was)
Nigel miss-read a couple of the bat
Jamie spilt one on the boundary – according to Laids it was a sitter, which induced a dummy spit from Jamie!
Quotes
"Seeing these 2 brown people running toward each other then someone pulling out"" – Koolhof talking about Yusry's catch
"Is that actually Dino? It sounds like a young man!" – Nigel (during a conference all with Dino)
When was the last time we won?
Patmore: "Pretty much not since Richie B started with us"
"It was an exciting moment because I touched his cock" – Koolie to Patmore (mmm…awaiting to confirm sources on this one!!)
"You can come round for some pillaging but no raping" – says Kooly to Patmore about his sayonara sale
"How did I miss my alarm" – Yusry
"I'm doing 150" – says Mr. 140 coming down the highway
Great Moments in Sport
Yusry – great five-wicket haul (nearly the best figures for the ground) and the 6th best bowling figures for the club!
Deano Abbott playing a handy knock for 24 runs
Koolhof – opened the batting and the bowling (and picked up two important wickets)
Naren joining in the Wombats victory song to the chagrin of his Alpha teammates. Seems he will be a full Wombat next year.
Dropping the Wombats song smack bang in the middle of a jam-packed craft beer festival! And then dropping it again at the entry of a jam-packed train station!
AJ taking his first wicket for the Wombats!
Looking like a team all day – including in our snazzy polo shirts at the beer festival
Kyal's 12th man efforts and to make it out to Sano for Kooly's last match
Yusry's scoring shots of 6, 5 and three 1s in his (vital) innings of 14.
Dummy Spits
Nige spat the dummy big time after he got bowled with a new swinging ball. This all happened after Nige smashed a massive six into the thicket and lost the original ball. Apparently Alpha didn't have any used balls to use as replacements.
Jamie's aforementioned
Nigel's bristling when suggested that he's a slow mover. A race awaits…
Golden Thong Nominations
Wyndham Estate Man of the Match
vs Alpha Quashers-Yokohama (Sep 2, 2017)
It was the Russian's last game for quite some time before his return to Australia, so the ex-prez opened both the batting and bowling! With the bat he only managed a paltry five runs, but in his mainstay department of medium-pace bowling, Kooly snared two key wickets for only 23 runs from eight overs. The boys rallied to defend a small target and send Koolhof home in (glorious) victorious fashion!